As of Friday, Oct.6, 2023 at 8:45 a.m., Drops of Ink (DOI) editors and staff will be going on strike. As the ongoing Hollywood strikes failed to reach a conclusion, DOI made the difficult decision to stop production of its upcoming magazine in solidarity with writers in Hollywood.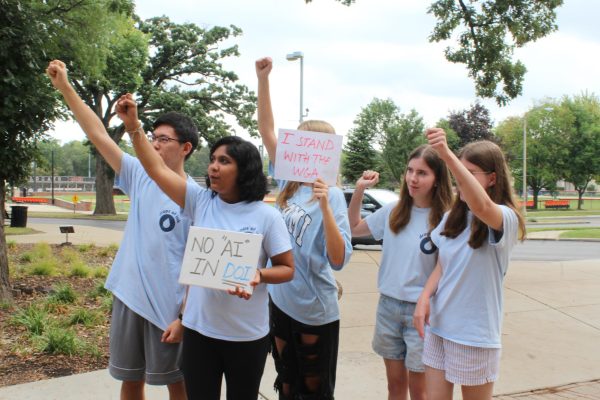 Though not official members of the Writer's Guild of America (WGA), – and in a completely different category of writing – staff felt that many of the same issues plaguing Hollywood were also concerns here at LHS, such as the use of AI in the writers room, and general lack of appreciation and compensation for the work DOI does. 
DOI Editors-in-chief Mr. Alex Clark and Ms. Eva Fahrenkrog released a formal statement regarding the strike in a press conference earlier this week.
"We understand the importance of our writers and staff members," Clark explained, "and in order to protect their interests and the integrity of the magazine, we have made the difficult decision to pause the publication of our magazine until our demands are Met." 
However, it was unclear what exactly the demands of DOI are.
WGA strikes to protest the use of AI in the writers room for better residual pay from past works now on streaming services, and to help protect the size of writing rooms, as many shows are switching from having six or seven writers to two or three.
"We are striking more in solidarity with the WGA," Fahrenkrog said, "but AI is also a large issue in DOI." 
In past issues of Drops of Ink, AI was used to help design layouts and create backgrounds by one notorious staffer who refused to comment on if they would be participating in the strike. So what exactly is the problem? If DOI's own staff members are using AI, are they striking against themselves? It would appear so.
"AI should never be a part of DOI," Opinion Editor Dr. Rishi Tipparti said. "I refuse to work on a publication that actively uses it to create their work. Until AI is under control, I will not be returning to staff."
In response, the magazine is working to set guidelines regarding the use of artificial intelligence in their workplace.
Additionally, Drops of Ink interpreted WGA's demand for better financial compensation as a call for greater respect for the work of the student news organization.
"We don't care if you like our work or not," Tipparti explained. "Just be respectful. We welcome criticism, but not slander."
After every DOI Day, there are always comments about how annoying the staff are and magazines left strewn about the school. The strike seeks to eradicate these reactions by hopefully bringing to attention how important DOI is.
Without Drops of Ink, who would be there to yell "HAPPY DOI DAY" at you at 8 in the morning on distribution days? Who would cover all the sports games? By removing DOI from the picture by striking, the staff seeks to bring greater appreciation of their work.
The organization also hopes that their beloved readers will support their strike.
"Every day I go home and spend 20 minutes reading DOI," Willy the Wildcat said. "I don't know what I would do without them, but I guess I understand [the strike]."
So at least one person (or thing) supports their strike. Others feel that it is just a way to seek attention, feel appreciated and fish for compliments, under the guise of seeking respect and compensation for their work.
"We are aware that many people don't support us," Clark clarified, "but we hope that they understand that our intentions with the strike are genuine concerns, not just something we made up for the sake of a story."
Hopefully the strike draws attention to the importance of writers, regardless of what section of media they are a part of. Without writers amplifying voices, seeking truth and telling authentic stories, our lives would be a lot less interesting.