DOI: Behind The Scenes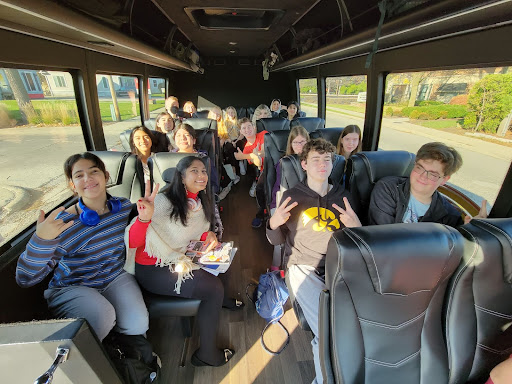 We are Drops of Ink. Your school newspaper blessed with the amazing opportunities to write stories, cover sports & fine arts, and print your magazine for all of LHS. Throughout the time that Drops of Ink has been around, our influence has spread from the walls of LHS to the entire village of Libertyville. Through all the recognition our news organization has received, many wonder how we produce these amazing stories.
So if you're here because you want to see what we do, interested in learning how to become a DOI member, or are just here because you want content– congratulations! You've earned a free ticket to a behind the scenes look of Libertyville Wildcats' very own Drops of Ink.
How Do You Get In?
Let's start with an easy question: How do you become a staff member? As stated in the DOI magazine "If you are interested please sign up for DOI with your counselor for next school year; it is listed as Journalistic Writing in the curriculum guide (Course #2073). For incoming seniors, it will count as an English credit to be used for graduation. For underclassmen, it counts as an English elective credit and you still have to take a core English class".
There is a QR code on the back of the magazine that will lead you to an application form that you must fill out before applying.
Fun fact before we continue. DOI is one of the few classes to require a letter of recommendation along with a small essay. Once you complete these steps, you are officially finished applying for Drops of Ink.
Basics Of DOI
Congratulations! You've just been admitted to the DOI team! Now it's time for you to learn the basics of being a staff member. For the first few days, you'll likely introduce yourself to the rest of the team and perform team building activities. If you have any questions, don't be pressured to ask any of the editors for help, as it's their job to both manage the magazines & online stories and help out with any questions that you may have. You'll also learn a few lessons about the ethics and methods of journalism before you start working with your peers. Finally, with all the free will you have to write about anything you want, you'll be introduced to DOI's very strict set of guidelines that prevent you from placing any biased opinions in stories except opinion. These guidelines are as follows, but not limited to:
– Try not to interview someone you already have unless absolutely necessary.
– In a sports coverage, keep your writing in the present, not the past.
– Unless in certain circumstances, state the facts, not your opinion!
But don't let any of this scare you. Once you get the basics, it's really easy. Plus, you'll have the rest of the team to help you.
"I would say that collaboration is happening every step of the way from brainstorming ideas for an issue to assigning the individual stories," said Dr. Reiff. "So all along the way, collaboration is happening and it's all very positive and very effective."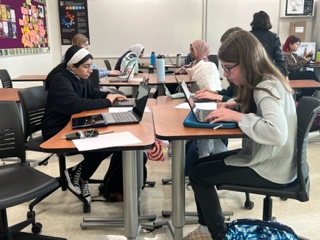 Making An Article
Now that you know the basics of what it takes to be a staff member, it's time for you to write your first article. First things first. each magazine that is posted around the school is known to the DOI team as a cycle. At the beginning of each cycle, DOI usually sends out a Google form to document various ideas that fit into several categories. These categories include but are not limited to News, Features, Opinion, Sports and What's Trending.
Afterward, DOI usually takes an entire day to sit down in a large group and talk about their ideas for the cycle. This is then reviewed by the editors where stories are selected for the print magazine and our online website. After the editors have selected the articles, they make a schedule with a date for each deadline, where the editors check in with the staff members. Finally, the work is divided up into three separate parts, by which a single DOI member will accompany each part.
The three separate parts include the one who writes the article, the one who takes photos & makes captions and the one who creates the colorful background of the article, also known as the layout. These parts do not always have to be separate though; you can be in charge of all three aspects if you want to.
Once you've made your decisions, you must complete your work and have it finished by certain deadlines so the editors can properly check your work and make any corrections necessary. All that work finally gets transferred to the editors who make one final check and combine all the separate parts needed to start both the printing process, and the paste up. Paste up is a time where the editors meet together to make final corrections on stories that were not assigned to us in the cycle.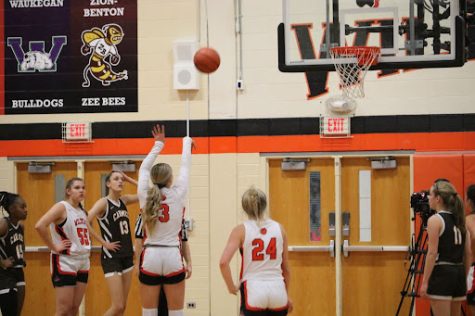 Making a Sports/Fine Arts Coverage
While the editors are busy printing the magazine, let's take this moment for a short intermission as we talk about how to write a sports article for DOI.
Each semester, all staff members are required to write at least one coverage article. These articles can either be for sports such as football or basketball or can go into fine arts such as art showcases and plays. Once there, your job is to write down all the highlights of this event and take photos with a Canon 101 camera that you must borrow from DOI. It's also recommended that you also schedule interviews with various students or staff members that are at the event. It is best that you email them ahead of time and interview them after the event, as taking students & staff away from the event at random times can disrupt their focus.
It can sometimes be difficult to document people's thoughts while writing on paper, so we use Otter.ai. Otter is a mobile app that DOI uses to record interviews with the students and staff of LHS. Before hitting the record button though, it is recommended that you do two things. You must request permission from the interviewee and find a safe and quiet place to record your interview, as Otter is "speech to text" and can sometimes confuse what you and your interviewee are saying.
Now that you have everything, get to work placing all the highlights, pictures and interviews within your article. you then review it with either one of the editors or with Dr. Reiff himself and send it out onto our online website.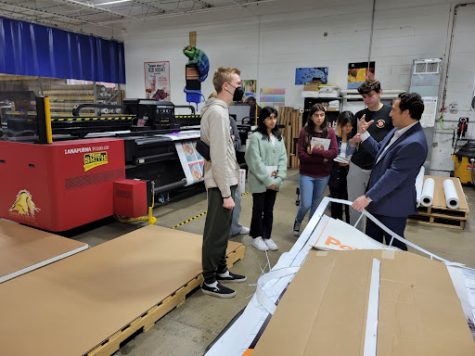 Posting Your Article
Great news! The editors just came back with boxes of this cycle's magazines from the printing factory, which means it's time to start passing out the magazines to everyone at the school. However, that day calls for something special. The day we distribute our magazines at the front doors of the school to all the students and staff is known as DOI Day! When this joyous day comes, a group of staff members occupies each of the most popular entrances students use and distribute the magazines to all students and staff who enter.
"The most exciting thing is when I'm seeing kids flipping through it," said Dr. Reiff. "Sharing with their friends and talking about it and having a big smile on their face."
DOI Day is also the day when we post all of our magazine stories, as well as any online stories, to the DOI website at lhsdoi.com. After that, the DOI staff gets to sit back and relax for the entire period while eating any food that either the students or Dr. Reiff brings in. Then finally, Dr. Reiff will bring out his award for "staffer of the cycle," an award that goes to the staff member that worked hard, helped others, and brought kindness and determination to the team.
Well, it looks like we've reached the end of our behind-the-scenes look. Please don't feel pressured by everything that happens at DOI. It all looks so intimidating at first, but it gets so much easier the more you get used to it. DOI is a fun place where you can let your creativity shine and make some amazing memories with your friends.
Even though you have to work hard in order to make deadlines, DOI definitely has its fair share of hilarious moments, and there are so many perks for DOI that help us make time to have some fun every now and then.
We hope this encourages you to maybe get involved in some way with DOI and join the team. we'd be happy to have you!
Leave a Comment