COO of SpaceX, Gwynne Shotwell, visits LHS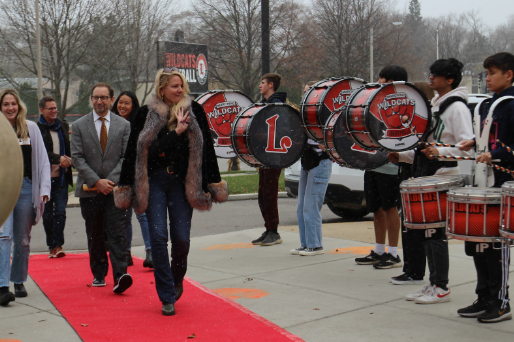 On Thursday, Nov. 17, Libertyville High School students gathered together to welcome, and listen to a presentation showcased, by Gwynne Shotwell, the President and Chief Operating Officer (COO) of SpaceX, an American space transportation company. Shotwell has been recognized by Time Magazine as one of the top 100 most influential people in 2020 and by Forbes as one of the top 50 women in tech.
Shotwell, an alumnus of LHS (class of 1982), visited to talk about the importance of careers in science, technology, engineering, and math, and SpaceX's role in U.S. space travel. Her visit had been in the works for a while as Curie Cats, a club designed to offer opportunities in the STEM field to girls, had been working out the details of the visit since 2017.
After graduating from Northwestern University with a bachelor's degree in mechanical engineering and later a master's degree in applied mathematics, Shotwell worked in various engineering fields before joining SpaceX in 2002 under Elon Musk as one of the first 10 employees.
Over time, SpaceX revolutionized the aerospace industry. Working in partnership with NASA, SpaceX aims to reduce the transportation costs of space travel by reusing rockets. They also aim to travel to Mars with the production of their next rocket – Starship.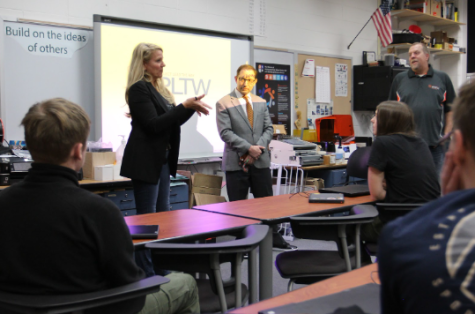 After touring her alma mater, Shotwell sat down in the auditorium to give a presentation to students who are currently taking a STEM course or participating in STEM clubs. This included classes such as physics, computer science, electronics and engineering PLTW (Project Lead the Way), and clubs including Coding Cats, Curie Cats, Math Team, Dare to Empower, Worldwide Youth in Science & Engineering, Science Olympiad and Advocats. Any student not attending the presentation in the auditorium watched a live stream of the presentation in their 7th period class. Additionally, students not comfortable with watching the presentation were allowed to go to the library during 7th period.
After principal Dr. Koulentes introduced Shotwell to the crowd, she introduced herself briefly and then went on to elaborate on some of her advancements after college.
This included her election onto the statewide California Space Authority Board of Directors, serving on the executive committee in 2004, and being recognized as the 38th most powerful woman in the world by Forbes, as of 2021.
Utilizing a slideshow presentation and videos, she continued to promote SpaceX and shared past achievements on what the private company has in store as time progresses, specifically their rockets.
An example of this is the Falcon 1, launched in 2008, quickly making history as the first privately-developed fully liquid-fueled rocket to go into orbit around Earth.
However, launching Falcon 1 wasn't as smooth sailing as many believe it to be. With 3 catastrophic attempts costing millions for the company, Shotwell made it clear that she never lost hope while emphasizing that troubleshooting and perseverance are essential to the company's achievements.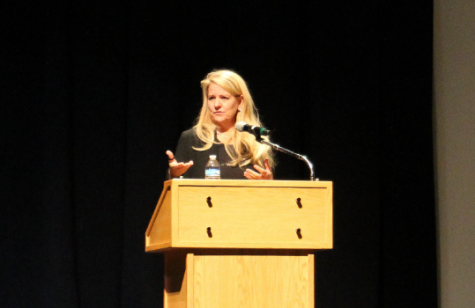 "When you're working really hard to create something, failure is a really important part of that," Shotwell explained. "You want to fail, and push as hard as you can, so you know where the limit is, and push until it breaks."
This theme continued as Shotwell recounted the difficulties SpaceX had in producing reusable rockets. Throughout her presentation, Shotwell reiterated the importance of being able to land rockets previously used to support the economics of the company. While doing so, she showed students various videos of the trials in both simulation and reality. Finally, after numerous attempts, SpaceX was able to reuse its rockets. Currently, they are one of the few to be actively sending rockets into space joined by China, Russia and NASA.
Shotwell's presentation created a lot of buzz within the school, as most of LHS took the time to hear her speak and learn about her experience with SpaceX. This was eventually followed up by questions created beforehand by students who filled out a google from prior to the visit to participate in the Q&A. Ranging from advice to the future, to even a student pointing out their parents used to live on the street as Shotwell did during her high school years.
"Our world is becoming more and more technologically focused," Shotwell said in response to a question from an LHS student. "I want to make sure that even [students] who are not interested in engineering careers at least understand some of the fundamentals so that they can be a thriving, contributing part of society."
With SpaceX having a success rate of more than 97%, making it one of the most reliable launch providers ever, Shotwell made it clear to look forward to what they have in store for the future. As she continues to work and grow with the company, make sure to check on the news as Shotwell is confident they'll be making headlines regarding Mars soon.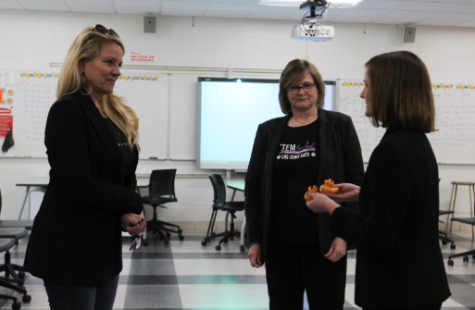 Leave a Comment