A Dive into "The Little Mermaid"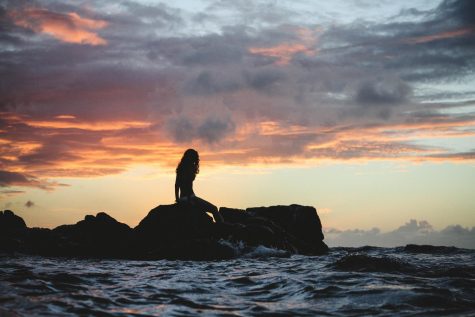 A few weeks ago, Disney released the very anticipated trailer to "The Little Mermaid" (2023). The clip is breathtaking, bringing audiences under the sea and into Ariel's world. Halle Bailey is seen singing "Part of Your World," originally sung by Jodi Benson, a classic song from the animated film. The trailer was beyond exciting for fans as parents shared their children's heartwarming reactions to the clip on social media. Many children were thrilled to see that Ariel looked like them and if Ariel didn't, they were delighted to see the mermaid on their screen and were genuinely excited about the movie. However, despite the heartwarming video, the clip has gathered many Dislikes. YouTube shows that there are roughly 2 million Dislikes compared to the 1.2 million Likes it has gathered so far. 
"The Little Mermaid" (1989) is one of the most beloved Disney films as it is an exciting musical fantasy filled with lovable characters and catchy tunes. The film follows Ariel, a mermaid princess, who falls in love with Prince Eric, a human. Ariel ends up making a deal with Ursula, an evil sea witch, causing Ariel to give up her voice so that she can go on land to see Prince Eric. At the end of the story, Ariel ends up turning into a human and goes beyond the shore to marry her price. 
The success of the movie resulted in Disney releasing two more movies, "The Little Mermaid 2: Return to the Sea" (2000), "The Little Mermaid: Ariel's Beginning" (2008), and even a series "The Little Mermaid." Since this fairy tale is a fan favorite, in true Disney fashion they have to keep her tale alive by turning it into a live-action movie for fans to enjoy. It has been three years since Disney announced that a live-action remake of "The Little Mermaid" was in the works. 
This would not be the first time that Disney remakes one of their animated classic films. Some remakes include "Cinderella," "Beauty and the Beast," "Aladdin,"  and "The Lion King" to name a few. While some may be excited, others prefer to see new films with the addition of new stories and characters. Disney continues to produce remakes as they recently announced a live-action "Aristocats." Live-action Disney films do well at the box office, but they do not always earn good ratings
Since the recent news of the casting of Halle Bailey as Ariel, the news took the internet by storm. This film would give Disney their first-ever Black lead in a live-action remake. This, however, was met with mixed responses. Many people shared their excitement for Bailey's casting, however several online arguments spewed. Some people expressed their disagreement with Bailey being cast as Ariel, while others praised Disney's diversity in casting. While some fans say that they would have preferred if Disney had made an original character that's a person of color, they are still excited to see the film next year. 
Although mermaids are fictional characters who at the end of the day are really just fish, Bailey's skin color seemed to be the main subject of controversy. Online trolls argued and made racist remarks about the actress and the color of her skin. Although this is completely unrelated to talent, people continued to express their disagreement with the casting result. They claimed that it was not only disappointing but distasteful that Ariel be portrayed differently than the mermaid in the 1989 film. Some didn't like the idea that Ariel could be portrayed as a Black woman with locs and without bright red hair. One online hater decided to go as far as to "fix" a picture of Halle as Ariel by turning her into a white woman. Not only was this disrespectful to Bailey but a slap in the face to the casting director and those excited about the casting. 
While the negativity continued, it was extremely touching to see that there were so many people thrilled about Bailey's casting. While some fans say that they would have preferred if Disney had made an original character that's a person of color, they are still excited to see the film next year. 
Not only is it incredible that Halle Bailey got the role since she is incredibly talented but also because this is a huge step forward for representation in the media. It feels like only quite recently society has decided to attempt to be more diverse. 
Growing up, many children of color usually did not see themselves represented in their favorite cartoons, films, and even books. Although some representation was seen, for a majority of the time, characters of color were typically on the sidelines for movies and shows. Most children spend a good amount of time online consuming media so it is essential that they see themselves represented.
 It is also important to note that there is still work to be done not only for racial diversity but also for the representation of physical disabilities, religion, gender, sexual orientation, and neurodivergent people. A lack of representation leads kids into having lower self-esteem and feeling not as worthy as their peers. On-screen representation helps children feel comfortable and confident in their own skin which is necessary for their development. 
Disney has worked to be more inclusive. In The Little Mermaid: The Series, there is a very special mermaid who is based on Gabriella Angelina Bommino, a young fan of the series who passed away from leukemia.  Gabriella is a deaf mermaid who is of color. She uses American Sign Language to communicate and even has an interpreter who is an octopus. 
 This film is a huge step for Disney as prior to this people of color were rarely given lead roles in their films. It is absolutely essential that youth see themselves represented in the media. Considering the fact that Disney has little diversity within their Disney princesses, having Halle Bailey star as Ariel is not only a big step for Disney but also for society. As far as more diversity in the media, the decision for Bailey's casting is not only significant for today's youth but today's older generations who may have never gotten to see themselves represented in the spotlight. 
Leave a Comment