Suburban Rage: How Libertyville fueled Tom Morello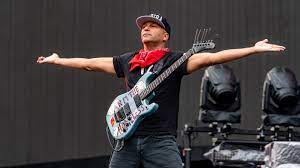 How does one go from an LHS graduate to a beloved, influential American musician? The unapologetic political outlook, crossed with unparalleled musical genius distinguishes Tom Morello, but how did Libertyville fuel the rockstar, and in what ways did it impact his passion for music?
Believe it or not, Morello didn't always have his heart set on music. His introduction to music included middle school band and guitar lessons, both of which led him to believe that music was not for him. 
"It was very structured, a big part of the reason I didn't like it," Morello explained.
It was at 17 years old that Morello discovered Punk Rock music.
"Within 24 hours of listening to the Sex Pistols, I marched into the LHS drama club and announced I was forming a band, even though I didn't know a single note of music or single chord on the guitar," recalled Morello.
Another passion Morello discovered while at LHS was the beginning of his involvement in social activism, particularly through his involvement in the school's publication, Drops of Ink. 
Morello was a part of Drops of Ink during a very dramatic period when the school administration was opposed to the staff exploring controversial topics, while the students were eager to speak on these topics and spread the truth. Since the school would not allow these stories to be printed in Drops of Ink, Morello found a way around this problem.
"We founded an underground paper called the Student Pulse, which was a rival to Drops of Ink," said Morello.
When the school administration did not allow the Student Pulse to hand out their magazine to the school, Morello and his fellow students who wrote for the Student Pulse called the Chicago Branch of the American Civil Liberties Union (ACLU) and had a meeting. 
"They came up to Libertyville and we taught the administration of LHS a civics lesson that they wouldn't soon forget. And we passed out the Student Pulse over the course of the next couple of years in school," said Morello.
Another way LHS influenced Morello's involvement in Social Activism was through his teachers. Morello describes how many of his teachers, including his mom, Mary Morello, who taught African Studies at LHS, established positive and productive confrontational relationships with students.
"A lot of those early experiences at LHS and pushing back against things that seemed unfair in school or the curriculum were really some of the cornerstones of what became my political education," explained Morello.
Morello would go on to graduate from LHS and become the first LHS student to attend Harvard University. He didn't originally plan to take his guitar playing to a professional level, but eventually it became evident that music was his calling.
"I was 19 years old when I had a revelation that I didn't really choose to be a guitar player, it chose me," said Morello. "All my other interests kind of subsided, and I began practicing guitar for up to eight hours a day while pursuing an honors major at Harvard."
After college, he moved to Hollywood with the hope of pursuing his two passions: radical politics and heavy metal. 
"For a time I was the scheduling secretary for a United States Senator, Alan Cranston, while having gigs at night playing rock," Morello recalled.
As the story goes for most famous musicians, the road to fame wasn't easy. Morello was a part of several bands as he sought out a music group that complimented his interests.
"I had an idea in my mind of making up a band that combined sort of my unapologetic political outlook with guitar wizardry, and that just didn't exist," explained Morello.
A significant moment in Morello's career was when he joined Lockup, a band that soon received a record deal. Unfortunately, their first record didn't come out as they hoped it would. As Morello reached his late 20s he lost hope in becoming a rockstar, but never lost faith in continuing as a musician. Unbeknownst to Morello, success was right around the corner.
"I made a solemn vow to myself, that I was never again gonna play another note of music that I didn't believe in. And that's when I started writing the riffs that would comprise part of the first Rage Against the Machine record," said Morello.
Rage Against the Machine was formed in 1991 with a record deal and a stage for a new kind of audience with an appreciation for breaking the rules, during a time when bands like Nirvana, Pearl Jam and Soundgarden were popular, and a theme of change was evident.
"It was like a connection that we made with a global audience with a message of empowerment, and that the world is not going to change itself. It's up to you, the person listening to this song right now," Morello said.
After his career with Rage Against the Machine, Morello went on to play for the band Audioslave with Chris Cornell, and then eventually pursued a solo career under the name of The Nightwatchman.
"It was more of a singer-songwriter, political folk music career, which has been really near and dear to my heart and in a real kind of artistic center, that I've oriented myself around," Morello explained. 
"It really harkens back to the first joys that I ever felt picking up a guitar in a basement in Libertyville," said Morello.
Libertyville not only impacted Morello, it fueled him. Growing up in a single-parent household as a person of color in a majority white town is more than enough to generate stress and a need for an outlet. 
"And people say: how did you come upon that style? And I wouldn't cite other guitar players, I'd say it was two decades of suburban angst," Morello stated.
"That's what influenced me as much as Eddie Van Halen or Jimmy Page or anybody like that. It was kind of the push and pull of the experience in that town," said Morello. 
Morello adds, "when I lived there. I honestly couldn't wait to leave, but I've grown to have a much greater appreciation and I look forward to returning."
Morello has been and continues to be an inspiration to LHS aspiring musicians hoping to make a name for themselves in the music industry, as well as an important piece of LHS history. He reminds LHS students that no matter who you are or where you came from, success is attainable.
"History is not something that happens. It's something you make."
View Comments (2)