Cooking Cats

Breakfast – Chocolate Donuts 
(Bakerish via Pinterest)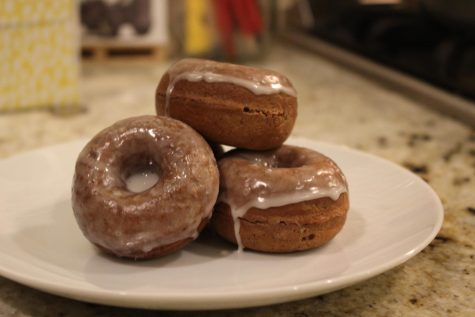 Ingredients:
1 1/2 cups all-purpose flour

1/2 cup cocoa powder

2 tsp baking powder

1/2 tsp salt

1/2 cup granulated sugar

2 eggs

1/2 cup sour cream

6 Tbs milk

2 Tbs butter melted

2 tsp vanilla extract

1 donut pan
Glaze: 
1 1/2 cup powdered sugar

4 Tbs milk

1-2 tsp vanilla extract
Directions:
Preheat oven to 400 F and spray a donut pan with non-stick cooking spray, set aside.

In a bowl, add all dry ingredients and whisk to combine.

Add egg, sour cream, milk, butter, and vanilla extract and stir everything until just combined.

Spoon into wells of donut pan.

Cook for about 10 minutes or until donuts spring back when touched.

Remove from oven and place on a wire rack to cool.

Meanwhile, mix together your glaze ingredients until smooth.

Once donuts are cool, dip tops and bottoms of donuts into glaze and set them back on the wire rack to harden.
Dinner – Penne Arrabbiata
(BakerbyNature via Pinterest)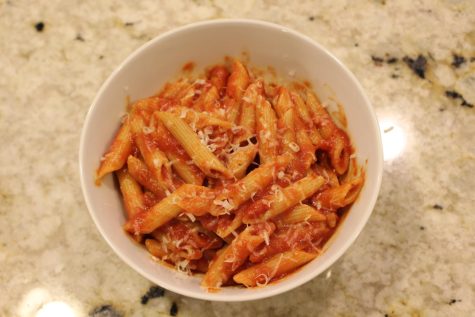 Ingredients:
1/4 cup olive oil

6 cloves garlic, sliced very thin

3/4 teaspoon crushed red pepper flakes

2 Tablespoons tomato paste

28 ounce can crushed tomatoes

1 teaspoon salt

1/4 teaspoon black pepper

1 teaspoon granulated sugar

16 ounce box penne

1/2 cup fresh basil, chopped

Parmesan cheese, for serving
Directions:
Heat olive oil in a large saucepan over medium heat. Add garlic and chili flakes and cook for 1 to 2 minutes, stirring frequently, until garlic is fragrant and just starting to soften. Stir in the tomato paste. 

Add in the crushed tomatoes, salt, pepper, and sugar and bring to a steady simmer. Reduce heat to medium-low and continue cooking for 15 minutes – stirring occasionally. In the meantime, make your pasta. 

For the pasta, fill a large pot with water and a dash of salt. Place over a medium-high heat and bring water to a rolling boil. Add penne and cook for 8 to 9 minutes, or until pasta is al dente (cooked, but firm when bitten). Drain pasta well.

Stir the cooked pasta into the sauce. Add in the basil and stir well to combine. 

Serve pasta warm, with plenty of grated Parmesan cheese.
Leave a Comment