Business As Usual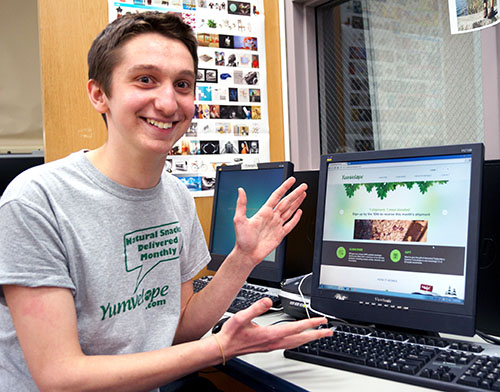 Ryan Jackson, Staff Writer
April 10, 2014
   To say that Lisa Harris, owner of Morning Sunshine Breakfast Cookies, was shocked upon learning that LHS junior Sam Gold is only 16 years old would be a dramatic understatement.
   "Oh…I had no idea! That's amazing! That blows me away," Gold's client mused over his wily business demeanor.
   After spending five minutes with him, it's plain to see how Gold has managed to morph an idea into an enterprising online company off of nothing but his own pocket money, all at the ripe old age of sweet sixteen. His steady eye contact, comfortable yet cordial disposition, and handshake that would make a Consumer Ed teacher swoon are just a few of the factors that have allowed Gold's company, Yumvelope, to take off.
   For those who haven't heard of Yumvelope, it's a website that allows consumers to sign up for a monthly subscription box. The box contains six healthy, unique treats that aren't found in regular grocery stores, for the price of $21 per month. For example, the box from January of last year contained hot chocolate on a stick, cocoa chili almonds, and Weefuls pancake mix, among other treats. Yumvelope is run completely off the website, Yumvelope.com, and caters to those who aren't afraid to dabble into some obscure snacks. (One perspective vendor vouched for their coconut bacon to make it into the box, which it did not).
   When Gold kick-started Yumvelope at the end of his freshman year, it marked his first venture into the business world.
   "I'd always sold stuff online, bought stuff online, but I really wanted to go into a full-fledged thing. I had seen this sort of model work with makeup…I saw it work and figured I could make it work," Gold explained.
   While most freshmen were plugging their way through Driver's Ed, Gold was trudging his way through tax codes and web design to get his company off the ground. By the end of the school year, Yumvelope was trying to establish a reputation for itself in the world of subscription boxes. Gold dedicated himself to preventing his company from flopping like others he had seen.
   "When I was getting started, I talked to a bunch of people about it. One of the people was someone who got a subscription from Paleo, from the Paleo fad [an eating plan that is all foods one would find in the Paleolithic age]. I talked to someone who started something that eventually failed. I'm not shy about asking people for help," he said.
   After the company was up and running, Gold was able to experiment with different business and marketing techniques. One of his most effective tactics has been donating a meal through Feeding America, a program that attempts to end hunger in the U.S., for every box that is ordered, a strategy that highlights both his generosity and the marketing savvy of someone well beyond his years.
   "I think that's really smart of him to have a personality go with his business…that type of philosophy is pretty proactive and cutting edge in marketing," offered LHS Entrepreneurship teacher Bill Reichert.
   Reichert also admired the timely surgence of Yumvelope is in concordance with currents trends in the food industry.
   "The fact that he is capitalizing on the psychographic trend of people leaning towards healthy eating and the departure from GMOs and chemical-laden foods is very crafty," Reichert said in fluent entrepreneurial language.
   To track down these obscure food companies that make up the monthly Yumvelope box, Gold used to have to search Amazon and other websites to hunt for potential clients. Now, the company has established a strong enough reputation that small business owners reach out to Gold and asked to be featured in the boxes.
   Harris, whose company cooks and distributes their original breakfast cookie, has worked with Gold frequently to publicize her product, which is a healthy spin on the traditional baked good.
   "The thing that impressed me about Yumvelope was that they really wanted to work with the small businesses and help them grow, and not just expect a ton of free product that only benefits them," Harris raved.
   That is perhaps Yumvelope's most distinctive quality as a business — its consideration for the success of its clients. While most subscription boxes greedily request illogical amounts of free product, Gold collaborates with his clients to maximize success for both parties.
   In addition to wooing small business owners and raking in a profit margin that would color a grocery store employee green with envy, Gold is gaining valuable, real-world experience that puts him a head above the competition. (Even though at 6'2", he hardly needs it.) While the future of Yumvelope is uncertain, its head honcho is certain he's ready to splash into the business world. He has already been awarded the Bruce Fishkin Scholarship, which will pay $10,000 per school year in college. The Fishkin Scholarship website displays that they are "in search of standouts," and they found one in Gold, who cites his business as the prime reason he was awarded the scholarship.
   "Just the fact that I've started a business is such a huge conversation starter," he said.
   Yumvelope has done more than just start conversations. In addition to landing him the scholarship, Yumvelope connected Gold with the sister firms of Far Shore and DashFire, who specialize in business and web development. Gold interned with the two companies last summer in Chicago and gained invaluable experience outside the Libertyville bubble.
   "I've been surprised by how many doors it (Yumvelope) has opened," Gold said. "I ended up going to the city last summer and working for these guys, and it was a lot of fun. It may not seem that fun, but I really enjoyed it."
   However foggy the specific future in business may be for Gold, his confidence and experience look to pave a clear path towards success.
   "Whether he succeeds or fails, he's out there, and he's doing it. As opposed to people who are just talking, he's actually doing it. And even if he does fail, the things he's going to learn along the way are such valuable lessons that no matter how you look at it, it's a winning situation, because he's out there executing," Reichert beamed.
   Although Gold is humble by nature and plays down his own success, he reiterates that it's possible for anyone to open a company.
   "I think really anyone can do something like Yumvelope," he stated. "It's just coming up with something of value and getting people to pay for it."
   So next time you dust off the old fold-up table in the garage to journey into the world of Lemonade stand entrepreneurship, just model yourself after Gold and remember: it all starts with an idea.