The LHS Classes Everyone Should Know About
Course Selection is right around the corner! In a matter of weeks, all juniors, sophomores and freshmen will be choosing the classes that will make up their schedules for the 2022-2023 school year. Most students' schedules consist of an English class, joined by Math, Science, Social Studies, Foriegn Language, Physical Education, and Lunch. However, that only makes up seven of the eight periods in a school day. An elective course is available, and LHS has an abundance of classes to offer. With that in mind, Drops of Ink presents a variety of elective courses that all students should know about before they choose their classes for next year. 
AUTOMOTIVE TECHNOLOGY I 
LHS has its very own Auto Shop which houses both the Auto I and Auto II courses. Robert Kelch teaches both, and says that while emphasizing safety, students will "operate every large piece of machinery in the shop.  They will use a drill press, grinders, welders, and hand power tools. They'll take a small engine apart, put it back together, and do some basic car maintenance." 
Senior Carson Agee took Auto I his sophomore year. Agee "really liked welding and learned a lot when we took apart and reassembled the engines."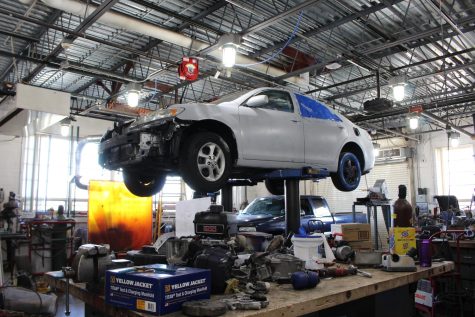 Mr. Kelch stressed that no prior experience with cars or maintenance is required to sign up for the course. "People feel or have the perception initially that if I take that class, I need to know something. And you don't. Everybody in this room doesn't know anything at the start." 
Mr. Kelch is also very open to student input in the projects. "I'm all for doing different things, if it's mechanical, requires some fabrication, and gets your juices flowing, then let's do it. Learning how to do something with your hands, there's a certain amount of satisfaction that you can't can't replicate," he said. 
"Auto put me in a good mood while teaching me valuable information about my future," Agee concluded. Auto II is available as a year-long course that students can repeat if they enjoy Auto I. 
 SPORTS AND ENTERTAINMENT MARKETING 
This semester long class looks at Marketing Principles through the lens of a sports or entertainment medium. After learning marketing techniques such as 'The Four Ps': Product, Place, Price and Promotion, the students will create their own sports or entertainment entity. "We create a team, a logo, a slogan, a venue with ticket pricing, advertising, a website, promotional materials, hats, shirts, all those types of things," says Bill Reichert, who teaches the course at LHS. He enjoys "giving students an opportunity to explore something that they're interested in." 
Junior Chris Bennett took Sports and Entertainment Marketing his sophomore year and created his own NHL team for this project. "We looked at the NHL salary cap and signed famous players to contracts that were all within the salary cap. It was very cool," Bennett said. 
Mr. Reichert elaborated on the skills taking this class can give. "We don't take tests, we don't do book work or homework. We develop presentations, we make all kinds of artifacts, we use different web based software. You're really learning a meaningful business curriculum while combining all those soft skills. It's really awesome."
JEWELRY METALSMITHING STUDIO 
This course teaches students metalsmithing skills and allows them the ability to create their own jewelry. Senior Delaney Hackett took the course during the first semester of her senior year and loves the "creative freedom and individuality which leads to no one's [jewelry] turning out the same." Hackett is "so glad" she took the course and is excited to have learned "a lot of metalsmithing skills from soldering metal for rings or sawing pieces of metal to make a pendant or keychain." 
Teacher Julie Johnson explained some of the techniques students will learn. "Students learn how to use Jewelry torches, set a stone and create a beautiful wearable ring. They also work on wax carvings and enameling." She enjoys teaching the course because, "Everyone uses the techniques to create original work that is personally significant to them. It is a unique experience that can't be found in most other high schools." 
PRESCHOOL 
"We actually run a Preschool program in the building here," says Kristin Tarrant, who teaches the course at LHS. "We have a room setup for preschoolers with small tables and toys. My students become their teachers."
The kids are dropped off by their parents or guardians and picked up either two or three class periods later based on how many sections of Preschool class there are. The only requirements are that the kids are between 3 and 5 years old, and are potty trained. Senior Kaitlyn Gallo took the course her sophomore year and enjoyed it so much that she signed up for Preschool II her senior year.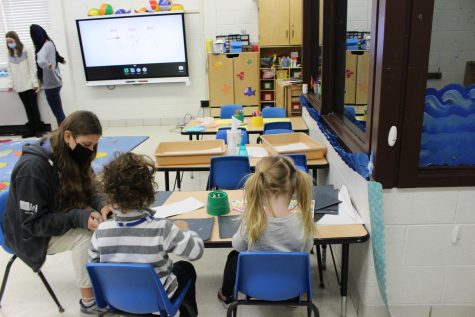 "We're learning how to be creative in lesson plans," Gallo said. "The actual information you're teaching is so easy, but coming up with fun ways to teach it, you use a whole different side of your brain as opposed to math or science class."
Both Gallo and Mrs. Tarrant agree on their favorite part of the class, which according to Mrs. Tarrant is "the connections the students make with the little kids and the relationships that they build with them." Gallo added that she "enjoys the preschoolers because they're wide eyed, so creative, and they have no filter, which is absolutely hilarious. I feel like they bring out such a good and happy side of everyone."
WOODWORKING 
Woodworking I is a semester class that, similar to Auto I, requires no prior experience. Jeremy Gerlach teaches this course at LHS and describes it as "risky and high stress. But the students seem to thoroughly enjoy that."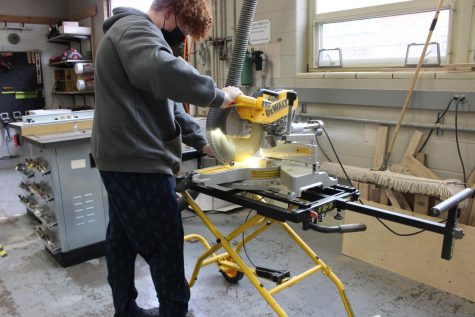 "We start with safety and being able to name tools. Then we learn how to cut things at the right angles. It's a very active class with very few lectures," Mr. Gerlach explained. 
Mr. Gerlach also detailed the project progression of the class. "We start out simple with a cutting board, then we move on to the side table, which is actually probably more of an advanced project, but we do it anyway. And then building Adirondack chairs is the culminating project."
Junior Sydney Maheu took the class her freshman year and she still has each of the items she made in Woodworking. "I gifted my mom the cutting board and I have the table I built with the chair I built." She explained she liked the class because "[Mr. Gerlach] would give us direction for the day and say, 'You need this type of wood and this is what you need to get done for today'. It was a very independent class but I was able to learn some real life skills."
Just like Auto, Woodworking II can be taken and repeated after finishing Woodworking I.
DARKROOM PHOTO STUDIO 
Students in this course will "learn how to use a 35 mm camera, shoot and process film, and create photographs in the darkroom under red lights," according to Mrs. Johnson, who teaches this course as well.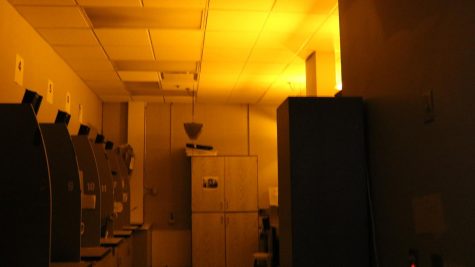 Senior Kate Shannahan took the course her junior year and described a typical project. "We would have an assignment to go out and take pictures. Sometimes the assignment was 'Nature' so I took pictures of trees or animals or flowers. Then, during the week we do the whole process of developing the pictures and rolling the film." 
Both Mrs. Johnson and Shannahan agree that it is a nice change of pace to step away from digital photos and screen time. Shannahan describes it as "more fun to not be able to see  the pictures you take until you develop it." Her teacher says "seeing the images on the film, after processing, is always magical."
UNDERSTANDING PERSPECTIVES: AFRICAN AMERICAN HISTORY
Understanding Perspectives: African American History is a brand new class coming to LHS for the 2022-2023 school year. According to Social Studies Department Supervisor Brian Voss, the focus of the course is "to give a perspective of the African American experience and give an opportunity to appreciate, celebrate, and empathize."
This semester course will study African American History from slavery to modern times. The idea for the class came from a group of students at Vernon Hills High School, who approached one of their history teachers in 2019 to request a course that "goes deeper" than US History, according to Mr. Voss. D128 has been working on creating the course since this time. 
"I hope a big takeaway is to not change the story, but just kind of reinterpret the narrative," says Mr. Voss. "Yes, there are bad things happening. But here's all the great things that come out of it. Here's all the people that have stepped up and made a change and inspired others. Here's the artwork, poems, literature, and speeches that show this celebration of identity and history within the American experience." 
GRAPHIC COMMUNICATIONS I 
Graphics I has many similarities to Woodworking. It is a semester class, it has a second level course, it is taught by Mr. Gerlach, and once again students need "zero prior knowledge" to sign up for the class. The course teaches students how to use three web-based design softwares from Adobe and how to put those designs on items, such as t-shirts. Mr. Gerlach believes that designing t-shirts is the students "favorite project."
Senior Nora Dudley, who took Graphics I her sophomore and Graphics II her junior year, explained some of the projects she worked on. "We put our designs on coasters and mugs. I made a screen print of a Nike logo and put it on a sweatshirt. I also got super close with my entire class because we brainstormed together to create." 
Mr. Gerlach says students should sign up for Graphics "if they want to learn how to do computer software, work with different machines, and be able to kind of chat and interact with other students." 
FASHION MARKETING and MERCHANDISING 
This course was created "in direct response to the successful marketing programs at LHS" such as Sports and Entertainment, according to Debra Kellum, who teaches the course. "We wanted to offer another version of marketing for students who might not be interested in sports," she explained. 
In this semester-long class, marketing principles are studied alongside fashion trends and history. Additionally, merchandising, and specifically displaying merchandise, is taught. The students will also learn eight basic hand stitches that they can use to "create an entire garment," according to Dr. Kellum. 
Senior Josie Liu took the class her junior year because she has "always been into fashion." A few projects she enjoyed were "designing a storefront" and "making an upcycle by turning one of my dad's old pairs of jeans into a top." Liu loves how the class gives "a lot of room for creativity and doing your own projects." 
Dr. Kellum agrees, saying she enjoys teaching Fashion Merchandising and Marketing because "there's a lot of freedom, a lot of student expression, and a lot of imagination available."
MUSIC PRODUCTION AND SOUND ENGINEERING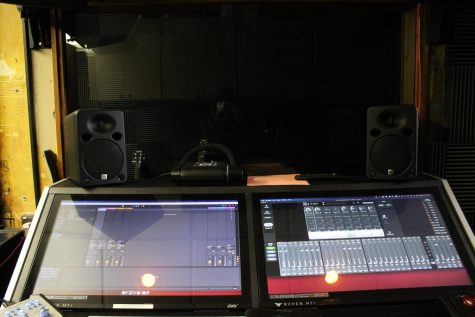 This course teaches students "how to create a song from a musical and technological standpoint," according to teacher Matt Karnstedt. The students utilize the Red Door Studio, a brand new recording studio within the LHS Studio Theatre. This studio has "microphones, digital audio interfaces, mixing consoles" and all kinds of technology accessible to students, says Mr. Karnstedt.
Mark Tu, a senior who is currently taking the course for the second time, says he enjoys the class because "you learn music theory and chords but then you just get to explore the software. It's really cool to see the diversity of sound from all the students." 
Mr. Karnstedt says, "The coolest thing that we do is the mixtape project. Each student creates their own individual project and we bring them together to work on something as a group." He also believes it is "important for students to have some sort of creative outlet in their time in school." He describes the class as "project based and individualized" and emphasized that "the entire spectrum of experience is welcome in the program." 
Leave a Comment