Riley Lees: An LHS Football Legend
Riley Lees graduated from Libertyville High School in 2016 and is an alumni who will not soon be forgotten. As the football team's starting quarterback, Lees put Libertyville on the athletic map in Illinois. He led the Wildcats to the 7A State Semifinal in 2014 and the State Final Game in 2015, while being awarded Daily Herald Player of the Year in each of those seasons. Now, the high school's football legend is back at LHS as an assistant coach.
High School Football
During his high school career, Lees put up some impressive stats. A true dual threat QB, he passed for 2,989 yards and 38 touchdowns, while rushing for 4,437 yards and 68 touchdowns. 
Reflecting on his time as a player at LHS, Lees said, "Being able to have that success, going to the semis and going down to state, and doing it with the guys I'd been playing football with since third grade with that was definitely the best part."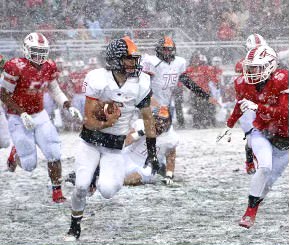 As a top tier high school player, Lees was heavily recruited by colleges. "Recruitment was a fun experience," he said. "For me, I was getting recruited for a multitude of positions like quarterback, safety, receiver." 
Changing positions from high school to college is not uncommon, especially when it is a change from quarterback to a different position. Many elite college and professional players at most of the skill positions were quarterbacks in high school because their coaches wanted them to have the ball in their hands on every play. 
For Lees, "My goal was always to play Big Ten football. And I wanted to play offense." These boxes were checked when Northwestern University offered him a wide receiver position. He enrolled at Northwestern in the fall of 2016. 
College Career at Northwestern
Lees majored in Learning and Organizational Change at Northwestern. He calls it "a business degree where you can go into the economic or consulting sectors." Lees said that LHS helped him succeed in the rigorous academic setting that is Northwestern. Being at Libertyville taught Lees to "have a good routine and get stuff done on time." 
He also believes Libertyville athletics helped prepare him for the discipline necessary for being a college athlete. "I had a routine in high school of going to lift before school, after school in the offseason, or if I'm playing baseball, going to the football lifts in the morning. So after building that work ethic, once college came it was easy to transition."
Lees began his college football career with a redshirt freshman year, allowing him to keep eligibility if he stayed at Northwestern for a fifth year. He spent this year learning his new position, which was not easy. 
"At first it was for sure difficult, especially because it was not just changing positions, you're playing at a higher level. So it's not like I changed positions from junior to senior in high school. I'm going to play Big Ten football at a position that I've never really played before." 
Northwestern saw success in Lees' first years playing for the university. In 2017, Lees tallied 18 receptions for 235 yards and two touchdowns. He also had 19 kick returns for 302 yards. The team finished with a 10-3 record, ranked at No. 17 in the AP Poll. 
In 2018, Lees' junior year and his second year as starter, Northwestern ran through the Big Ten, finishing 8-1 in Conference and advancing to the Big Ten Title Game against Ohio State. 
"My favorite moment, if I had to pick one, was probably 2018, running out for the Big Ten Championship. That's something I grew up watching all of high school. Being able to play in that game and run out to Gus Johnson's voice over the stadium, I was like 'This is dope.'"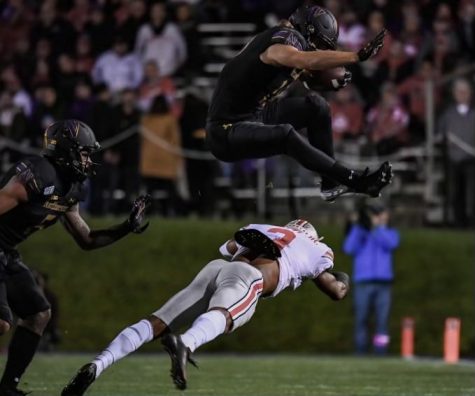 Northwestern came up short in the game, and the team struggled in the 2019. However, from that game on, Lees began to put up the best numbers of his career. In 2019, he gained 430 yards and two touchdowns on 51 receptions while adding 426 yards on 30 kick returns. 
A notable game for Lees that season came against the University of Minnesota, where he lined up against Gophers safety Antoine Winfield Jr. 
"I got to block him and run routes on him. He can hit. He's one of those guys where you're planning and you're like, 'Yeah, this dude, he's good.'" 
Winfield Jr. went on to be drafted by the Tampa Bay Buccaneers in the second round of the 2020 Draft. He was their starting safety for their Super Bowl run in the 2020 NFL Season. 
Lees completed his career at Northwestern by catching 20 passes for 214 yards and two touchdowns in the COVID shortened 2020 season. His team once again saw great success, finishing 7-2 overall, ranking No. 10 in the final AP Poll, and advancing all the way to the Big Ten Championship. 
After totaling 111 receptions for 1093 yards and nine touchdowns across 48 career college games, Lees then set his sights on the NFL. 
The Draft and NFL Experience
Each April, only about 250 out of the nearly 75,000 college football players are drafted into the NFL. However, NFL teams fill out their summer rosters with many undrafted free agents. 
"Going into the draft, I knew there were some teams that were talking like they might take me in the seventh round," Lees explained. "But more than likely I was going to be undrafted so I kind of anticipated that." 
The 2021 Draft came and went without Lees hearing his name called. However, his agent gave him a call "no more than five minutes after the draft." 
"Four teams reached out after the draft but since Cincinnati was the first of the four to call, we agreed to the Bengals. It was way quicker than I honestly thought." 
Lees began practicing with the Bengals in May for Rookie Minicamp and Organized Team Activities (OTAs). He stayed a member of the team throughout the summer as they tried to finalize their rosters before the season began in September. 
Lees spoke very highly of his experiences in Cincinnati. "Its one of those things where I'm sitting there and Joe Burrow (Heisman Trophy winner and number one NFL draft pick) is like 'Hey, Riley, go catch passes'.  And I was in the receiver room with Ja'Marr Chase. We were doing rookie meetings just me and him and the coach for three months straight just on Zoom. It's cool looking back." 
Lees was unfortunately released by the Bengals in August and did not make the final season roster. However, there is still hope for his NFL career. 
"Right now there's still an opportunity for me to get picked up by a team for their practice squad late in the year. So right now, I'm just staying in shape and talking to my agent, staying in touch and seeing if something pops up." 
He returned to Libertyville to complete his workout regime. And with free afternoons, he decided to reach out to his high school coaches at LHS, to see if he could come back and coach the team in an assistant role. Lees is excited about what he can bring to the team. 
"There's a ton I've learned that I can try to bring to this program. First, the knowledge of football. I wish I knew then as much as I do now about football, just schematically and how defenses work. If I knew all of this in high school, I would have probably had more of a field day playing quarterback."   
Upon his return to the LHS football program, Lees has been able to use his experience to help the quarterbacks and receivers especially. He's taught them "the importance of knowing coverages and knowing what the defense is doing before the play. If you do, it's just going to make your life easier." 
View Comments(1)