2 pool records crushed by LHS at girls varsity swim meet against Lake Forest
The girls varsity swim and dive team shattered two pool records last Thursday, Oct. 14, despite suffering a loss against the Lake Forest Scouts at home during their senior night. Although the Wildcats lost to Lake Forest by a final score of 90-96, there was great camaraderie among the team. 
The two pool records broken were in the 200-yard medley relay and the 200-yard freestyle relay.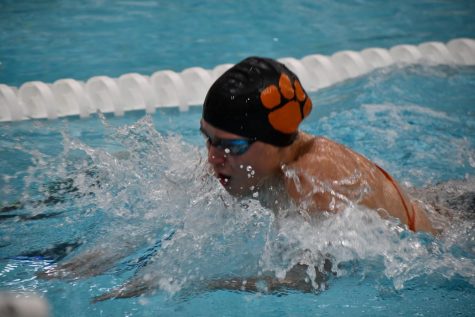 In the medley relay, Sofija Tijunelis (10), Georgia Kahler (10), Sarah Wuh (11), and Logan Howard (10) beat the pool record previously held by Barrington High School with a time of 1:48.79, crushing it by over a second with a 1:47.85. Tijunelis completed the backstroke leg of the relay, Kahler swam breaststroke, Wuh swam butterfly and Howard finished off the race with freestyle. 
As the girls swam, the pool was full of cheers and screams, both from the spectators, fellow teammates, and the girls themselves. After the race, the girls exchanged high-fives and smiles when they found out they broke the pool record. 
"Breaking a record feels amazing, especially when you put in the work and effort," Kahler said. "Being there for each other and hyping one another up definitely plays a role [in a relay]."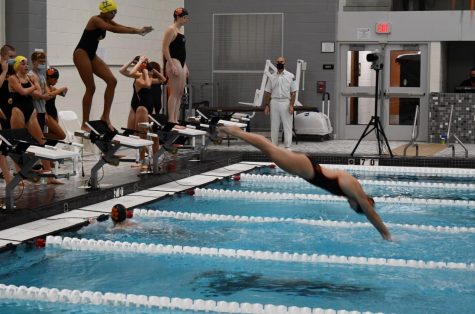 In the freestyle relay, the same quartet broke yet another one of Barrington's pool records.  Tijunelis, Kahler, Howard and Wuh all swam a 50 yard freestyle for a total time of 1:38.77, breaking the previous record of 1:39.14. 
Additionally, in the individual 50-yard freestyle, Howard tied the pool record with a time of 24.52. 
The group of four are looking forward to swimming the relay at conference and sectionals. 
"I'm really excited to get out there and race in championship season," Tijunelis said. "I'm looking forward to seeing how [our] effort throughout the season will result."
The team's next meet is at home against Waukegan on Oct. 19.
View Comments(1)