Cats Go Collegiate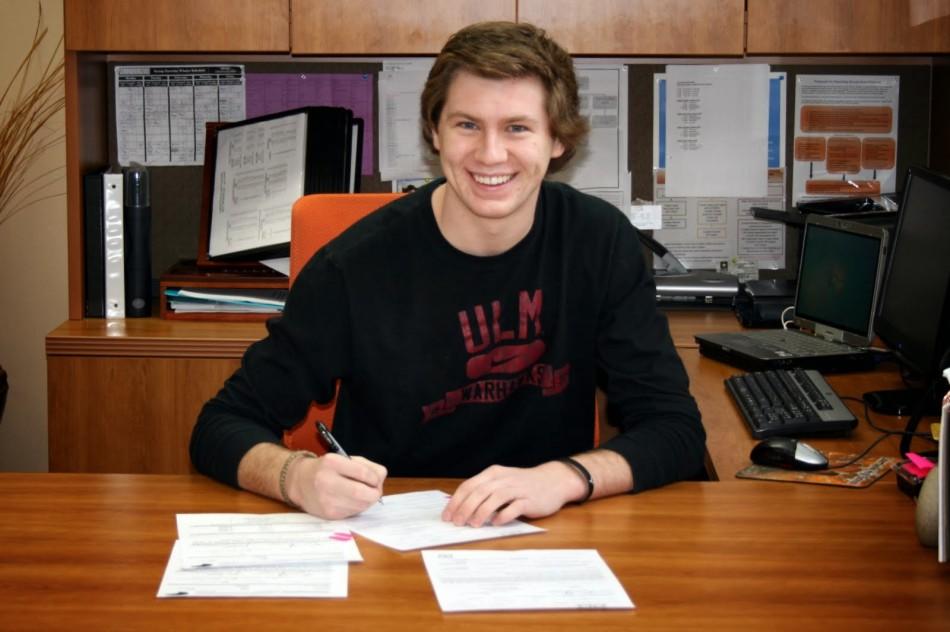 Natalie Zeng, Staff Writer
April 10, 2014
Any high school athlete will tell you that they've thought about competing at the collegiate level at least once. Those with the passion, dedication and talent actively pursue the student-athlete's ultimate goal of not only competing, but using athletics as a way to pay for higher education. But before any student can play their way through college, they must endure the long and highly regulated process of college recruiting.
A student becomes a "prospective student-athlete" at the start of freshman year. While communication between student and university is not initiated at such an early point in the process, a student-athlete's main focus is on achieving and maintaining academic eligibility. For Division I schools, a student must maintain a minimum 2.3 GPA and complete sixteen core courses, including English, math, science, and social studies. Division II schools require a 2.0 GPA and the same sixteen core courses. Division III schools each set their own academic eligibility standards.
"[Academics are] so important," said LHS senior Devika Joshi, who will be playing on the women's water polo team for Iona College next year. "[Coaches] want to see somebody's hard work, and they aren't going to let you play if you have bad grades. In college, if you start getting bad grades, they're going to make you not play and get your grades because that's the number one priority. So in high school they want to see you do well."
It is during the sophomore year that communication is initiated between student and university. The recruiting process is bound to strict regulations that vary by division and sport, but generally, students may begin receiving questionnaires and brochures advertising training camps and are permitted to make calls to coaches. However, coaches are prohibited from calling or contacting student-athletes off-campus at this time.
"The NCAA has a lot of regulations on the recruiting process," said LHS Athletic Director Mr. Briant Kelly. "Basically it's to help level the playing field for the colleges so that those with more money available to them aren't taking advantage of that and being able to fly across the country and recruit. So by leveling the playing field it allows some of the other colleges and universities that don't have as much money or resources available to them to also follow the same rules and be able to recruit the kids. And also I think at the same time [the amount of contact] was getting out of hand…so now it's, 'Here's the time college coaches can contact high school kids.'"
Also during sophomore year, student-athletes must register with the NCAA Eligibility Center, which certifies the academic and amateur credentials of prospective student-athletes who wish to compete in Division I or II athletic programs. Students must submit general information, such as address and date of birth, along with the name and location of the student's high school and the sport or sports in which they plan on participating. Division III student athletes are not registered with the NCAA Eligibility Center because Division III institutions set their own individual academic standards.
Junior year is by far the most important year in the recruiting process, both academically and athletically. All ACT and SAT test scores must be reported to the NCAA Eligibility Center, and students must earn a minimum combined sum SAT or ACT score that corresponds to their GPA on a sliding scale, based on division. For example, if a student was looking at a Division I school with a 3.0 GPA, they would need each subsection of their ACT (English, math, reading, and science) to total at least 52.
It is during this year that student-athletes begin "self-recruiting" — sending universities highlight reels, sports resumes, and letters of introduction.
"When I talked to coaches, I sent them a list of all my times," said LHS senior Alex Snarski, who received a scholarship to compete on the men's swim team at Northwestern. "I emailed a bunch of coaches and gave them my number and email address and stuff, and I told them they could call me whenever they want, or my coaches if they needed any other information."
It's important for students to make themselves known to coaches and universities because there's no possible way for each head coach to review every player at every high school in the nation. Coaches may call students at most once per week and are permitted to visit off-campus. They may also observe a practice or competition, depending on division and sport.
Senior year is when communication between athlete and university is at its peak. Coaches may begin offering official visits, where students and their parents are invited to tour campus, observe sports practices, talk to current players, and attend sports events, all at the expense of the university. Coaches are also allowed to evaluate a player's athletic performance at practices and competitions.
"[Coaches would] try to sell their team to me, saying that their team is the best and stuff," said Snarski. "I'd just ask questions like How will I fit on the team? What is the team chemistry like? to try to find out what the team is like. Once a week, the coaches would call me and we'd talk."
If a student is wanted by a university, they will be offered a National Letter of Intent, or NLI. By signing an NLI, the student agrees to attend the designated institution for one academic year. Outlined in the NLI is an agreement to provide the student with a certain amount of athletic financial aid, which is determined at the discretion of the institution. While Division I and II schools may offer athletic scholarships, Division III schools are prohibited from doing so in order to "minimize potential conflicts between athletics and academics," according to the NCAA Guide for the College Bound Student Athlete.
"[Colleges] have so many scholarships per sport," said Mr. Kelly. "Some sports have big, big rosters and are considered revenue sports, so they will have more scholarships available. But, with Title IX, it has opened up the doors so that some of the non-revenue sports and also female sports are getting the same amount of opportunities with scholarships."
After signing an NLI, all other institutions are prohibited from recruiting the committed student.
But what's the likelihood of all this happening, anyway? According to the NCAA, only about 2% of high school athletes receive scholarships to compete at the collegiate level. LHS senior Anthony Monken is one of the lucky few, for he has received a full scholarship to play football for the University of Louisiana at Monroe.
"It didn't hit me until a little bit later that night and I was talking to my family about it. I joked around when I was younger saying that I would [play in college] and I would get a scholarship so my parents wouldn't have to pay for anything. It kinda just worked out for the best and I got lucky with this scholarship," he said.