LHS Experiencing a Lack of Bus Drivers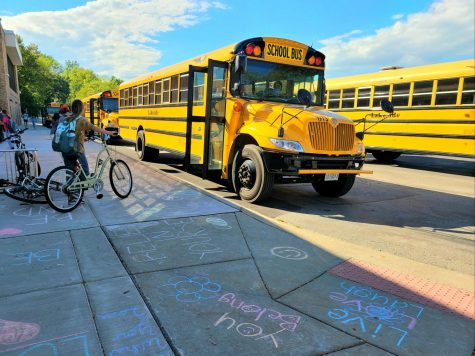 Libertyville High School and the surrounding Lake County area is experiencing a severe lack of bus drivers for their bus routes. The issue has been causing delays in bus arrivals and departures, which has adversely affected students. 
In total, Libertyville has 12 to 13 bus routes that have to be covered each year. In past years, difficulty finding bus drivers had been an increasing concern, though no major problems had occurred. However, the switch back to full capacity in-person learning has made the situation more dire. Mrs. Gratz, the bus coordinator, explained the causes for the lack of bus drivers.
"The reasons for not having drivers are many," said Gratz. "It may be COVID related; they may have gotten other jobs; they've got some new requirements in the state of Illinois, and possibly some of the drivers couldn't pass that test."
Those who wish to become bus drivers must get a commercial driver's license (CDL), which has a lot more parameters, according to Gratz. In addition, any incident that affects a bus driver's record, such as getting into an accident or any traffic violation, impacts them more than those with a regular license, [so] any violation could cause them to potentially lose their bus license. 
"You can't just hire someone off the street to be a bus driver. They've got to go get the right certification, and there's a class they have to take; they've got to have some hours behind the wheel and take a test," Mr. Stanley, the assistant superintendent of business, explained. 
There have been multiple impacts on the school as a result of the later arrival times of the buses. The situation is having a negative impact on many students, as some have been arriving to their first period classes 10 minutes late. By the time they arrive at school, they may have already missed around a fourth of their class time. 
"It's hard on the teachers who, every day, have one or two students [arrive late]. If you've had a student come into your class while [class has already started], it's a distraction," Gratz explained.
The new bus route schedule is also affecting out-of-school activities. 
"One thing it got in the way of was my private saxophone lessons, and we had to reschedule those for a later time because I was getting home at five," junior Nolan Johnson explained, his lesson time having changed from 4:20 p.m. to 5:45 p.m.
Certain actions are being taken to reduce the number of kids coming in late. For example, bus drivers who have to run double routes in the mornings take the first set of kids to school 40 minutes early so they have enough time to get back and begin their second route. Later in the day, bus drivers have to work double routes again, which has left some kids at school for over a half an hour. This situation is further complicated by road construction and train track issues around Saint Marys Road between 1-76 and Route 60, which have caused buses to get behind schedule. 
"So now you've got kids who are getting here at a quarter to eight, and they don't start school for almost an hour. And then you've got kids that are stuck here after school because they can't get a ride home. But the reasons for it are, in our eyes and the bus companies' [eyes], that they just don't have the drivers," Gratz started.
The hope is that these parameters will decrease the number of late arrivals, though for the time being, the situation remains unchanged. 
"I haven't heard of a lot of issues recently," Gratz explained. "And when I say that, I mean, in the last couple days. We have done two different changes for the bus routing so far. And hopefully that was the last one. Hopefully, everything kind of smoothed out a little bit and the kids are getting here on time and not leaving quite so late."
Leave a Comment