Fast Food Restaurant Options to Work at This Summer
Picking a summer job can be a tough decision, as it will determine how much free time you'll have, how much money you'll earn, and what kind of people you'll be surrounded by. DOI visited some popular fast-food restaurants in Libertyville and considered a list of factors one would want in a summer job: flexible hours, free food, lunch breaks, amicable coworkers, good pay, an easy application process and nice customers. Based on this list, we were able to determine some good places to work at.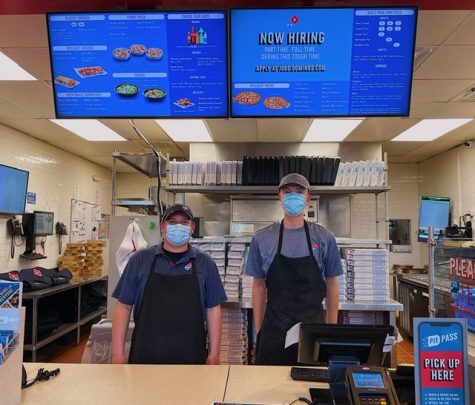 Domino's Pizza
Starting off is Domino's Pizza, located at 115 W. Rockland Rd. J.D. Hernandez, a Domino's employee,explained that an employee can easily choose the hours and days that they work.  
"It's really flexible," he said. "It's really easy actually." 
Vacations aren't any different either, according to Hernandez. People can leave for an extended period of time and then come back, he said. 
When working a full day, lunch is provided and employees can often take food home after a shift; plus, there is a 50% discount for family. 
Hernandez explained that when Domino's was not as busy, the employees got some time to rest, so he considered this time to be the unofficial break period.
The starting salary at Domino's is $10.50 per hour and then progresses from there, according to Edder, the manager. He explained that Domino's Pizza is hiring and encouraged people to apply, since the application process is fast and simple. Hernandez's personal experience when he applied was especially easy as was not faced with any obstacles. No past experience is necessary and you could get hired on the spot, Hernandez added. 
Although restaurants cannot control what kind of customers come in, Hernandez described that most customers who  come in are nice. 
"It's a learning experience, and it's no big deal as long as you treat them well," he said.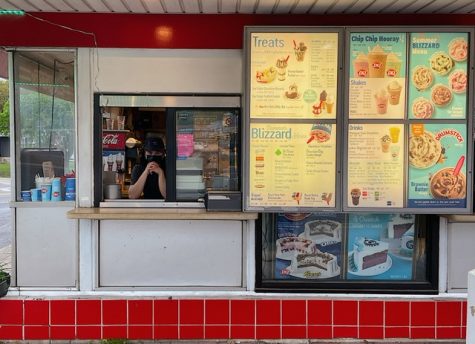 Dairy Queen
Dairy Queen — located at 502 S. Milwaukee Ave. — is another popular job option among LHS students. When it comes to scheduling, Caid Nawrocki, a Dairy Queen employee, stressed that taking singular days off is acceptable with a week's notice but working weekends is always expected. 
"If you go in and try to get hired and say you can't work weekends, you're probably not going to get hired," Nawrocki stated. So, if you like having your weekends free, Dairy Queen may not be the best choice for you. 
Positive comments were made about the co-workers there. "They are very good people, and I love working with them," Nawrocki said. "[My boss] is a very nice man. He's very helpful when you start and he's not strict and he's understanding." 
Employees are allowed to make something to eat while at work or to take home. "As long as you don't go crazy, Brad [the manager], won't care", said Nawrocki. There are no official lunch breaks at Dairy Queen, but when it's not busy, that is the designated time to eat or rest. 
Nawrocki recalled that his application process was fast. He explained that after getting interviewed, he was hired on the spot and no past experience was necessary. 
Employees get paid around $10 per hour when they start working, not including the tips, which increase drastically over the summer, Nawrocki said. He continued that once the tips get included, the hourly wage can equate to $17 per hour.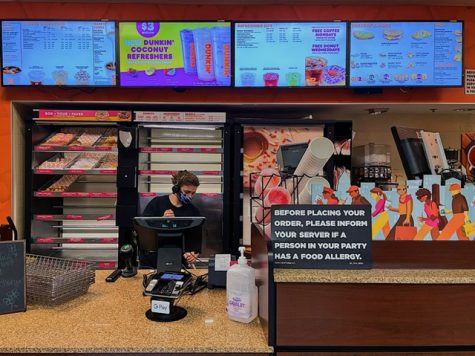 Dunkin'
If you already make the daily morning trip to Dunkin' for some coffee and donuts, why not look into getting a job there while you're at it? Located at 119 N. Milwaukee Ave., Dunkin' has become a hot spot for LHS coffee drinkers. 
While there is some choice in the hours and days that employees work, taking time off for vacations can be difficult, according to Saul Garcia, a Dunkin' employee. You have to let management know four weeks in advance and they have to approve it, he explained. 
Employees are allowed to have free food and drinks, and there is a 25% family discount, Garcia said.
According to Garcia, the coworkers are easy to get along with and Justin Rued, another Dunkin' employee, agreed, adding, "Yeah, we're all cool with each other."
After Garcia applied, he received a response within two days and was hired on the spot after the interview. 
While customers can sometimes be challenging, the free food and drinks won Garcia over, as the products are his favorite part of working at Dunkin'.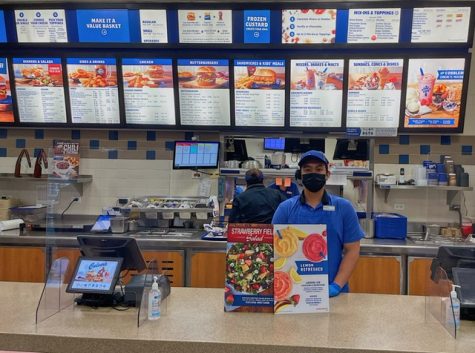 Culver's 
The Culver's located at 803 E. Park Ave. is a well-known fast-food restaurant in Libertyville, as it often partners with LHS for fundraisers. According to Ranzel Guloy, a Culver's employee, you can choose your schedule and taking time off is not complicated. He said, "It's very easy because I request time off at least once a week sometimes, and they'll always allow it." 
After closing, if there is extra food, the employees can take some home; but for lunch, they have to pay, with a 50% discount. Culver's does give employees 30-minute lunch breaks, which is different from some other job options. Families can also receive a 25% off discount. 
"It's usually easy to communicate with [my coworkers] because it's a really fast-paced environment, and you have to communicate with them to let them know what's ready and what's not," shared Guloy. 
After applying, for those who get an interview, some people get hired on the spot while others are called back. Past experience is not needed to be hired, and the starting salary is $11 per hour, according to Guloy.
Leave a Comment