Seventeen Year Olds Can Vote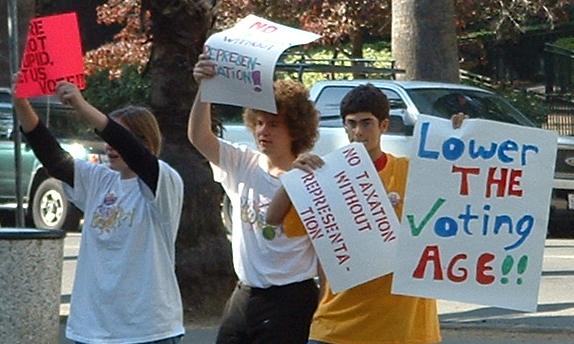 Nick Vittore, Staff Writer
March 12, 2014
If you are a citizen, live in Illinois, and will be 18 by November 4, you will be able to vote in the Illinois March 18 primary.
Last July, Illinois Governor Pat Quinn was at Stevenson High School when he signed the bill that will allow people statewide to vote in the primaries as long as they are 18 by November's general election. The bill easily passed in both the State House and the Senate.
While over 20 other states allow for 17-year-olds to vote in either the state primary or caucus election through various circumstances, this is the first time that the age limit has been lowered in the Land of Lincoln. Indiana and Iowa also allow anyone who will be 18 by the national midterm election to vote in their respective state primaries.
Most people view this law change as common sense, and many wonder why it only just came into place; after all, the new group of eligible voters were already allowed to vote in the general election. LHS government and law teacher Amy Holtsford gave the explanation behind this.
"I think it is a progressive law," she said. "My guess is that there was not a significant push from the younger voters. It has always been a case where younger voters tend to have the lowest voter turnout. I think that is part of the reason Illinois is finally jumping on the bandwagon."
According to Fox Chicago, nearly 8,000 17-year-olds had registered to vote in March's primary by the end of February. Non-profit group fairvote.org, a group that seeks to eliminate democratic barriers, had supported this reform, saying it is fair for 17-year-olds to vote and increase their political engagement.
"I want to see that engagement, because if we see it at 17, then we're more likely to see it at 27 and 37 and 77, and that's important," said Ms. Holtsford. "We get the government we deserve and the more informed and engaged we are, the better our government will be. I'm a firm believer in that."
Junior Jack Hanson, a 17-year-old registered voter, is not optimistic that 17-year-olds are going to pay more attention to politics as a result of this law change.
"High school students just don't perceive it as worth the effort to learn more about politics," he said. "There are a lot of other things they have to worry about."
The truth is that there are several prominent political issues that don't directly concern most 17-year-olds: the tax code and health care apply primarily to working adults and the elderly and not as much to teenagers. Hanson believes for this reason that as a whole, 17-year-old voters are not very informed when it comes to voting: "They aren't exposed to issues that directly impact them, such as paying taxes," he said.
Junior Justin Fu, another 17-year-old registered voter, believes that once students enroll in government and/or law class, they have a better understanding about the political processes such as a primary election, and often but not always, are a little more motivated to vote.
"I think students enrolled in government and/or law are a little more informed about politics and as result will have a better sense of what's going on when they participate in elections," he said. "I think once students know more about how government works, they tend to participate more. That's not the case for everyone though."
However, there are things that are high priorities for 17-year-olds that are being controlled by politicians. Perhaps most notably, the push for an affordable collegiate education is a topic to consider when voting. Now that 17-year-olds can vote in primaries, they can have a say in which candidate has the best philosophy on a topic that impacts their near future.
If you want to vote in primaries and are an eligible 17-year old, hopefully you already registered: February 18 was the deadline. If you missed that deadline but still want to vote, you can file an application for absentee voting to the Election Authority either in person or by mail. Mail applications had to be received by March 13, and in-person requests must be made by March 17.
Another option is to vote a provisional ballot at your local County's Clerk Office. You can also vote at a designated voting site which is determined based on your precinct number. Designated voting sites in Libertyville include Oak Grove School and the Lake County Central Permit Facility.