D128 to spend close to $1 million — or more — on hybrid learning
On Tuesday, Jan. 19, D128 schools moved from their extended eSchool schedule and began the current hybrid model, which allows students to participate in classes inside both buildings, Libertyville and Vernon Hills High Schools. The move to hybrid learning is accompanied by significant monetary costs for the district. 
"I think we might end up, at the end of the year, spending between $800,000 and $1.2 million," the district's assistant superintendent for finance, Daniel Stanley, said.
 Based on the Illinois Report Card enrollment data for D128 schools in 2020, which reported the number of D128 students to be 3,288, the total cost per student is between $243.31 and $364.96.
Although the price of hybrid learning is large, D128 Board of Education President Pat Groody is confident that the district can easily handle the cost. 
"[Hybrid learning] won't in any way, shape or form change the overall financial position of the district," he said in a phone interview. 
According to Stanley, on top of the $500,000 that D128 budgeted for COVID-19 protection expenses heading into this school year, the district has received funding from both the county and state governments. The district received $181,971 from Lake County in October through the federal Coronavirus Aid, Relief, and Economic Security (CARES) Act, a $2.2 trillion stimulus bill. Through the same bill, the state gave the district another $59,928 in November. Furthermore the district is receiving around $200,000 from the most recent federal stimulus package, which then-President Trump signed into law on Dec. 28.
This funding, along with reduced spending on other fronts due to COVID-19, such as buses for students, means the district will be able to support the return to school.
"I think we'll be able to cover a lot of it out of our current budget because as a result of COVID and not opening schools [for a while], there are some things we haven't had to spend money on," Groody remarked.
A large portion of D128's spending on COVID-19 expenses is related to the costs of implementing the district's testing program, which is using the Abbott BinaxNOW antigen test. About 65% of students who are participating in in-person learning are enrolled in the testing program, which is under the district goal of 80% participation, according to Groody. The estimated cost of the testing program is $40,000 a week (this includes $20 per test and $300 per day for the testing team), and between $430,000 and $810,000 in total. According to Groody, as of right now, the district plans on testing through the rest of the school year, pushing the estimated cost closer to the $810,000 part of the range.
 According to Stanley, this cost is similar to LHS's entire athletic department's annual expenses, excluding coaches' salaries. 
"We spend about $800,000 on athletic supplies and equipment and buses in a year at LHS," he said.
According to Groody, the Abbott BinaxNOW test was chosen due to the high cost of PCR tests, which, according to the FDA, operate by testing for the virus's genetic material, and the fact that the molecular amplification tests from Shield Illinois, which tests saliva for COVID-19 particles, hadn't gotten emergency FDA approval nor could Shield Illinois assure the district that their system would be running in time to support the district's testing program. The BinaxNOW test also has a short turnaround time between the test and the results — less than 30 minutes.
Although antigen tests like the Abbott BinaxNOW are slightly less sensitive than PCR tests, Groody, who worked in diagnostic testing for 30 years and at Abbott itself for almost 28 years, isn't worried. 
"I think with the BinaxNOW we're very comfortable," he said. "The sensitivity performance is quite adequate for what we want to do."
Besides the testing program, the district is spending money on other essentials to open the school safely during the pandemic.
Among this was a $90,000 expense on 1.5 million disinfecting wipes towards the end of last school year, which was paid for using the $60,000 from the CARES act along with other funds, according to Stanley. 
This school year, the district has spent $358,000 on non-testing expenses, including $17,000 for masks and $37,000 for plastic, plexiglass-like shielding. Stanley doesn't expect this to be the extent of non-testing spending.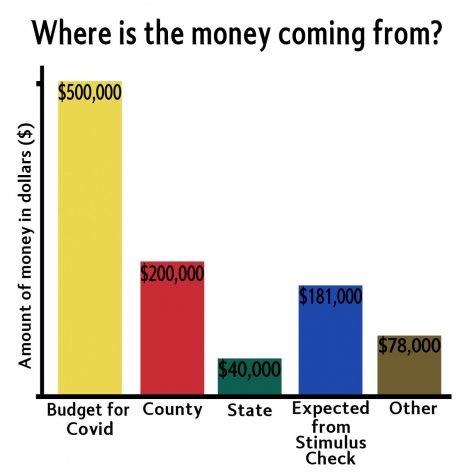 "Right now, we've kind of done all the structural stuff," he said. "At this point, we're anticipating from here on out it's probably [expenses] like refilling supplies, like hand sanitizer, gloves, towels, that kind of stuff." 
Stanley wasn't able to give an estimate for how much the replenishment of supplies would cost. 
"We don't really know how much that's going to cost between now and the end of the year. It will depend on how much it gets used," Stanley said. 
According to Groody, the cost is worth it. 
"This is the price we need to pay, not only to open our buildings, but [to] keep them open and keep them safe," he said.
Other nearby school districts have faced other issues and costs as they cope with the COVID-19 pandemic. According to Dr. John Price, superintendent of North Chicago District 187, D187 spent much more money preparing for remote learning than they have on returning to hybrid learning. 
"A large share of our families did not have high-quality, reliable internet service at home. In the spring of 2020, we were Xeroxing and sending home paper for kids to continue to get work. By this fall, we were able to get a computer in every kid's hand,  [and provide] over 200 families with a monthly hotspot, but now we're paying the full price for that monthly service charge," said Dr. Price.
D187 has attempted to fill what Dr. Price calls the "digital divide" with multiple sources of help. According to Dr. Price, D128 provided North Chicago schools with over 300 used Chromebooks last spring, accompanied by a $5,900 donation from D128's athletic association. 
Furthermore, D187 also received funding from federal stimulus packages, which amounted to over $2 million, according to Dr. Price. The district is also slated to receive around $4.9 million from the most recent federal stimulus package, and $169,000 from the county.
Dr. Price added that philanthropy has also been essential for the district.
"An incredibly important source of funding for North Chicago is that we have some very generous philanthropic partners who have given us some additional funding, not only for technology but also for emergency family assistance, and additional professional development time for our teachers to learn how to use some of these new tools," he said.
Unlike D128, D187 is not implementing a testing program, in large part due to cost.
"Costs [of a testing program] were astronomical and untenable, and [the] impact appeared to me to not be worth that cost… [it] would have been very difficult for us to afford that kind of program for any length of time," Dr. Price said.
Other costs of this crisis, beyond what can be measured in a budget, have also burdened North Chicago.
"Black and brown communities like North Chicago have been more severely impacted by COVID. Death rates are higher, infection rates are higher on average than in communities like Libertyville. And so there's that emotional impact and that impact of trauma, on families that have lost family members as a part of this crisis," said Dr. Price.
He explained that these impacts of COVID-19 on an already under-resourced district can exacerbate existing gaps in what he called "multiplying inequity." 
"Under-resourced kids in under-resourced schools are a recipe for inequity or disparity, and are a recipe for achievement gaps accelerating," Dr. Price said. "We're going to be working very, very hard for years to make up for the impact of the last nine months on our kids and what we feel that they've lost."
For Dr. Price, the costs of this crisis have made him even more proud of his district.
"Our kids and our families are incredible and so is the perseverance and the strength and the grit and the intelligence and the flexibility and the care that our families have shown," he said. "I think this crisis has highlighted that for many of the people that I work with in North Chicago, who just see just such incredible strengths from our kids."
Leave a Comment