LHS winter sports resume after two-month pause
On Nov. 16 — nearly three months ago — tryouts began for six winter sports at LHS. These sports — boys swimming and diving, cheer, boys and girls bowling, dance and girls gymnastics — completed their tryouts on Nov. 20. However, that same day, Illinois Gov. J.B. Pritzker announced that the state's restrictions were getting tighter due to the rising number of COVID-19 cases. Due to these new mitigations, the Illinois High School Association (IHSA) paused all high school sports for a minimum of 30 days. Despite this pause, LHS continued their sports seasons virtually. 
Athletic Director John Woods spoke highly of the coaches and student-athletes during their virtual pause: "There were a lot of different, cool things that we saw," he said. 
Each of the winter sports teams met on Zoom five times a week and participated in a variety of activities, doing whatever they could to prepare themselves for when their seasons resumed.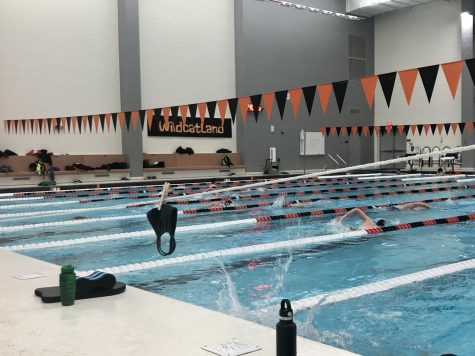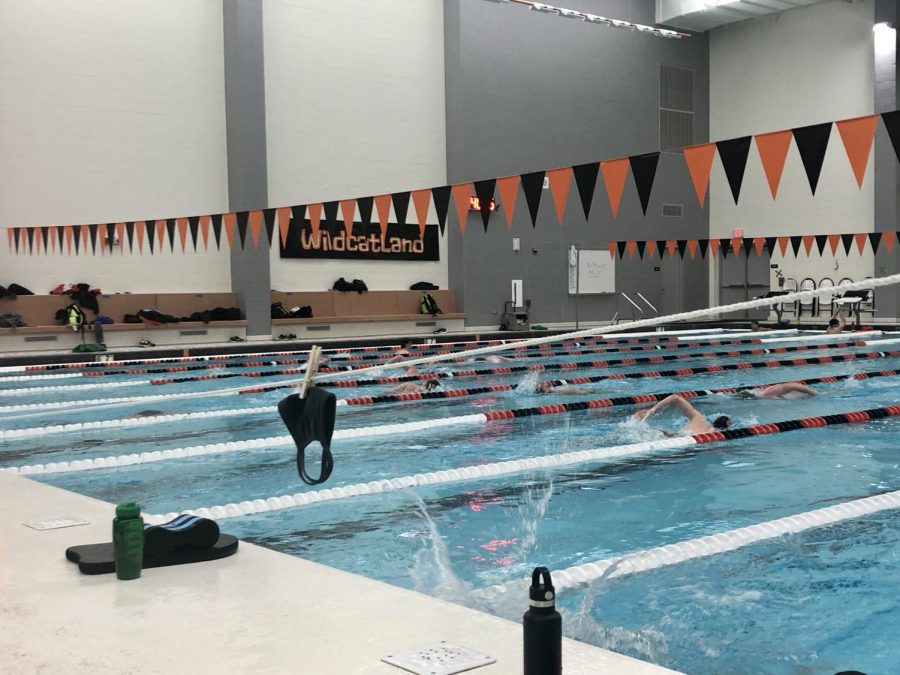 "It was so fun for me to be able to pop into team meetings," Mr. Woods said. "The coaches were sharing videos and then critiquing and providing instruction. They had workouts with our strength and conditioning coordinator. They talked about core values and standards."
Senior Mitch Madland is the captain of the varsity boys swim team. This is his fourth year on the team, and he normally participates in club swim as well. He said that not being in the pool has "been a bummer because I always look forward to swim. It just kind of holds a special place in my heart."
Madland spoke of some of the struggles of the swim Zoom calls, which were at 7 a.m. every weekday. 
"I feel like being motivated to get on a Zoom call is a little tough sometimes, but we've been making it work, and having everyone in the same situation really helps because we can push each other to try our best," he said.
Another student-athlete who experienced virtual sports is senior Kelsey Corrigan, who is a four-year member and captain of the varsity dance team. As a captain, she spoke with the coaches about "how we can do as much as we can with the limited space."
The dance team has been "conditioning every Monday and Friday and then in between, learning from our choreography team," Corrigan said. "It's really nice to see my teammates every day and talk to them but it's pretty much impossible to clean a dance over Zoom because we can't see everyone together or give each other corrections."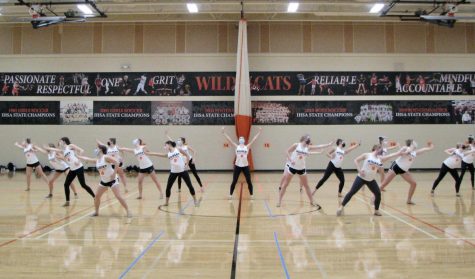 While winter sports were entirely virtual, Mr. Woods had a positive outlook on the situation. He believes that with all sports teams, "you get culture cultivation, then physical and mental strength and conditioning." He continued, "Once you have that foundation, only then can you get into the skills, drills and fundamentals." According to this philosophy, the time on pause will set the athletes up for success when they resume their seasons.
During the pause, the IHSA also made a decision to move badminton from its usual spring season to the winter.
"Badminton is a low-risk sport. It was moved to the winter because we can play safely now," explained Mr. Woods. "Because of facility availability, it made sense to move it."
So the badminton team, which usually begins their season around spring break, began quite unconventionally: virtually, in early January. However, their pause didn't last long because on Monday, Jan. 18, winter sports, including badminton, were cleared to return to in-person practice.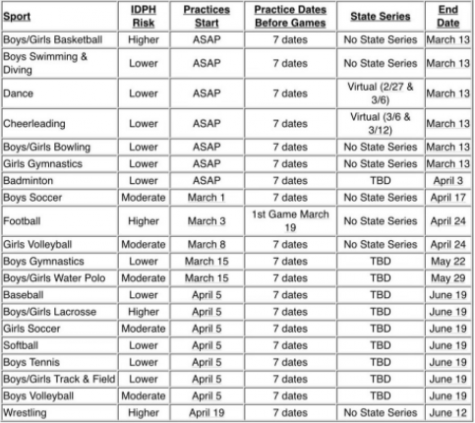 Shortly thereafter, the IHSA announced the revised sports schedule for the rest of the school year. Along with the seven winter sports that came off of pause, boys and girls basketball were set to begin "as soon as possible," according to the IHSA. Seven practices will be required before competitions can occur, and these winter sports will end their seasons on March 13, giving them an eight-week season.
This year's spring sports season is staggered. Football, boys soccer, boys and girls water polo, girls volleyball, and boys gymnastics will begin sometime during March. However, each of their end dates is different. 
New in 2021 will be the summer season, featuring many of the traditional spring sports. Baseball, boys and girls lacrosse, girls soccer, softball, boys tennis, boys and girls track and field, and boys volleyball will begin April 5 and conclude their seasons June 19. Wrestling is also in the summer season and will begin two weeks later, on April 19. 
"The goal of the IHSA is to have all seasons compete at some point during the remainder of the school year," Mr. Woods said. As far as state series go, a majority of the winter and spring sports will not have the opportunity to compete at the state level this year. The only ones to be confirmed so far are cheer and dance, which will have virtual state series in early March. 
The IHSA said it wants to do "everything in their power to prevent spring sports from going two consecutive years with no postseason play." For that reason, most of the summer sports have a "TBD" designation in regards to a state series.
Whether these spring and summer sports will indeed happen is still uncertain, but for now, winter sports have started up again. Senior Kathleen Jin, a four-year member of the badminton team, spoke on the safety measures her team is taking to be able to participate safely.
"We each are assigned to a court and you're only really allowed to play with the people on your court," Jin said. "We used to do hallway runs and ladders, which we can't do now. So we do footwork, like jumping back and forth across the line."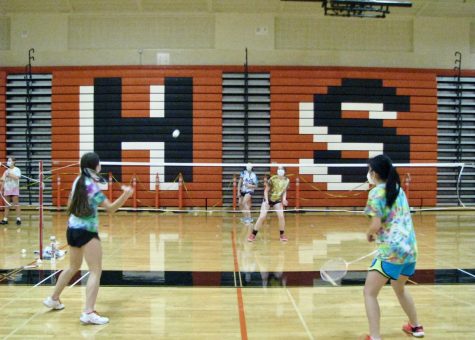 According to the IHSA, "all student-athletes will participate in masks with the exception of swimming & diving, gymnasts on an apparatus and outdoor events where social distancing can occur." 
Along with masks and social distancing, LHS will require all in-season athletes to participate in the district's COVID-19 testing program once a week. There will also be no spectators allowed during indoor athletic competitions at LHS. Due to this, the school will stream most of the sporting events on YouTube so family and friends can still view the competitions as they are happening, Mr. Woods said. 
"When there is faith in the future, there is power in the present," said Mr. Woods. "Go Wildcats!"
Leave a Comment