There's a pandemic happening… We can do better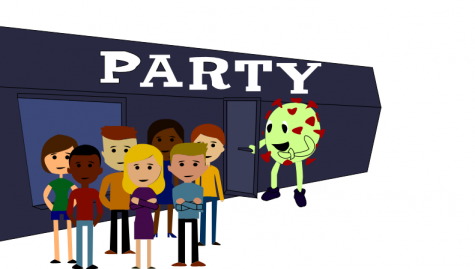 When I started writing this, I was unsure if I was deserving of touting safety and maturity during this pandemic. After all, like too many individuals, I have made mistakes during the past six months. Perhaps my social circle was not small enough, my mask not worn often enough, and the distance between me and others not far enough. With the severity of the virus buried beneath rampant misinformation, I can empathize with the difficulty of setting safety guidelines for oneself but I cannot empathize with blatant ignorance and disregard of the gravity of the situation.
According to the World Health Organization , as of Sept. 24, 973,653 confirmed COVID-19 related deaths have occurred worldwide. As of Sept. 24, the Centers for Disease Control (CDC) reported 201,411 deaths that came from the U.S. alone. 
Unfathomable statistics have become a normalized part of our culture. So what does 201,411 people look like? According to the Department of Veterans Affairs, 116,516 American soldiers were lost during World War I and according to an interactive documentary, The Fallen of World War II, the U.S. lost roughly 195,000 soldiers during the most devastating year of World War II. The last thing I wish to do is undermine those tragedies. I include those numbers merely for perspective. 
During these times in the past, the U.S. came (generally) together at home to create a powerful effort to support the war. So where is that same effort now? I understand the ways in which a virus differs from the tangibility of a military foe; however, the U.S. currently faces a crisis on par with these historic events but lacks the unified effort to combat the virus, lacks the devotion to frontline workers and their safety, and lacks the individual civilian sacrifices for the betterment of the country.
As a senior this year, I understand the disappointment of losing some of the last months of high school. I understand how much we all crave normalcy during such a turbulent time. However, craving normalcy to the point of acting unsafely and without remorse does not save us from the virus– it only prolongs its existence. 
Our joys, friendships and adventures do not end after high school. Your entire life lays ahead of you; there is no need to cram every bit of fun and partying into this year. This is the year in which this country most needs you to put aside your individual agenda and be selfless for your community. If you truly wish to go back to school in person and experience your beloved "seniorszn," prove you deserve that responsibility.
National Public Radio reported COVID's death rate as 3.3%. Individuals ages 24 and under account for just 0.1% of these deaths based on a Franklin Templeton-Gallup study. When irresponsible behavior is excused and the magnitude of the virus downplayed, these low statistics are often cited. Your irresponsible behavior probably will not kill you or your friends. 
However, as those ages 55-64 account for 12.2% of deaths, your actions could result in the deaths of your parents or your friends' parents. Individuals 65 and older account for 80% of deaths. Do you wish to be responsible for the loss of your grandparent or a friend's grandparent just for the sake of partying or benefitting from a glimpse of normalcy? This is a question you have to ask yourself. You must take responsibility for how you act during this time.
I am by no means telling you not to have fun and never to see your friends. Safe and limited socializing does exist and can become the new normal. Despite the idea that having a contained social circle protects you from COVID, the CDC still advises gatherings of 50 people and under to practice social distancing and/or wear face coverings. There is no way to be sure that none of your associates have the virus as the CDC estimates between 10-50% of cases are asymptomatic or pre-symptomatic. You may find small improvements such as significantly reducing the size of your unmasked social circle or masking up during larger outdoor events to be small sacrifices worth making for the safety of our community.
The U.S. accounts for just over 4% of the world's population but between 22-23% of COVID cases. Our country has politicized and downplayed this virus beyond comparison but so much of the blame comes down to the culture we as individuals perpetuate. I cannot force you to care about the safety and lives of those in our community. I cannot force you to take your mind out of your social and economic bubble and catch a glimpse of how solvable this virus can be if we choose to actively combat it now. 
It's too late for the 973,653 lives we have already lost, but it's not too late to change our behaviors and make decisions that put the safety of our friends, families and communities first. Only once we acknowledge the pandemic may there be hope of its end.