Rural America: Where the well runs dry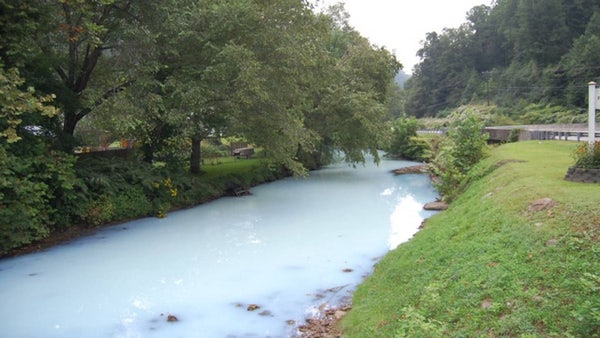 Few areas in the United States have been hit harder from the coronavirus pandemic than the Navajo Nation. Despite the Navajo Nation being made up of only 175,000 people living in an area roughly the size of West Virginia (which has a population of 1.792 million people), as of May 18 the nation has 4,071 confirmed cases of the virus, according to the Navajo Department of Health. With an infection rate of 2,300 cases for every 100,000 people, it leads the nation in infections per capita, passing New York's 1,839 cases per 100,000 residents. This comes despite the Navajo Nation having some of the strictest stay at home orders in the country, according to CNN.
Of course, it's hard to stop the spread of the infection when you can't wash your hands. According to the official tribe tally, at least 15 percent of Navajo Nation homes don't have running water, although the actual number is likely much higher, according to Arizona State Senator Jamescita Peshlakai.
For some Americans, water isn't given a second thought. Clean water is a right, recognized by the UN and international law, and it is provided. Cheap, clean water flows at the twist of a knob, allowing us to bathe, cook and clean. However, this isn't the reality for nearly 15 million Americans who lack a plumbing connection to sewers or drinking water or 30 million Americans whose water infrastructure violates safety rules, according to the Environmental Protection Agency (EPA). In fact, the water situation in America is so bad that in 2017 the American Society of Civil Engineers gave our drinking water system a D. 
When thinking of this water crisis, it's easy to picture large cities like Flint and their cost-cutting governments leading to disastrous tragedies. It's true that big cities are plagued with water issues; Pittsburgh's lead pipes come to mind, but more than 50 percent of health violations for drinking water occur in rural areas, according to the Natural Resources Defense Council. For these rural communities, it's often the very backbone of its economy — a power plant, coal mining, large scale farming — that is leaking poison into the community. The Bible Belt is slowly being poisoned, and has been for decades. The tap water in Pretty Prairie, Kentucky, has exceeded the EPA's legal limit for nitrate pollution for the past 20 years, which is set at 10 parts per million. However, the National Cancer Institute has found that just five parts per million can increase the risk for a variety of cancers.   
It's not just the Bible Belt either. According to the executive director of the Mississippi River Cities & Towns Initiative, the Mississippi River Valley's water is plagued by nitrates due to farming. The truth is, if you live in rural America, your water may not be safe to drink or even wash your hands with. 
The communities being most affected now by the coronavirus pandemic were already facing a public health crisis. They tend to be underinsured and their communities lack health centers and hospitals, according to Huffington Post. But this lack of clean water will put an enormous strain on these already strained communities. Diseases once thought banished from America are returning. Hookworm, a parasite indicative of extreme poverty, and other tropical parasites were shown to have infected 34.5 percent of people in Alabama's Lowndes County in 2017, where pools of untreated wastewater lie in people's backyards, according to Fox News. And if people can't wash their hands, diseases like COVID-19 will ravage their communities.
It's not getting any better. Some parts of the country are actually moving backwards. Census data from 2000 to 2014 showed that six states and Puerto Rico saw increases in their populations without access to water and sanitation. Climate change is likely to worsen the problem. A study published in the journal Science revealed that climate change will increase the pollution entering the Mississippi River because more intense storms and precipitation will increase the runoff from farms and other areas in the river. In other parts of the country, they face extreme drought and raging forest fires.
Rural America stands on the precipice of a nightmare. Facing deadly diseases without clean water, health care or help, these communities are running out of options. What is needed is massive investment in publicly owned infrastructure. Not only will this ease the water crisis, but it will provide jobs for struggling Americans. This alone will not solve the crisis. It needs to work in tandem with a federal jobs guarantee, universal health care and the Green New Deal. Otherwise the crippling poverty, overarching health crisis and worsening climate that are exacerbating and causing the water crisis will remain. Unfortunately these fixes don't seem to be feasible under a Trump or Biden administration, but they are possible. If they don't get fixed, millions of Americans will continue to be poisoned by their own water. 
Leave a Comment