D128 plans to continue exclusive contracts with Coca-Cola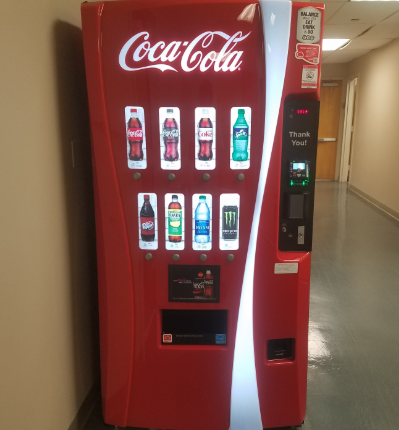 Libertyville and Vernon Hills High Schools currently have exclusive contracts with Coca-Cola that are carried out through Great Lakes Coca-Cola Bottling and will continue these contracts for the foreseeable future, according to a district official.
These contracts, which last five years in length and are continuously renewed by District 128, began many years ago for LHS and in 2014 for VHHS. The food service company for LHS has a contract with Coke, which is a factor in keeping up contracts between Coca-Cola.
According to the district Assistant Superintendent for Business Daniel Stanley, during the 2018-2019 school year, LHS made a profit of $28,163 from its contract, and Vernon Hills made just under $11,000. There is a $12,000 flat payment the company pays to the high schools, and the rest of the profit is composed of commission sales.
LHS clearly makes a higher profit off commission than VHHS, which could be attributed to the greater number of students and fewer vending machines at Vernon Hills, according to Mr. Stanley.
"[The contracts are] the same service; it's just easier if we have one contract for both high schools," stated Mr. Stanley. 
Mr. Stanley also mentioned that he looks over the contracts but ultimately has attorneys verify the legal statements. Considering the processes are identical, he expressed combining the contracts would be beneficial for District 128.
"When Coke presents us with a contract, there's language in the contract that says they will be the exclusive product on the campus; that would include water that comes from Coke, which is Dasani, Powerade [instead of] Gatorade," stated Student Activities Director Jennifer Uliks. Due to the terms of the contract, LHS can only have non-Coca-Cola products if they are not in direct competition with Coca-Cola beverages.
According to Mr. Stanley, this type of arrangement is mutually beneficial for the high school and the bottling company.
"The provider pays money to the school for having that exclusive agreement so Coca-Cola or Pepsi Cola or whatever will typically pay money to it and also the schools' get commission off of sales," he stated.
The sale of diet sodas in District 128 and high schools across the country was prompted by Michelle Obama's Let's Move campaign, which pushed school cafeterias to eliminate or lessen the number of sugary drink options for high schoolers in an effort to lower obesity rates. As a result, many soda companies formed a pact with other companies to make contracts with schools, selling only diet products.
"Beverage companies like Pepsi and Coke came together and said [they] want to tackle this problem of childhood obesity, [making] an alliance with each other to say [they were] not going to sell sugar products to schools and do diet [beverages]," clarified Mrs. Uliks.
The high schools do not have influence on which beverages are sold during the school days, but at after-school events such as basketball or football games, regular beverages (regular Coca-Cola instead of Diet Coke, for example) are permitted to be sold.
Leave a Comment