More than just a tattoo
Tattoos are often regarded as a form of self-expression or a way to display one's past. S. Some students at LHS have utilized this type of art to dedicate tattoos to loved ones and other things. Here are the stories of four LHS students with tattoos.
Christian Voelker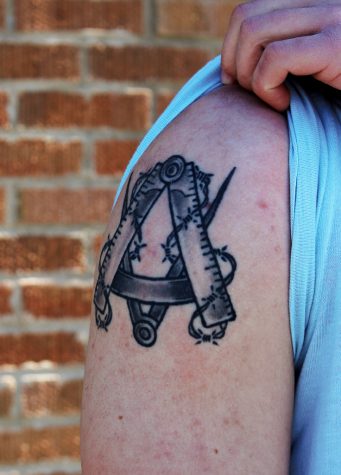 With five tattoos spread across his arms and back, senior Christian Voelker has many stories to tell with his unique tattoos. Two of them, tatted on the front of both his shoulders, are tributes to his grandfathers. 
"I got one of a Polish resistance symbol because my grandfather was a resistance fighter during World War II," he explained. "My other shoulder has a bricklayers union tattoo because my other grandfather was a bricklayer for most of his life." The bricklayers union tattoo can be seen with barbed wire wrapped around it to represent "my grandfather's time in a concentration camp," Voelker added. 
Further down his arms, two tattoos can be seen on his forearms, with "quotes that are just really inspirational to me," he shared. His last tattoo, perhaps his most important one, is his father's birthday in roman numerals, tattooed across his upper back. 
"My dad passed away a few years ago, so I wanted to get something to honor him," he explained. 
Voelker said he plans on getting a lot more tattoos, which include finishing up his arm with a whole sleeve, more dates on his back and a lot of "military tattoos, because I plan on going into the military."
Maddie Wasser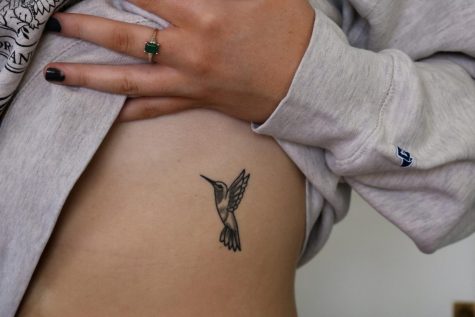 With two tattoos dedicated to her parents, senior Maddie Wasser has two stories to tell. One tattoo, the number "42" printed on her right ankle, is dedicated to her father, who passed away when she was in the sixth grade. 
"The number 42 was always associated with my dad in sports and life," Wasser explained. "42 is seen as a lucky number and according to 'The Hitchhiker's Guide to the Galaxy,' 42 means 'life, the universe and everything…My dad will always be 42 in my eyes." 
Her other tattoo, a hummingbird stamped on the left side of her rib cage, is dedicated to her mother. Wasser said that "ever since I was little, in the summer, [my mom] would get super excited when she saw a hummingbird. My mother has always been my best friend, and as hummingbirds are a sign of love, I take that with big strides towards my mom." 
While Wassesr said she is in no rush to get any more tattoos, she has a few ideas for more ink to be added in the future. 
Allie DeFranco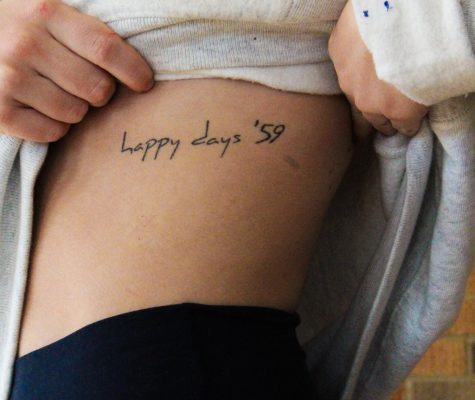 While senior Allie DeFranco only has one tattoo, it's a very meaningful one. Printed across her ribs, DeFranco's tattoo is dedicated to her late grandfather. 
The tattoo, which reads "happy days '59," was "once his license plate to his 1959 Corvette, which is where the 59 comes in," DeFranco explained. "Cars were a huge thing for him, and as he was my best friend, I got the tattoo as a reminder that he'll always be there." 
While she's only had the tattoo for a few months, DeFranco has known for over a year that she was going to get it. She hopes to add another tattoo that says "ilysib," which is an acronym for "I love you, say it back."
Lizzie Benkhe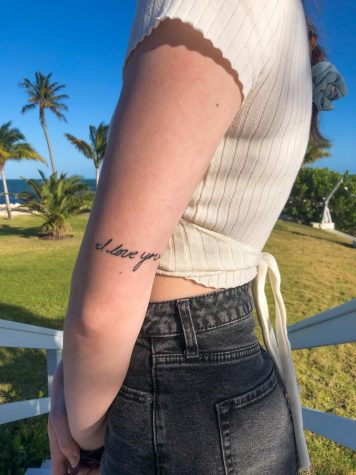 Written in her mother's handwriting, senior Lizzie Benkhe has a tattoo with a unique story to go along with it. Tattooed above her elbow, it reads "I Love You." 
Benkhe stated that "my mom died four years ago, and she left me and my siblings letters from her before she died." 
This is what led Benkhe to make the decision to get a tattoo in remembrance of her mother: "I always wanted a tattoo for her to have her with me and to remember her. Her handwriting is perfect, so it helped make it even more beautiful." 
While Benkhe has only had her tattoo for a little over a month, she's hoping to get two more soon. One design she wants, a daisy on her rib cage, is significant to her because "daisies were my mom's favorite flower and we had them in our front yard, so they're a nice memory." The other design, the number four behind her ear, is important as "my mom called me her 'lucky 4th' before she died because I [am] the 4th child."