The New Generation of Smoking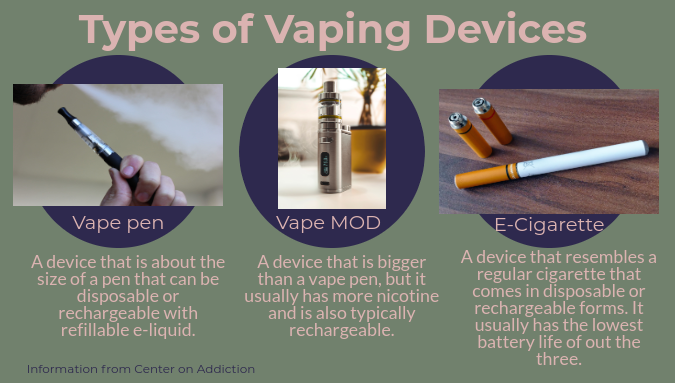 Editors' Note: Although the topic of vaping and using e-cigarettes, both on and off school property, are mentioned in this article, Drops of Ink does not condone or promote the behavior discussed here, especially given that, for all students under the age of 21, such activities are illegal. We as a staff believe that it is our duty to report on events and experiences that occur in high school and are aware that while not every student engages in these acts, there are some who do, making this a relevant and worthy topic to discuss. If you or a friend need help with something addressed in this article, we encourage you to seek help from your counselors and/or LST. Since illegal activities and actions that go against the school's Code of Conduct are discussed in this article, all individuals interviewed were granted anonymity, aside from their grade and gender.
Around 100 years ago, one popular social activity among teens was smoking; it was what many young adults and adults classified as "cool." While this trend of smoking cigarettes has significantly decreased, a new trend has replaced it: smoking electronic cigarettes. Both can cause health-related problems and many have nicotine in them, which can lead to addiction. 
Vaping, according to Merriam-Webster Dictionary, is "to inhale vapor through the mouth from a usually battery-operated electronic device (such as an e-cigarette) that heats up and vaporizes a liquid or solid." The electric product was first made to aid cigarette smokers in their efforts to quit smoking, but it has since evolved into many teens' and adults' preferred way of smoking in the 21st century. 
In 2019, some of the first reports emerged about vaping-related illnesses, which affect the lungs. As of Feb. 4, there have been 2,758 people hospitalized nationwide due to vaping illnesses, and there have been 64 deaths, as reported by the Centers for Disease Control and Prevention. In Lake, Cook, DuPage, Will and Kane counties in Illinois alone, there have been more than 50 people diagnosed with lung injuries due to vaping, according to the Illinois Department of Health. According to the Food and Drug Administration (FDA), signs of the illness include "breathing difficulty, shortness of breath, and/or chest pain before hospitalization."
"[Reports of these illnesses] scared me, but I also was not 100% sure of it," emphasized an anonymous senior boy. He said he recently stopped vaping due to a cough that he believed was linked to his habit after starting as a freshman.
While scientists are still studying the causes of the illness related to vaping, the FDA has come out with an initial study showing that 73 percent of their participants used THC products, and inside the THC, there is a chemical called vitamin E and other diluents that are thought to hurt humans. THC is the chemical found in marijuana that creates most of its psychological effects. A study done by the University of Michigan has shown a 14 percent increase from 2018 to 2019 in the use of THC vaping products among teens.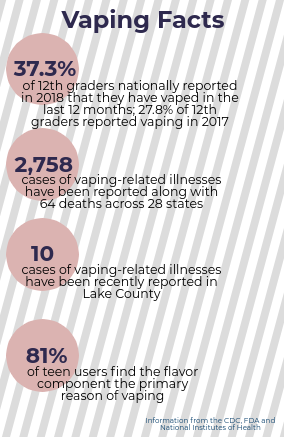 Honestly, I couldn't care less [about the risk of illness from vaping]. But, like, a lot of [the causes of illness] are from THC smoking as well. Yeah, I am not an idiot. I don't do that," said an anonymous junior girl.
While illness is one possible result of vaping, so is addiction. 
According to AP Psychology teacher Ms. Kara Bosman, "Teens, without a fully developed frontal lobe and frontal cortex, are more susceptible to addiction, and the nicotine in the vaping devices is a chemical that is an addictive substance, so the younger you start, the more likely you are to get addicted."
The three students interviewed for this story who vape or have vaped confirmed that they felt a craving at one point for their preference in vaping devices, and one student said that they also have headaches if they haven't vaped in awhile.
With the amount of reported addictions and illnesses among teens, many state and federal laws are being proposed and going into effect. Many companies like Juul, which makes vaping devices, have been accused of marketing fruit-flavored cartridges to teens. Earlier this year, President Donald Trump's administration established a ban on flavored cartridge-based e-cigarettes, but "larger, tank-style e-cigarettes — which users can manually fill with e-liquids of their choice, and are primarily sold in age-restricted vape shops — would be exempt," Time magazine stated. 
The senior boy explained that he thinks the law is very ineffective due to the loopholes attached to it: "The ban doesn't apply to [flavored] disposables."
With new legal restrictions being imposed on vapes, the validity of the vape quality is often called to question due to a lack of regulation for illegally purchased e-cigarettes.
 "I paid $30 for a pack of mango [Juul pods] and then I would get them and be like, 'This is just chemicals'" The senior will now only use regulated Juul pods to ensure validity. 
She said she now buys her products from stores in Wisconsin, where vape products are legal to buy for anyone 18 years or older.  
She stated that "if you have someone who's 18, you can just get it… it's not hard whatsoever, but also a lot of places don't even card, especially in Wisconsin." 
She commented that she prefers this to buying them from a friend or older sibling, since the products sold in stores are legally regulated and therefore safer and more reliable. The senior girl also mentioned that at some stores, customers can scan their vaping cartridges to test the validity of them.
As for Illinois, the legal age to purchase vape products is 21, a change that went into effect last year. Nonetheless, some underage students have previously bought their products from Mundelein Tobacco, a store that often doesn't ask for an ID at purchase, making it easy for minors to buy Juuls, Juul pods and disposables much more quickly and efficiently. However, the store lost its license in October, and all three anonymous sources for this story claimed they are too afraid to go back due to the increase of cops near the store and therefore a higher chance of getting caught. 
Officer Wayne Kincaid, the LHS School Resource Officer, noted a slight decrease in students vaping since the beginning of this school year: "Either students realize this is just not the place to do it, or they eventually realize they're going to get caught." 
Officer Kincaid said that at the beginning of the school year, there was approximately one student getting caught per week, and toward the end of first semester, there were basically zero students caught per week.
He also expressed that in most cases when a student gets caught vaping at school, it is often by accident. 
"It's not rather me, but maybe another teacher or student will go into the restroom and see something that they know is out of place or not right," Officer Kincaid said. 
Repercussions for vaping at LHS become harsher when a student is caught repeatedly. When a student is caught for the first time, if they've had no previous issues with the police or administration, the student receives what is called an "Informal Station Adjustment."
An Informal Station Adjustment, explained Officer Kincaid, is essentially an agreement between the student, their parents and the school administration that a student must avoid being truant or breaking any kind of state or local laws. If this agreement is followed, there are no further repercussions, and it is considered a single bad judgment call. 
 If this agreement is not met, or a student gets caught a second time, they receive a citation, which involves going before a judge and paying a fine, and getting their name permanently in the court system. 
"We try and give them a chance so that they learn from their mistake," commented Officer Kincaid. 
Dr. Brenda Nelson, LHS's prevention and wellness coordinator, has worked for the past three years on the prevention of vaping within the school. Dr. Nelson has hosted an informative session about vaping for students and parents, focused part of Red Ribbon Week to inform students about the harms and has also started teaching second-period wellness leaders about the topic so that they can eventually present this information to their classes. 
"We need to be focusing on vaping — what are the dangers, how do you talk to a friend who you feel might be addicted," Dr. Nelson said. "So that has been the main focus."