Vampirina: Not so Different Underneath
Among famous actors like Marlon Brando and Phillipa Soo, LHS is now able to add another to their list: freshman Isabella Crovetti. Crovetti has starred in many television shows and movies, including the popular Disney Junior children's show "Vampirina."
The actress, often called Bella by friends and family, also has an immense passion for singing. The underclassman can be heard singing in LHS's choir as well as on the theme song of "Vampirina" and throughout its episodes.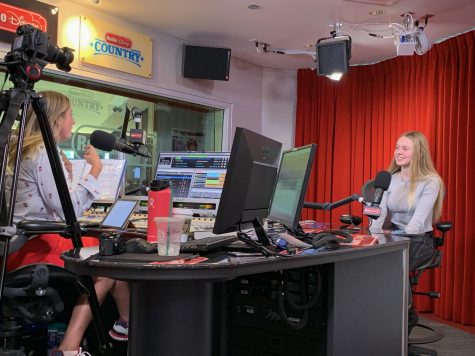 Having parents in the business helped Crovetti's career take off, with her mom helping her to know what to wear and teaching her proper stage etiquette. Before Crovetti's own fame, the family's intent was to have her brothers, Nick and Cameron, act because of Hollywood's desire to have identical twins, but things turned out differently. 
While her mom was on the phone with her manager, the manager heard a young Crovetti speaking in the background "talking and talking and talking," the actress explained. Because of her chatter in the background, Crovetti was given the opportunity to sign with a children's talent agency at age 6. 
Over the last nine years, the actress has been featured in television shows like "Colony," "Jessie," "Shimmer and Shine," "The Neighbors," "Vampirina" and movies like "Joy," and "Magic Camp." Crovetti said that some of her favorite jobs are "this movie 'Magic Camp' that [she] did for Disney that's going to come out this year and 'The Neighbors'," and later added that she loved being on Disney Channel's "Jessie." 
Currently, she is working on recording more episodes of "Vampirina." Because Crovetti recently moved to the area full-time from Los Angeles, she now records in a studio in downtown Chicago. 
Preparation for a voice actor is different than that of a screen actor: "I read the script beforehand, but you're in the booth and have the script in front of you. I just read each line three times over again in different ways, and then [the producers] pick which [way] they like the best." 
When people ask Crovetti about her shows, she exclaimed that she loves when people are watching and always is very flattered. At school, Crovetti said she usually gets comments about how fellow peers enjoy watching her Disney Junior and Nick Jr. shows with siblings or while they are babysitting. She also mentioned how she finds it endearing to see people with "Vampirina" or "Shimmer and Shine" merchandise in public. 
While acting is really important to her, Crovetti also emphasized her immense passion for singing; she has been singing "since before [she] could talk," Crovetti said. 
In school, Crovetti is part of the freshman choir. The LHS choir director, Dr. Jeff Brown, commented that she has shown a passion for music and is hard-working in his class. Prior to his interview, Dr. Brown said he was unaware of her acting and singing career since Crovetti was reserved at first. 
With her love for both writing and singing music, Crovetti also talked about possibly getting involved in LHS's guitar club in the future because she has played since age 7.
Crovetti has also joined the cross country team, and she is considering trying out for the gymnastics and/or softball teams. "The cross country team is by far one of my favorite things because everyone [shares a sister-like bond]," Crovetti stated.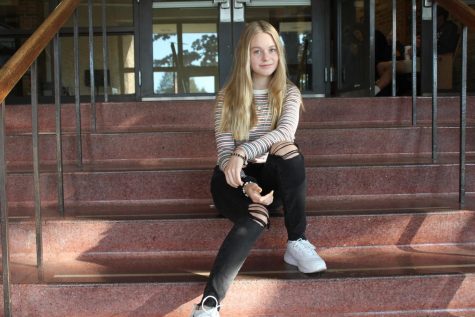 The LHS cross country coach, Mrs. Alison Reifenberg, explained how she, similar to Dr. Brown, was not told by Crovetti about her fame but was made aware of it by some girls on the team. 
"Isabella started off pretty quiet, but now I am seeing more of her personality. She is really friendly and has a good sense of humor," Mrs. Reifenberg explained over email.  
Crovetti moved into her summer house in Libertyville this year to start her high school career. Previously, she had gone to school in Los Angeles and lived in Libertyville during the summer: "I've been coming here since I was little [because] my grandparents and cousins are from here," the actress stated. 
Her mother, Mrs. Denise Crovetti, expressed that she wanted a slower pace to life and a more Midwestern upbringing for her family. Crovetti is not the only Hollywood star in her family: her father is a writer and producer, and her mom and brothers are also actors. The family was able to make this move due to the careers of both Crovetti and her brothers being well-enough established at this point. Her brothers are characters in the hit HBO show "Big Little Lies" as sons of Celeste Wright, played by Nicole Kidman. 
"I'm really proud of them. They definitely have had a very good year so far," Crovetti stated.  
Despite being the new girl in town, Crovetti explained that it is easier to adjust because she is familiar with the area and also because "everyone is just really sweet." It has also been easier since "my middle school was about the size of [LHS]," Crovetti commented.
So far, Crovetti hasn't missed a ton of school for work, but she may have to in the future. One thing that is different from Los Angeles is the lack of flexibility to leave school as easily for jobs. 
"Bella's school in LA was super accommodating to her schedule since that is normal there. She would leave for a month, and it would be totally okay," Mrs. Crovetti commented. "So far, LHS has been really good, but sports haven't been as flexible."  
With sports, school, singing and acting, Crovetti has a loaded schedule, but she says that "because I have done it since I was 6, I am used to it now." Her mom described the "Vampirina" star as "very organized" and "type A," so she uses her time wisely. 
Similar to her mom's belief of what her daughter will be doing in the future, Crovetti envisions herself continuing to act and sing in the future: "In 15 years, I would like to be singing and producing my own songs, since I like writing my own stuff." 
Leave a Comment