IT's Complicated: A Look Into LHS's IT Department
Six individuals, all with vastly different backgrounds, somehow all ended up in the same place, amidst seemingly endless stacks of Chromebooks and a myriad of other tech devices: the Libertyville High School Information Technology Department. 
These IT staff members are always ready to tackle the next issue to arise. This was made evident by numerous interruptions during an interview with them for this story, when various students and staff came into the IT office, seeking help for different technological issues.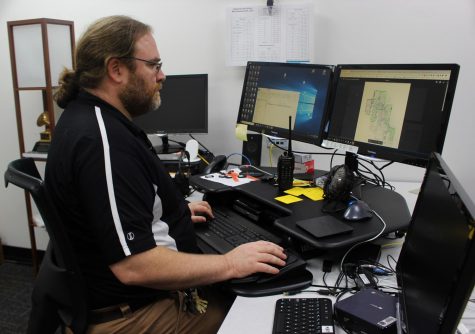 While things have calmed down now, in the beginning of the school year especially, the department is often swamped with students, teachers and other LHS staff members with any number of technological problems. At times, there are even students lined up at the desks of Mr. Kurt Hinsberger and Mr. Danny Herrera, the computer technicians. 
Mr. Eli Kelly, the IT Coordinator, shared that early in the year, freshmen often come in with the most issues, typically regarding passwords or confusion about their new Chromebooks. As the year progresses, however, the number of walk-ins decreases. What starts as 50 visits per day from students alone decreases to 50 total visits — including students and staff members, Mr. Kelly explained.  
The IT staff said it welcomes these questions and acknowledges that though these periods of high demand can be stressful, they're always willing to help: "Don't be afraid to come see IT if you're having problems—any issues. Come on in, our door is always open," Mr. Kelly said.
In his time at LHS, Mr. Hinsberger has encountered a number of humorous situations with student Chromebooks. One of his funniest memories was of a student who dropped his Chromebook off the roof of his house. Apparently, the student enjoyed doing homework on his roof and at one point lost his grip on the computer, and it fell, landing in his driveway. 
Another story Mr. Hinsberger shared was of a student who accidentally shot his Chromebook with a BB gun: "He was doing target practice in his room, the target was up, and his Chromebook was behind it somehow," Mr. Hinsberger shared. Consequently, the student brought his Chromebook into IT with a cracked screen.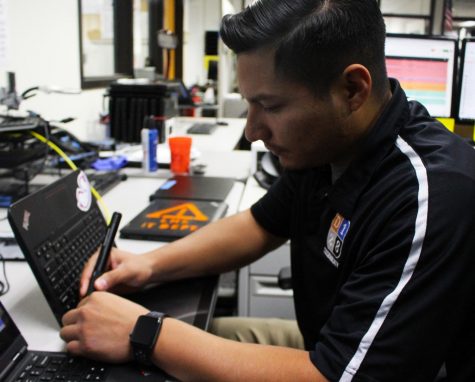 The IT staff unanimously feels that one of the best parts of their job is the satisfaction that comes from solving problems. "I think we all do what we do, to a small degree, because you like solving a puzzle or figuring something out," said Mrs. Kate Isabelli, a technology integration specialist who works at both buildings in District 128. 
Interacting with LHS students and staff is another benefit that comes with the job, according to Mr. Kelly. 
Sophomore Bella Perkins's involvement in crew for theater has allowed her to help out the IT department with lighting work. She shares the team's love of solving a puzzle: The best part of IT work is "being able to do something and feeling good about it," Perkins said. 
Before freshman year, Perkins had never done lighting for a show. But, instead of auditioning for the musical, she decided to work on crew that year. She said she fell in love with the work. 
Outside of theater, she's helped the IT staff with various tasks: "I have worked with Lina [Klein] and Cody [Hawks] from IT (they are both AV technicians). I've followed them around and helped them with some of the Friday Student of the Months [ceremonies]," Perkins explained. 
She also helped out with eighth grade orientation last year, setting up the lighting, music and other technical work that had to be done. Perkins also spent her winter break helping the IT team and said she doesn't regret it. Her experiences with the team are responsible for her developed interest in technological work, and she said she plans to keep doing it throughout the rest of her high school career.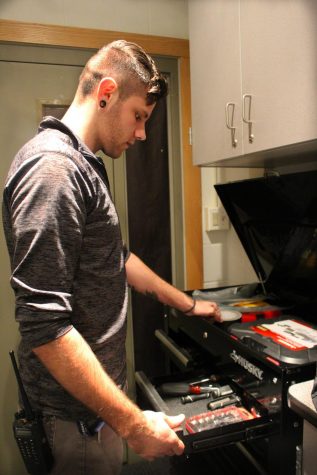 Through working in close quarters, the IT staff has gotten to know each other well over the years, both through conversations at work and after-work gatherings. This specific group has been working together for about a year and a half now; the latest addition to the team was Hawks. 
Outside of school, the group tries to get together once a month for lunch or dinner. They also enjoy going to Whirlyball or Ravinia, but their favorite pastime is trivia. 
While it's often hard for the IT team to get together due to their busy schedules and family commitments, it's always worth the planning, shared Mr. Kelly. This discussion even sparked talks of their next outing: "I think we need to do trivia again and Whirlyball, too," Mr. Kelly told his team during the interview. 
The nature of their job contributes to the community formed between team members. "We're never going to be in a different department. We pretty much all start in IT, and we're stuck with each other until the bitter end," Mrs. Isabelli explained. 
After spending so much time together, they've grown comfortable with each other. For example, Mr. Hinsberger used to listen to his music out loud, but after receiving light-hearted ridicule by his coworkers, he began wearing headphones. 
When asked what advice they have for students, the team had a lot to say, specifically regarding student Chromebooks; Mr. Hinsberger compared them to textbooks. 
"This is a textbook you keep for four years. So, take good care of it. Don't mess with it. That way, at the end of the four years, it's yours," Mr. Hinsberger said. 
Mrs. Isabelli emphasized the importance of students being proactive in checking their school accounts: "Activate your Remind account, check your email, connect to all of the ways that you've been given to receive communications because otherwise, you're going to miss one that might matter."
Leave a Comment