LHS implements changes for new school year
With the 2019-20 school year in full swing, several changes have been implemented all around LHS, including those relating to Parchment, AP Classroom, the athletic department's core values and school security policies.
Seniors will be the first to experience change in the form of Parchment, a college application resource that allows students to send their transcripts directly to the schools they are applying to. 
Although Naviance is still a useful college search tool, college and career resource counselor Ms. Amy Belstra described that its previous use to send scores was not intuitive.
"Based on what I'm seeing, I think everybody's going to like [Parchment]. I think it's much easier, it's much clearer. It's just taking the middleman out of the equation," she expressed.
In addition, for students taking AP classes, there is now a fall registration date as opposed to one in the spring, and increased resources are available online through AP Classroom. 
However, associate principal Mr. Raymond Albin explained that the AP courses at LHS are essentially the same. The alterations by College Board merely supplement pre-established courses and guidelines. 
His main suggestion is for students to keep track of a single College Board account for all testing to accommodate the recent consolidation of College Board's resources.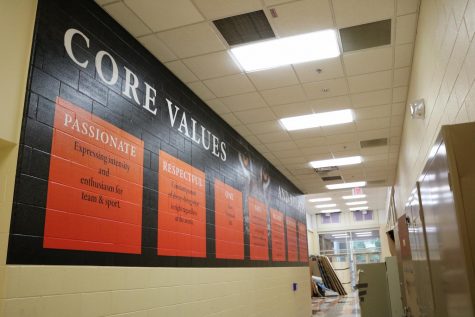 In the athletic department, the acronym PROGRAM was developed to reflect its core values. It was created over the course of five months last year, with input from the coaching staff as well as hundreds of students. LHS athletic director Mr. John Woods was largely responsible for initiating the new vision. 
In order to unify more than 90 LHS sports teams, Mr. Woods first asked students to name athletic core values and how they imagined them in action. A committee of coaches then grouped similar words into categories, producing umbrella words to represent different submissions.
The chosen words — Passionate, Respectful, One, Grit, Reliable, Accountable and Mindful — along with the athletic mission and vision statements, are now displayed in a mural outside the West Gym.
Mr. Woods believes that embodying these principles is what will lead  LHS Athletics to reaching its goal of national recognition.
" If we do get recognized for our successes on the field, it's going to be because the work that we put in behind the scenes and how we treat each other and [opponents]."
A similar message is displayed to those who see the new murals and decor as they enter through the school's front doors.
"We're Libertyville High School. Go Wildcats!" exclaimed Mr. Woods."That's who we are. So we brought this sense of pride in who we are and branding all over the place."
Additionally, there is a new recording studio behind the Studio Theater. The Electronic Music class, recently renamed Music Production and Sound Engineering, will utilize this space, although it will be available to others as well . Previously the location of the LHS radio station, the studio will be in use again after floor reinstallation.
Mr. David Ness, who teaches the class, described goals students would pursue throughout the year.
"[In] Music production, literally, [students are] producing the music from beginning to end. From the beginning, where there's nothing, to the end when [they] have a recording that you can play," he explained.
Mr. Ness hopes that some of the students' recordings will eventually be played in the hallways during passing periods.
Policies regarding use of the music hallway doors are also new to this school year. Seniors are no longer allowed to exit the school for lunch release through those doors. In addition, the use of mobile food delivery services like Uber Eats and Grubhub is also forbidden.
Head of security Mr. Robert Uliks cited the main purpose for the changes as an attempt to control entry access to the building. In past years, students had let others in through the doors, which became difficult to regulate.
For online food services, issues arose from inconvenience as opposed to safety concerns. 
"We were getting sometimes 50, 60, 70 [orders] a day from students. So there was just food that was piled up," Mr. Uliks described.
Although carriers generally did not enter the school, the security team not knowing any of the people bringing the food, in conjunction with the buildup of food, ultimately led to that decision, Mr. Uliks said.