Same District, Different Day
Last month, I had the opportunity to shadow a student from Vernon Hills High School in order to better understand how the students in the other half of District 128 went about their school days. For a day, I followed around one of the publication's Editors-in-Chief, Luc Gudmundson, navigating the layout of the campus, participating in his classes, and embracing the Cougar spirit. I wasn't too sure what to expect out of this experience, but it ended up being a day filled with memorable moments, a few of which stuck out most to me.
Study Hall
After easily finding a parking spot in one of the many student lots, Luc and I headed from the main foyer upstairs to the upper commons, or the "UC" as the cool kids call it. It was there that I was introduced to his outgoing friends. Most memorable of the bunch was Francis, a fellow senior who I learned grew up in Canada and spoke fluent French. I also discovered that he's deathly afraid of ladybugs. It was there and then that I decided I wanted to spend the day with Francis instead.
Just kidding, Luc.
One of the boys told me that he would frequently Tech Deck on the railings of the UC but one day the Tech Decking came to a tragic halt when he dropped the miniature skateboard onto the security desk below, where it was then confiscated. Seems like exactly what you'd expect to be going down in a study hall dominated by hyperactive teenage boys, right?
AP Macro
This class might as well have been taught in a different language.
As I sat in the front row of desks in a classroom of just eight students (small class sizes are not uncommon at VH), I felt more lost than I had ever been in school. Unlike Luc, I prefer to collect my mandatory consumer credit in Consumer Management class, where I make quesadillas and try my best to grasp the concept of mortgages. Before this small brush with Macro, I had never in my life seen a market model or even heard of an LRAS curve. But for Luc and the rest of the class, this seemed to be elementary information.
Following along as the class wrote the answers to their homework on the whiteboard, I tried my best to comprehend any of the complex problems. I can proudly say that I caught on after a while, but I can't say that I'd do too well on the AP test.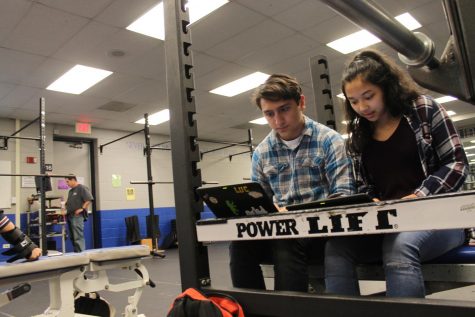 The Scratching Post (Newspaper)
I am infinitely fascinated with other schools' publications. I'll admit to hoarding free copies of student newspapers at the National High School Journalism Convention and spending countless hours browsing high school magazines online, so to witness and experience the workings behind another publication firsthand was captivating. The number of TSP staff members was just half that of DOI, yet they turned out consistently impressive, 30+ page issues each month. Whether it be through capturing intriguing photos, writing stories that matter, or designing intricate layouts to tie the publication all together, each staffer I met demonstrated their own specialty and poured their talent into all of their work. The class itself seemed lawless in nature to an outsider, but as I became more familiar with the students and their processes, I realize that they worked in an environment of organized chaos. It was truly something.
I went into this exchange with the notion that Libertyville and Vernon Hills were two different worlds. Although they are run under the same school district, I truly believed that a rift existed between the schools. After spending the day in the shoes of a busy VH student, I learned that they were more alike than ever. Both schools are filled with kids with insane smarts and devoted artists. High energy radiates off every classroom wall. Administrators and educators strive to make meaningful connections with their students. Both exemplify the quintessential high school experience, rowdy teenage boys and all.