Businesses turn over throughout Libertyville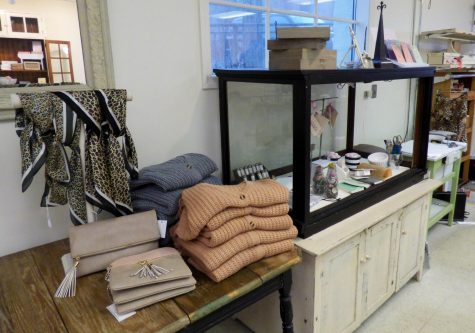 Throughout Libertyville, several new businesses are opening while older ones have recently closed.
Pam Hume, the executive director of MainStreet Libertyville, a nonprofit organization dedicated toward promoting downtown Libertyville, explained that while it's sad to see Libertyville businesses close their doors, the newly available storefronts allow new businesses to open.
One of the new businesses opening in Libertyville is called Lolo's Bowls. With the help of her family, 2012 Libertyville graduate Lauren Schick is in the process of opening this new restaurant; they're set to open in August. With their primary menu item being açaí bowls, Schick is also planning to serve other healthy grab-and-go options. This will include smoothies, avocado toast, peanut butter-banana toast, overnight oats, and other healthy, no-bake treats, she explained.
Lolo's is opening in Cambridge Plaza near Bagels by the Book and Panera; Schick hopes that the popularity of those restaurants will draw customers to Lolo's. They're hoping to target high schoolers, young kids, and people seeking post-workout meals as their primary customers, Schick said.
Schick studied kinesiology at DePaul University. After college, she started nursing school but soon realized that she didn't want to pursue a nursing career. Instead, she decided she'd open her own business. That's how Lolo's came to be.
Schick explained what she hopes her business will become: "I envision a place where people can come and I just I hope [Lolo's] impacts people. Obviously, we're going to have good food, but I hope it's all centered around helping people and giving back"
She explained that she wants to leave an impact on the world; Schick's planning on donating a portion of the company's sales to Feed My Starving Children.
Serendipity, a popular clothing and jewelry store in downtown Libertyville, closed their physical store at the end of April. The owner, Kendra Dean, explained that the biggest reason for this is due to her family. With her sister, Greta Dean, being in her last year at LHS, they decided that it was time to continue the business only through their website and a Grayslake store, Closet Traders. Closet Traders supports women-owned small businesses by selling their products.
The girls' mom, Kristin, opened Serendipity 13 years ago, when Kendra was in eighth grade. Until three years ago, Kendra worked as a part-time sales associate, helping out around the store. She officially took over the company after graduating from the University of Kentucky in 2015, where she studied fashion merchandising.
As the new owner, Kendra made some changes: "I did take over three years ago and moved completely on my own and built the online website completely on my own," she said.
But after three years of owning Serendipity, Kendra shared that she's moving to Chicago, where she'll still be managing the website and social media aspect of the store. She'll be reverse-commuting from the city because the Serendipity office will still be out of Libertyville.
Kendra's favorite aspect of the business is how it allows her to spend time with her family: "I employ my grandma…I loved working with her. I think a lot of times, especially being 25, I don't know anyone else who gets to work with their grandma on a daily basis, and I absolutely loved it."
A popular bakery in downtown Libertyville, Lovin Oven Cakery, is also set to close, on June 30, as was recently reported by the Chicago Tribune. A combination of economic factors, like increasing rent and an increase in minimum wage passed by the state legislature, pushed the owner, Matt Slove, to close before the company begins to lose money. Slove was contacted for this article but did not respond to interview requests.
Leave a Comment