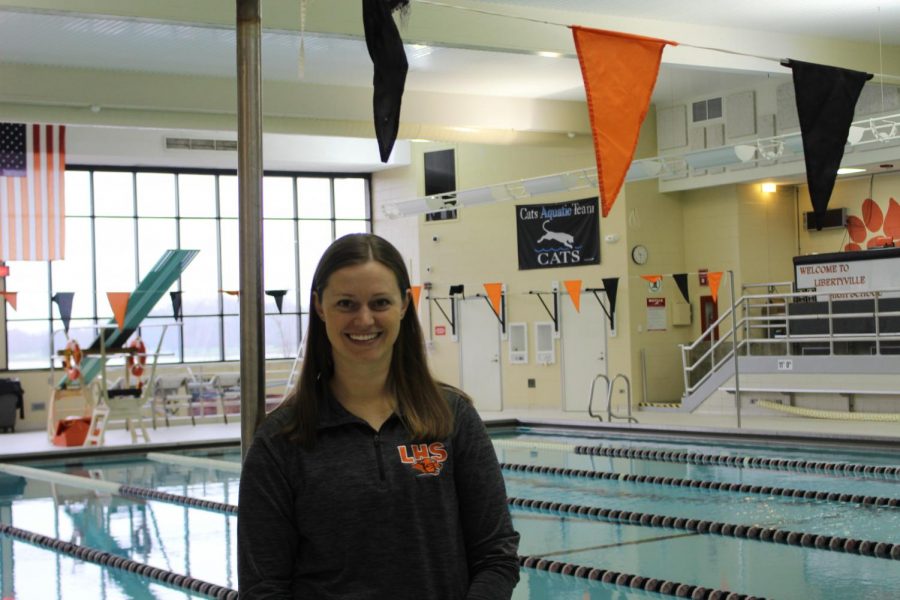 Mrs. Amanda Pechauer
Mrs. Amanda Pechauer attended Bay Port High School in Green Bay, Wisconsin, where she swam the 100 backstroke competitively. Mrs. Pechauer won the state championship both her sophomore and junior years of high school, and was planning to win the title her senior year as well, but it didn't work out that way.
After her junior year swim season, Mrs. Pechauer was diagnosed with a heart condition, Neurocardiogenic Syncope Dysfunction. Because of the condition, Mrs. Pechauer could no longer participate in athletics and was forced to stop swimming competitively, which she had been doing since she was 6 years old.
"It was really hard, especially because you're a high school kid and you think your world just ended because that's the only thing you know how to do," said Mrs. Pechauer.
According to Mrs. Pechauer, she "loved swim too much to get rid of it," so she began coaching her younger sister during her high school career. At LHS, she is the head boys swim coach and assistant girls swim coach.
"I tell all of my swimmers this: 'can't' is a swear word," stated Mrs. Pechauer. One of Mrs. Pechauer's coaches used to tell her not to say the word 'can't' in order to motivate her, so she continues to use it today in her coaching.
"You can do it," Mrs. Pechauer added. "You just might not want to put in the work and it might be hard right now, but you just have to work through it."
Mrs. Pechauer had many other talents other than her backstroke. Outside of swimming, Mrs. Pechauer also played instruments such as clarinet, saxophone, bassoon and piano in her grandfather's jazz band during her childhood.
"Not necessarily playing a sport, but doing something that helps you release your stress or energy I think is a great idea. If it's a sport, great. If it's something else, that's totally fine, too," commented Mrs. Pechauer.
During the day, Mrs. Pechauer works as a teacher's assistant, where she lifeguards gym classes that utilize the pool and helps out gym teachers when needed. Mrs. Pechauer's heart condition has been cured and she was cleared to swim again five years ago.