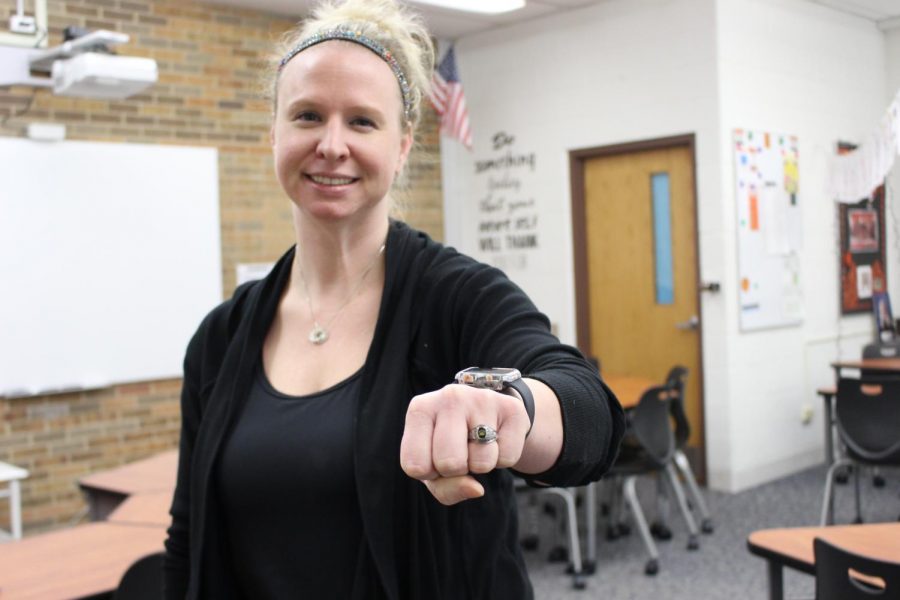 Mrs. Joyce Amann
LHS alumna and 12-season athlete Mrs. Joyce Amann wasn't always a soccer star. Her soccer career didn't start until middle school, when she noticed some of her friends from school were trying out for a travel soccer team. Before that, Mrs. Amann had played softball in the springtime, but when she was 12 years old, she chose to play soccer instead.
In high school, Mrs. Amann ran cross country, played basketball and was on varsity soccer all four years. During her senior year, LHS's soccer team won the state championship.
"We always said that the year we won state, I'm not necessarily sure that we were the most talented group of girls out there, but what we lacked in any kind of talent, we definitely made up in the mental game and the heart and the connection with our teammates, and that's half the battle," said Mrs. Amann.
Mrs. Amann described playing on teams that did not have as tight of a bond as her high school soccer team did, and she emphasized the fact that if the goal is to create that kind of feeling within a team, a lot of time and hard work goes into it.
"All four years, our team had a really special bond. We were like family. We would do anything for any one of us, and when we weren't on the field together, we were all hanging out together," Mrs. Amann described.
After her senior year of soccer, Mrs. Amann attended Illinois State University and played Division One soccer in college. At Illinois State, her team had a lot of successes, like making it to the Women's NCAA Tournament and also winning conference one of her years there. But according to Mrs. Amann, the night she won state at LHS "by far surpasses all of that."
"It was so cool to have the backing of the community because they really got behind us and supported us," stated Mrs. Amann. She remembers feeling overwhelming support from the community around LHS after seeing the amount of signs that were on people's front lawns cheering on their team and the amount of people that showed up late at night to their victory parade when they got home from the state championship.
"If you ask me about all of my highlights, all of my years of playing sports, that's the highlight, that's the top," she added.
After her enjoyable experience here at LHS, coming back to teach was "a dream come true." In addition to teaching health and PE classes, Mrs. Amann has coached girls soccer at Libertyville and Mundelein High Schools, as well as girls basketball at Vernon Hills High School.
"I always tell everyone about how much you'll miss it after you play that last game. I can't describe that enough. One day it will be done, one day you'll play that last game, you'll go out on the field, and then it will all be memories, so live in the moment and enjoy it," expressed Mrs. Amann.