Bring it On
For 10 months, spanning across two different sports seasons plus the summer, and for six days a week, the LHS varsity cheerleading and dance teams practice their routines. On average, the teams work more than 600 hours a year, excluding external open gyms and tumbling and dance classes. This year, their work concluded with both teams advancing to their respective state championship competitions.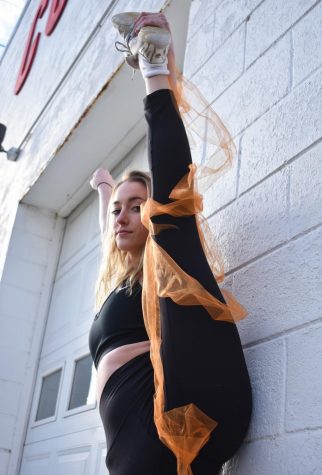 The teams both have a football season and competition season. During the fall, the teams support the varsity and junior varsity football teams. In the winter, the teams perform their routines at competitions against other schools while also performing during the boys and girls basketball games.
Each team's seasons officially begin in the spring with open gyms just before tryouts. After three days of tryouts, the teams work over the summer, at least three times a week..
"[The summer is] almost like a third season…we work on both competition and football season routines and have conditioning," stated four-year dance team member Kelly Higgason.
Both the cheer and dance teams also attend a summer camp to build upon their knowledge as well as to help connect the teams before school starts.  The dance team attends a camp at Northern Illinois University while the cheer team goes to Carthage College.
Once August comes around, the teams start their football season. This spans until the end of October or beginning of November. During this season, the dance team works on sideline as well as halftime routines. The cheerleaders also polish their sideline routines and continue to practice their tumbling.
Cheer also runs a mile every day during football season because of the high energy levels needed to perform a routine. Both cheer and dance demand a large amount of endurance and strength. For cheer, the students need to use upper body and core strength to hoist and hold the fliers, while the fliers need to have strong leg muscles and flexibility.
"You not only have to lift [fliers], but you have to throw them while using the right muscles," said sophomore cheerleader Ella Bach.
When November comes around, the dance and cheer teams prepare for their respective competitions. Typically, this includes longer practices, anywhere from two-and-a-half to three-and-a-half-hours with high-intensity levels and continuous rehearsal of the dances or routines.
"Some people like the football season better because it's less repetitive and less serious, but I like the seriousness of competition season," shared sophomore dancer Fernanda Vega.
The dance team practices in the cafeteria for both seasons due to the lack of available gym space, although this may change due to the possibility of a dance studio being installed to replace the old pool.  
"Typically our longer practices happen when we get gym space because we want to maximize our time in that space," said Varsity Coach Ms. Casey Dugan over email.
The teams also get a chance to perform in front of audiences to practice their moves during the boys and girls basketball games in the winter. While the cheer team doesn't practice their whole routines in front of the crowd, the dancers display their dances at many of the games.
The head boys basketball coach, Mr. Brian Zyrkowski, reflected that the cheer and dance teams bring a lot of energy into the stands, which creates a more exciting atmosphere for the game; varsity football coach Mr. Mike Jones expressed a similar sentiment.
Many teams, like boys soccer, football and boys and girls basketball, have come to support the cheer and dance teams at their practices and to provide an audience for their routines. Other LHS teams have supported the dance team by giving them "social media 'shoutouts,'" according to Coach Dugan.
Although the teams have to prepare for their various seasons, many of the dancers and cheerleaders interviewed expressed how time-consuming it is, affecting both their social and academic lives.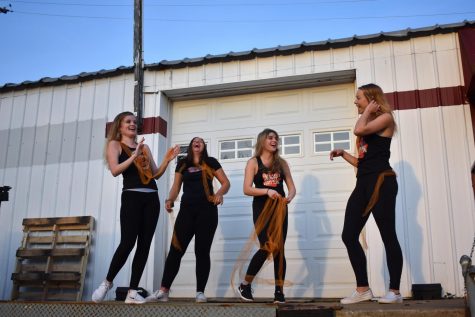 "Because we have practices every day and then competitions all day over the weekend, my friends during winter season don't invite me to anything because they know that I'll just be at cheer," junior cheerleader Erin Custod explained.
Annalise Bossler, another junior cheerleader, also spoke about how the extended period of time spent on cheer has impacted her: "I definitely have a hard time
keeping up with my homework."
In addition, it is often debated whether or not the cheer and dance teams qualify as sports (according to the IHSA, they are). When interviewed, many of the cheer team members explained that they are told that cheer isn't a sport almost daily. For both teams, judges determine whether they win or lose based on the execution of their routine. It is common for the people who don't believe cheer and dance are sports to think that because the teams are cheering and dancing on the sidelines as well as winning or losing based on a judge's opinion.
However, head cheer coach Mrs. Erin Vance, who argues that cheer is a sport, counters that "it's still a ref's opinion whether that's a foul or not when you're playing a game, and that can make a huge difference in your game."
Dance is also not always considered a sport since it is commonly recognized as an art form. Vega expressed that not only are the dance team performances art forms, but they also possess the same amount of skill and work ethic as any other sport. Coach Dugan explained how when competitive dance first became an IHSA sport in 2012, it was criticized, but she emphasized how supportive the school administration was, which helped make the team feel respected.
Not only has the school been supportive of the dance and cheer teams, but the cheer and dance team have teammates that support each other. All of the students' interviews reiterated the strong bond that their teams had due to the tremendous amount of time spent together.
Sophomore Kaylee Sherman stressed this about the cheer team's bond: "You basically have 24 built-in best friends that you spend a lot of time with."
Leave a Comment