Kylee Kraus, skilled skier, graduates early
Senior Kylee Kraus, a lifelong skier and Wilmot Mountain Ski Resort employee, graduated early last semester after accumulating all of the necessary credits.
Kraus, who has been skiing since she was 2 years old, has been racing competitively since she was in seventh grade. She is on the Wilmot Junior Mountain race team as well. The team competes in slalom and giant slalom events, technical events in alpine ski racing that involve skiing between sets of poles or gates, and it competes against 11 different teams around the Midwest.
"It's very time-consuming, so I started taking early releases as soon as I could," explained Kraus. Kraus goes to ski practice Tuesday and Thursday nights, and on Saturday and Sunday mornings, so having an early release helped with the commute to Wilmot Mountain in Wisconsin, a 40-minute drive from Libertyville.
Kraus has competed in many races in the area, including in Dubuque, Iowa; Galena, Illinois; and Tyrol Basin, Wisconsin.
"I decided [I was] going to graduate early. I was basically living at Wilmot already, so I thought I might as well get a job there. I'm a skiing instructor there as well, working seven days of the week, so I'm basically skiing at all times," stated Kraus.
When Kraus isn't working on the slopes, she's hanging around the resort or grabbing a bite to eat with some skiing friends.
"I love the social aspect of skiing. It's such a great environment; you just make a lot of really good connections," expressed Kraus, who explained that, because of skiing, she now has friends in Utah, Colorado and Wisconsin.
"They're all amazing, but we only see each other three months out of the year for only a few days a week, and because we're so close, it's really nice to see them after not seeing them for nine months," she added.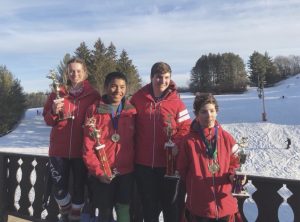 When Kraus isn't at Wilmot, she's also a manager at Dairy Dream in Libertyville, a golf caddy at Biltmore Country Club in North Barrington, and a babysitter for multiple families. Skiing was a big part of the decision to graduate early, but the biggest aspect was to work and start a life outside of high school, Kraus explained.
"I love to work and I saw how expensive college was, and there was nothing really keeping me in high school. I just saw that life was in front of me and I was so close to reaching it, but I wasn't quite there," expressed Kraus. Now, Kraus is saving up for college and waiting to hear back from the University of Colorado Boulder and Michigan State University to see which one she will be attending in the fall.
Since middle school, Kraus has known that she was interested in geology and earth sciences, and she would like to major in them.
"I took [earth science] sophomore year, as soon as I could take it, but I wanted to learn more. But there's not really much else offered at LHS, so I just wanted to get to college and start my life," stated Kraus.
In the future, Kraus would like to continue skiing in her free time but not professionally or on a college-level team. "If you go [Division I] for skiing, you barely go to class November through April because you have to travel around to compete, and I'm more focused on my studies than that," Kraus said.
One other Libertyville High School student graduated early this year: senior Allison Becker. She did not respond to interview requests.