Geographic Athletics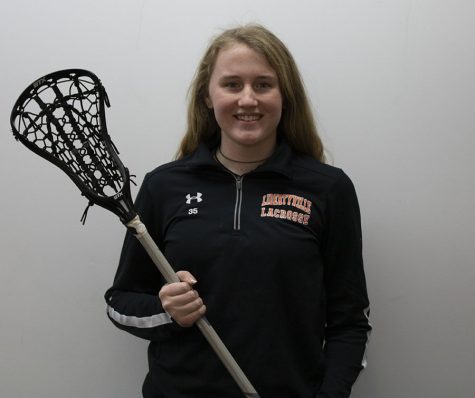 Katie Felsl
With approximately eight million high school athletes across America, as stated by the National Collegiate Athletic Association, high school sports are prevalent in many students' lives. Some sports are more popular than others from region to region across the country, while some sports barely exist in certain areas. For example, football, baseball and basketball are nationwide known to be common athletics, but water polo, lacrosse, ice hockey and skiing are only common in certain geographic areas of the United States.
Although football is known to be popular throughout America, there are still areas that contain a higher participation rate for the sport than others. According to the National Federation of State High School Associations (NFHS), in the 2017-2018 school year, football was ranked nationwide as having more male athletes than any other sport in the U.S., with over one million participants. California and Texas, likely due to their warm climates, have the highest number of participants for football. Meanwhile, geographically colder states, including some in the Midwest, have fewer participants.
While Libertyville's football players can't train and play outside all year, they train inside and outside when they get the chance. For example, sophomore quarterback Blake Ellingson participates in an inside quarterback camp run year round at many different locations with former NFL player Jeff Christensen, called Throw It Deep. Since players, including Ellingson and his teammates, aren't playing together all year long, he expressed that, "I feel like you're just closer in the fall," whereas teammates in the south have the opportunity to be together all year long.
One of the less-popular sports in the U.S. is water polo. NFHS reported that there are 43,500 high-school water polo athletes (boys and girls combined), with the vast majority of players located in sunny California. In contrast with the high levels of popularity in California, there are only 4,000 high school water polo players in Illinois. Approximately 75 of those athletes are from LHS.
Similarly, lacrosse is a competitive, high-intensity and emerging sport. The Illinois High School Association (IHSA) set a requirement in 2009 of having at least 40 girls lacrosse teams and 65 boys lacrosse teams statewide in order to be approved as an official sport, stated the Daily Herald. In 2018, after reaching that requirement, IHSA held the first State series for boys and girls lacrosse.
NFHS recorded that in Illinois, there were only 6,800 participants involved in lacrosse (boys and girls combined) out of the 210,000 participants nationwide. Sophomore defender Rebeca Leudtke is one of them.
"I think that lacrosse is an up-and-coming sport. Two years ago, I did not know any girl who played lacrosse and today, I feel that there are so many of my friends that have started to play, [both] here in Libertyville and back in Ohio (where she moved from)," wrote Leudtke in an email interview. Nationwide, lacrosse is more prevalent on the East Coast and in California.
Another less common sport is ice hockey, which is found predominantly in the northeastern, midwestern and northern regions of the U.S. The central northernmost states, the coldest in the country, reign as the hockey kings, states USA Hockey's state-by-state player registration figures. According to USA Hockey's 2017-18 registration of high school teams, the northeastern states boast a large amount of players, with Pennsylvania tallying 304 teams; with the second-most in the U.S., Illinois comes in behind them with 301 teams.
Some participants play for many different teams during their career, even in different states. In the past, a few Libertyville High School students have chosen to go live with a host family in a different state to play for a high-level hockey team. "It's definitely an option, really not for me, but you gotta be committed to the game," voiced senior Sam Bryant. Bryant has played for the Ice Dogs, a Triple-A team in Milwaukee, Team Illinois, Falcon Hockey and the IceCats.
The IHSA has marked boys ice hockey as an emerging sport, which it defines as any sport for which IHSA does not conduct a state tournament series. Instead, the hockey teams of Illinois currently have an Illinois State Championship tournament hosted by the Amateur Hockey Association Illinois.
Likewise, skiing is more common in the northern region of the U.S., due to the snowy slopes of gigantic hills or steep mountains, but skiing is much less common than many other sports. NFHS declared that there are approximately 19,000 high school participants in either Alpine or Cross Country Skiing. The state with the most high school skiers is Minnesota, with a total of 6,000 participants.
NFHS did not have a record of any schools in Illinois sponsoring a competitive skiing team as of 2017-2018, but there are still students that competitively participate in the sport, such as senior Kylee Kraus. Living in Libertyville makes it more challenging for her to ski as much as she would like because the nearest skiing hill is 40 minutes away at Wilmot Mountain in Wisconsin.
"I feel like I would have skied no matter what, but moving to Libertyville (from Spring Grove, which is much closer to Wilmot), I had to be sure I really wanted to be doing it because it's a farther time commitment, so I had to be really dedicated to the sport," she said.
Drops of Ink intends for this area to be used to foster healthy, thought-provoking discussion. Comments are expected to adhere to our standards and to be respectful and constructive. As such, we do not permit the use of profanity, foul language, personal attacks, or the use of language that might be interpreted as libelous. Comments are reviewed and must be approved by a moderator to ensure that they meet these standards. Drops of Ink does not allow anonymous comments, and we require a valid email address. The email address will not be displayed but will be used to confirm your comments.