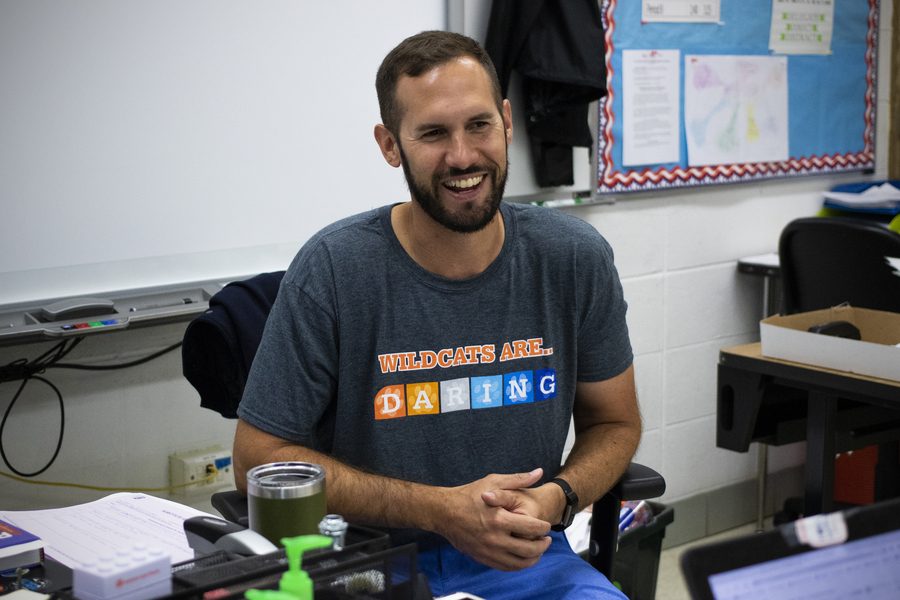 Mr. Aubin
From childhood to adulthood, Mr. Casey Aubin has always been into sports. Growing up in the south suburbs of Chicago, he and his twin brother attended their two older siblings' games, the spark for them to follow suit.
When Mr. Aubin was younger, he "played all the sports that your parents put you in, like baseball and soccer," but later found himself gravitating towards football and volleyball. He played those sports for school, at Carl Sandburg High School, and for club teams: "I was a very good, above-average high-school athlete. I wasn't All-State, I wasn't All-Conference, but I was just having fun."  
Part of his love for sports guided him to become a teacher; Mr. Aubin stated that his teenage self partially wanted to join the profession because it could be something that "really allows me to make a career out of coaching."
Additionally, his inspiration for becoming a teacher came from various adults in his life: "My teachers and my coaches were the people that had the biggest impact on me." His mom, who was a well-respected and awarded — once a Golden Apple Award nominee — elementary school teacher, was another role model.
Mr. Aubin attended Illinois State University and majored in education. Knowing that he didn't want to deal with the stress and training of being a student-athlete in college, he joined intramurals to play the same sports he loved in high school but do so more recreationally.
Once he graduated college, he worked at another school as a permanent substitute teacher, later getting a job at Libertyville after finding the opportunity at a job fair.
Growing up around war veterans (he worked at a local Veterans of Foreign Wars office) and enjoying history documentaries, he became a lover of storytelling; he always knew he wanted to be a social studies teacher. In addition to knowing his ideal position, he also came to LHS hoping to coach some sports teams. Mr. Aubin has coached freshman football for eight years and boys junior varsity volleyball for seven.
Though he doesn't have a favorite between the two, he enjoys that the two sports are different: with football, he sees it as more strategy, "like a game of chess." With volleyball, the game is "more fluid," which allows the game to "take its course." He respects that with each sport, there are different preparations and tactics used to win.
Throughout his career, Mr. Aubin has found a significant correlation between coaching on the field and teaching in the classroom: "To be a good teacher, you have to be a good coach." He's found that certain skills he teaches can translate between the two: "You're introducing new skills, introducing new information, trying to make it accessible for everyone, trying to take individual weaknesses of everyone and turn them into strengths. If you do that enough with individuals, you kinda lift the entire team or class," he described. "The way I teach and the way I coach are very similar."
His wife, Mrs. Melissa Aubin, a teacher-librarian at LHS, reflected on how she sees her husband as a coach and teacher. "He just has this knack of knowing what to say, whether it's to the whole team or even just an individual player," she explained. "I think that transfers over to him as a teacher in the classroom. He just knows what to say to lift kids up or give them confidence."
And just like with winning a sports game, there is a payoff and reward at the end of the day: Mr. Aubin said his favorite parts of being a teacher are "the relationships you form with people" and "when you help somebody and it clicks, and then all of a sudden you've empowered them."