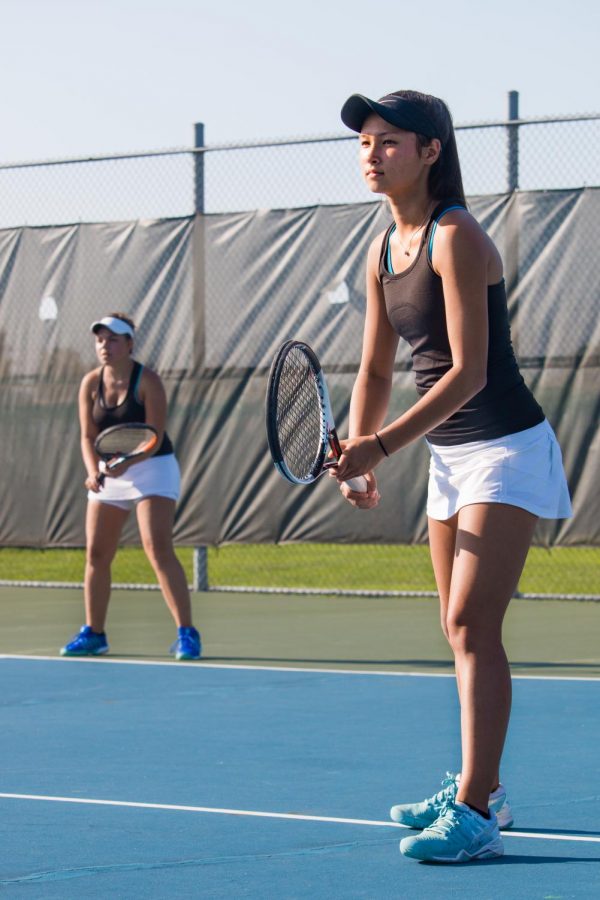 Girls Tennis
The  girls varsity tennis team comes into the year with high hopes and two young talents leading their team. Sophomores Amanda Black (a DOI staff member) and Lily VanDixhorn are the team's singles 1 and 2 players, meaning they are the top two players on the team, according to junior Kiley Nolan.
"[VanDixhorn and Black] are our motivation since they're so young and so good. If it wasn't for them, we'd be messing around all the time," said senior team captain McKenna Rudolphi.
Nolan plays doubles 1 (the top doubles position on the team) with partner Senior Anna Wolski: "We've had a tough time [this year] since we've played such tough teams, so it's hard because they're all so good. We played well, but I am excited for this season," said Nolan.
In order to get even better this season, Rudolphi believes that the team needs to "not get down on ourselves when we mess up, knowing that it's okay."  As of September 20th, the team is 4-2 in conference.
The Wildcats came into this year having to replace six graduated seniors from last year. "We have a lot of new people … so people are playing different lines for doubles and singles, so I have the same partner but a lot of people are playing different this year than they did last year," expressed Nolan.
One thing tennis does differently than other sports is buy their own uniforms. There's about 77 girls on the team between the varsity, JV, and freshman levels. They purchased Lululemon uniforms picked out by the team and ordered by Rudolphi.
The team practices on six different courts, which can make it challenging to teach everything, according to head coach Dan Kiernan.
"Learning competitive skills is always a challenge on six courts," he said over email. They do different drills in order to work on their skills, such as practicing all of their strokes (lobs, overheads, serves, forehand and backhands), and they also playout a lot of games during practice.
"We prepare every day for singles or doubles, whatever needs to happen to win the next match or tournament," said Kiernan. The girls have had to face tough competition this year, matching up against conference opponents Lake Forest and Stevenson, who normally finish near the top of the North Suburban Conference.
Their season began in August and ends in October, and they're hoping some athletes' seasons end on Oct. 20 at the IHSA state meet.
In addition to the competitive aspects of the sport, a lot of girls on the team appreciate the lax attitude on the team. For example, they have "Wacky Sock Wednesday," and every Friday, they wear all black, whatever the team leaders decide for them to wear.
Rudolphi enjoys the team bus rides to tournaments as well: "We always have a speaker and our team the past two years have been super close and once everyone else's matches are done, we sit together and cheer on the player in the last match, and it's super fun."
To keep that close-knit group, the team has a lot of bonding opportunities, whether it is team pasta parties, or the bus rides or hanging out at tournaments. They also visit Black's lakehouse during the season and become close there as well.
This bonding contributes to many of the team's alumni coming back to visit: "I really enjoy seeing the kids that I coached way back when come back and continue to enjoy the sport as adults," said Kiernan.  
Kiernan has been around tennis for most of his life, coaching for 25 years, as well as playing in high school and at the collegiate level, at Illinois State. "I have many positive memories here at LHS, [it's] hard to pick just one," he said.