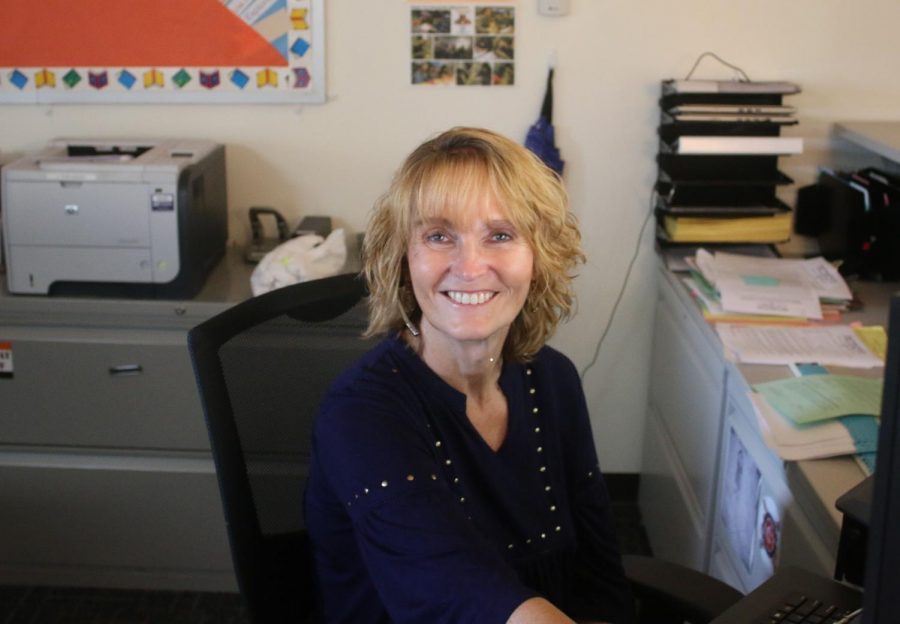 Mrs. Ronne
Mrs. Jewell Ronne, a secretary in the G-P LST, grew up in a small town outside of Lincoln, Nebraska, where she attended Malcolm High School. She graduated with a class size of 30, which was relatively large compared to the typical class of about 15. She explained that "if you're in a really small school, you do everything. So everybody's out for volleyball, everybody's out for basketball, everybody's out for track." In addition to participating in these activities, Mrs. Ronne was a member of the cheerleading squad and the choir.
Though she hasn't spent much of her life traveling, one of her most prominent childhood memories was make-believe travel with her dad: "We would lay on the bed and pretend we were floating down a river and [point out] all the animals you would see," Mrs. Ronne explained. "Of course when you're 2, you see [those animals]." She added that she did this with her four kids when they were growing up as well.
She and her husband of 29 years have one daughter and three sons: her oldest son, Josh, lives in Wyoming; he and his wife work for a caterer. Taylor, the second-oldest child and only daughter, works as an oncology nurse at the Children's Hospital of Wisconsin. The two youngest are Justin and Dillan, who both live in Nebraska. Justin is a music teacher at a high school in Benkleman while Dillan is a John Deere technician in York. All four of her kids went to high school at LHS.
Mrs. Ronne graduated from the University of Nebraska with a bachelor's degree in education. While her first job was waitressing at a diner in Lincoln, shortly after college, her first full-time position was as a history teacher at a middle school in California. Prior to working at Libertyville High School, she worked as a librarian at Vernon Hills High School; she has been a Wildcat for the past eight years.
Mrs. Katherine Cashman, a secretary who works alongside Mrs. Ronne in the G-P LST, knew Mrs. Ronne 10 years prior to working together at LHS. The two women met because they were involved in volunteer foster care through Safe Families, Mrs. Cashman recalled. "She was fostering 3 siblings; one of them had some special needs and was kind of a handful with the two younger ones, so I [fostered] the older sibling — the 3-year-old — and she kept the babies. We would get together so the kids could play with each other," explained Mrs. Cashman. They've been friends ever since; Mrs. Ronne was the connection that secured Mrs. Cashman her job as an LST secretary.
When asked about Mrs. Ronne's most defining characteristics, Mrs. Cashman mentioned that "she's very funny… she has a very quick wit." Mrs. Cashman added, "It's good to have somebody you work with that you can laugh with about lots of things."
Mrs. Anne Fowkes, a health teacher at LHS and a close friend to Mrs. Ronne, emphasized her wisdom: "She would always have great insight, so we would help each other through whatever our kids were going through." Both Mrs. Cashman and Mrs. Fowkes were quick to include how kind she is and how much she cares about her own kids as well as all LHS students.
Caitlin Josten, a senior, spends her study hall in the G-P LST, and has known Mrs. Ronne since her freshman year.
"[Mrs. Ronne is] very happy, positive, and polite. She'll never seem rude to you at all," Josten said. Josten made sure to note that "whenever you're in a rush, [Mrs. Ronne is] super good at calming you down and understanding what's going on."