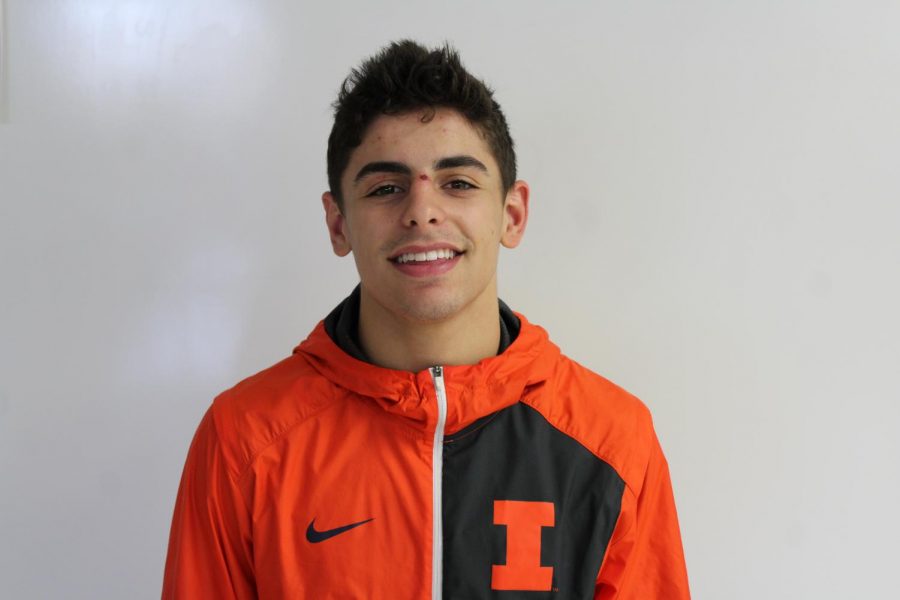 Danny Pucino
The lifelong dream of wrestling in college came true on April 5 for sophomore Danny Pucino. He aspired to attend an Ivy League or Big 10 school to continue his academic and athletic career. The one problem for Pucino, as he explained, was that "[he's] not supposed to really talk to schools." College coaches cannot contact an athlete before Sep. 1 of their junior year.
Pucino got the process started on his own, in a way. "I'd visit and [the University of Illinois wrestlers] talked to me in person. I had a relationship with the assistant coach before he was coaching there, so I could call him."
With many rules prohibiting college coaches' communication with high school athletes, Pucino knew he had to rely on his high school coaches. Varsity wrestling coach Dale Eggert helped him a lot, in addition to assistants John Hensley, Ted Stryhulski and Jeff Keske.
Pucino had many schools give him offers, such as Princeton University, the University of Oklahoma, Old Dominion University, West Point and the University of Maryland. He had a goal in mind of finding the perfect school: "It was a goal for me to not have to make my parents worry about money. [U of I] offered me the most money."
Pucino is only verbally committed, which means he can pull out of the commitment if another, better offer comes along, but he believes that won't happen.
Pucino wrestles outside of school with a club team, Poeta Wrestling. He competes at national tournaments and opens all over the country. "Every wrestler wrestles in high school, but serious wrestlers do club," he said.
Pucino has already made the extra effort to get ready for collegiate wrestling. He goes down to Champaign-Urbana every other weekend to work out with the wrestlers on the U of I campus, even though he can't practice with them yet.
Pucino is looking into his collegiate future and has goals set already.
"I want to win an NCAA championship individually, but also to win as a team and have a really good team," he said.
As only a sophomore, Pucino still hopes for a state title within his remaining high schools seasons.