The First Generation
For years, students across the United States have attended school in search of the college education their parents never received in this country. Whether they come from families who immigrated to the U.S. in search of a better life or families who did not have the opportunity to attend college in U.S., the title of "First-Generation Student" encompases those who are among the first in their family to take a step towards a college education in America.
From a young age, senior Felisa Umadhay was always surrounded by science, particularly relating to the medical field. Her mother and father were born and raised in the Philippines, and both studied nursing in their home country at a private Catholic school attached to a hospital.
In comparison to much of the schooling in the United States, her parents' education was stricter: "They were taught very differently from people in the U.S., especially in nursing and how the practices [work]," Umadhay explained. "Seeing the standards of a Catholic education, [they are] higher standards of performance. [Students] do things differently, but it's the right way, and it works."  
The constant influence from her parents' work with the medical sciences is what inspired Umadhay to develop her personal interest in the sciences, particularly biochemistry.
Like Umadhay, senior Suraj Rajendran has always had an interest for science and continuous learning. While he was born in India at the time that his father was studying software engineering and his mother was studying education, Rajendran was primarily raised in the United States after his parents immigrated.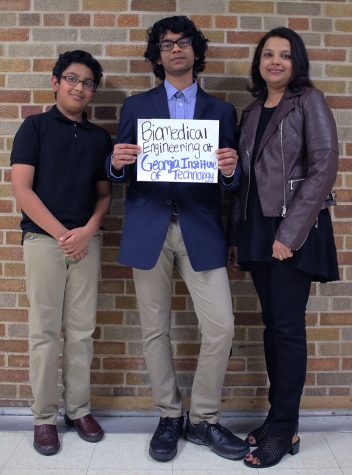 While not the traditional first-generation student, he is still recognized as the first person in his immediate family to attend school in the United States. Because his parents never went to school in the United States, Rajendran sees some strong differences between his parents' education versus his education today.
"As I grew older, [my parents] got more experience with the education system here, and I think they found it different in the way that it was a lot more competitive in the United States," Rajendran explained. "It's a lot harder to stand out from an educational standpoint because everyone is achieving so much."
Rajendran addressed the common stereotype that Asian parents push their children to perform at the most academically elite levels, and expressed that coming from an Asian family, he's never felt that particular pressure.
For Rajendran, he emphasized how his life in America has not been as oppressed compared to other ethnic groups immigrating to America.
"I don't really have any complaints, per se. I've gotten the best [education] that I can. But I know that our immigration system has its problems. [We] need to fix those problems," Rajendran concluded.
As Rajendran alluded to, controversy surrounding America's immigration system is often seen in today's media; this discussion largely centers around those immigrating from Latin America, particularly Mexico.
Lancy Marcos, a junior at LHS, is the first member in her family to be born in the United States, and her family officially moved to the United States from Mexico when she was just a toddler. As Marcos explained, her parents wanted her to be able to have better opportunities for not only herself but for her potential future family as well.
While not yet in the process of applying to college, Marcos feels optimistic for her future in regards to tertiary education. She noted that the education her parents received was hindered due to required family farm labor.
"I don't think my dad even finished elementary school," Marcos explained. Her father left school to work on his family's farm when he was just a child, as did her mother, who stayed in school until the sixth grade before she left to work.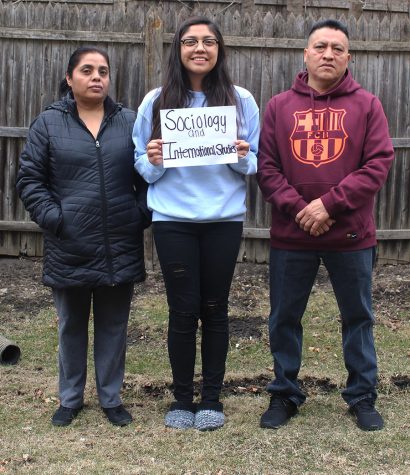 Marcos emphasized how her parents' lack of education is what drives her to continue her education, and she noted how they have strongly insisted that she attends some form of education after high school.
"The way I think of it, my parents came here just for [my education]," Marcos explained. "They've always told me that if you get a college degree, you'll automatically get a better job than if you didn't… For me, it feels like I kind of have to prove that them [immigrating] here was worth it."
Marcos further explained how receiving a post-secondary education is one of her main priorities today. She is interested in studying sociology and international studies after she graduates from high school.
Students at LHS aren't the only first-generation students either, as some staff members are the first individuals in their families to receive a college degree in America. Mrs. Regina Odishoo, a speech and language therapist at LHS, was a first-generation student born into a family that immigrated to the United States from Jerusalem. Her parents were living in the middle of the Israeli-Palestinian conflict and sought a future in America in hopes of a safer life for their children.
Mrs. Odishoo's grandparents were survivors of the early 20th century Armenian genocide, and because of their violent experiences, taught their children and grandchildren to prioritize education above all else.
"[My grandfather's] saying was that education is like gold or jewelry, that no one can take from you," she explained. "That's how I was raised. I didn't have a choice, I was going to college; I was going to get an education."
As a speech therapist at LHS, Mrs. Odishoo said she has met many intelligent students who can't always clarify their thoughts due to their language barrier. She emphasized that despite a students' ethnic background, "I want them to be able to recognize their strengths, [as well as] what areas may be difficult for them and honor it. Don't be embarrassed of it… Just keep trying to learn more."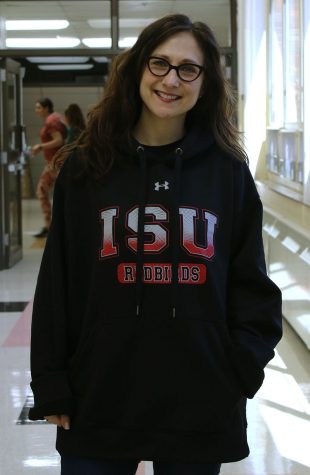 The concept of first-generation student doesn't just apply to those whose families immigrated to the United States; it is an overarching term that even encompasses individuals whose parents never received a post-secondary education.
Dr. Jennifer Loika, a mathematics teacher at LHS, was the first person in her family to go to college and considers education to be one of the most important qualities in her life.
"I have always loved to learn. I knew from a young age that I just wanted to go as far as I could in school, no matter what it was. I wanted to go all the way," she explained.
Dr. Loika underscored how while education is extremely important to her, she specifically wants her children, as well as her students, to take advantage of the opportunities provided for them in the United States.
"My family had financial issues, yes, but we are so privileged to have been born in our country, in Libertyville," Dr. Loika emphasized. "Take full advantage of all of these opportunities. Don't take them for granted; just take them and run, and see how far they will take you."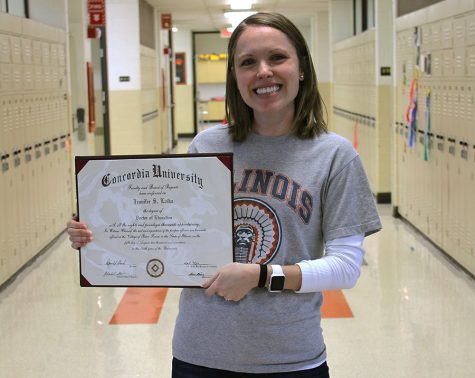 Those interviewed are not the only individuals at LHS who are first-generation students. Students all across the country take steps each year as first-generation students, in search of furthering their education.
Today, regardless of their backgrounds or ethnicities, millions of children across the country attend school to further not only their educations, but their futures, and whether or not these children are first-generation students, they are undoubtedly a significant proportion of the future generation.
Leave a Comment