Fun Monkey
Every band has to start somewhere: this one began with senior, and bassist, Bryce Brown-Morris. Since no one in his family has ever been involved in music, he really pushed himself to pick up an instrument. He said he taught himself how to play the bass with a pick using his own influences and ideas.
Around eight months ago, Morris gathered together his bandmates: guitarists junior Isaac Rodriguez and seniors Beck Ghantous and Brice Boyer; drummer junior Chan Sun; and pianist senior John Copeland.
They took inspiration from the Red Hot Chili Peppers when brainstorming band names because they "called themselves the Funky Monks when they were our age, so we just took a play off that and called ourselves Fun Monkey," explained Brown-Morris.
The band not only takes a lot of inspiration from the Chili Peppers but also many other genres and bands. Rodriguez explained their sound as a "psychedelic funk alternative rock," but everyone in the band agrees that each one of their songs is different and unique.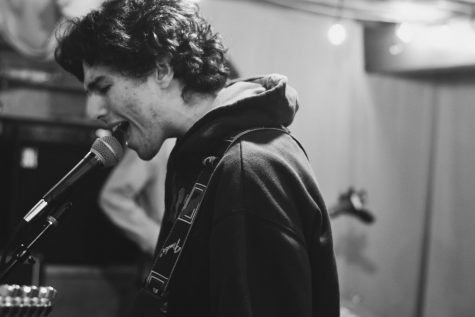 Jonah Kincaid, a junior and fan of the band, explained that "the funk of them is really great. The fact that they can all play [their acoustic set] is really special and unique. It's not easy."
Although Fun Monkey plays many song covers, they also have their own original music and are currently working on recording an album to put on Spotify. Boyer explained that "writing music for me is the best way to relieve stress [because] the creative side of me comes out."
They have played at a wide variety of places, ranging from Penny Road Pub to Bottom Lounge in Chicago.
When the band gets together to practice, they all feel that it helps them deal with any negative feelings and improves their overall mood. Rodriguez feels that "there is something intimate about playing music," and Copeland agrees that "it's a special bond."
The group plans on staying together for as long as possible, but with college coming up for a few of the members, it may be difficult. However, this band means a lot to each member of the group. For Boyer, "it's kind of what I've been wanting to do all my life: produce music, play in front of people and just get my music out there. It's kind of like a dream come true."
Drops of Ink intends for this area to be used to foster healthy, thought-provoking discussion. Comments are expected to adhere to our standards and to be respectful and constructive. As such, we do not permit the use of profanity, foul language, personal attacks, or the use of language that might be interpreted as libelous. Comments are reviewed and must be approved by a moderator to ensure that they meet these standards. Drops of Ink does not allow anonymous comments, and we require a valid email address. The email address will not be displayed but will be used to confirm your comments.