Synthetic ice rink opens in Hawthorn Mall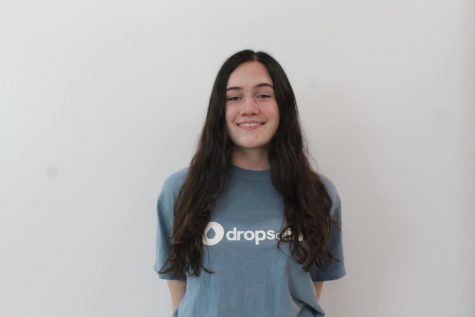 More stories from Moira Duffy
Married co-owners Kevin and Alena Jotkus opened an indoor synthetic ice rink in Vernon Hills Hawthorn Mall in November to combine skating and exercise with fun.
With their kids growing up in the Mundelein area, the Jotkus' wanted a space for them to interact and reap the benefits of skating, which include improved flexibility and balance as well as cardio work and weight loss, they said. The two wanted an "entertainment facility where kids can stay active," according to Alena. She felt Hawthorn Mall was an ideal location for the business, and there was an opening on the upper level next to JC Penney.
Fifth grader at Rockland Elementary School Delaney Rybicki, who has attended the new facility, said, "It's a really fun place to hang out with friends."
What sets the Skate Room apart from other facilities is its synthetic ice, which is more eco-friendly and has lower maintenance costs. The synthetic ice, called XTRAICE, releases non-breathable shavings that eliminate dust and vapor. The surface itself is a type of plastic also used in food containers. The panels that compose the rink last for 12 years, and cleaning them can be done with household materials. The idea to use "fake" ice stemmed from the synthetic rinks throughout Europe the owners had seen.
So far, according to the Jotkuses, the Skate Room's patrons are mainly families with young children; parents might be more comfortable taking their kids to a smaller rink devoid of the dangers of regular ice skating rinks, such as high-speed skaters and slippery ice, the owners explained.
The surface of the XTRAICE is softer than regular ice and rarely causes bruising, plus the temperature in the room isn't chilled like in a traditional rink, so skaters don't need to wear extra layers. The owners feel that these factors make it an approachable place for parents.
Falling on the XTRAICE is safer for inexperienced skaters due to the softer surface layered under the panels. The heat from skating releases the lubricant and makes the ice more slippery, increasing the gliding effect.
"[The synthetic ice] felt like normal ice actually," Rybicki said. "It was really smooth and not too slippery that you would fall easily, but it was slippery [enough] that you could skate really well."
The facility isn't just for young skaters, though. The faster the skater, the more of the lubricant will be released. According to Kevin, "If you get a higher speed and a stronger push, you can get an experience the same as [on] real ice." Kevin and Alena said they view the Skate Room as a training area.
"[Young skaters] walk onto the rink really shy and not sure about [themselves] and then it [works out] for them because this is how the surface works; it allows them to do it step-by-step without keeping falling and getting wet," Alena pointed out.
From talking to their patrons, they have had about 300 first-time skaters in the facility's first two months, according to Alena. Kevin explained that their patrons are about 65 percent children, ranging from ages 4-12, and 35 percent teenagers and adults, with a 60 percent return rate.
Due in part to these numbers, the Jotkuses are looking to begin expansion of the rink. In order to do so, Kevin and Alena require approval from the Vernon Hills Village President and Village Board. Currently, the rink has 56 panels and they would like to add 40 more to fill the empty space on both sides of the rink. The owners hope a larger rink will attract middle and high schoolers as well as more families with young children.
The Skate Room can be used as a venue for fundraising; it also has a party room and Disco Nights every Friday from 6-9 p.m. The facility's regular business hours are Monday-Saturday from 10 a.m.-9 p.m., and Sunday from 11 a.m.-6 p.m. General admission is $15 and $50 for a group of four.
Leave a Comment