One Goal
Ranked as one of the best teams in the nation by Max Preps, Libertyville boys varsity soccer ended their regular season with a record of 14-0-2. This success, however, has not come without challenges or hard work. The players practice day in and day out and are faced with pressure to perform to their best abilities. However, despite the pressure and all the work it takes to perform at such a high level, they compare their bonds to that of a family.
BITTA'S RETIREMENT
Last year, the team had a major change. Former coach Andy Bitta, after 32 years of coaching boys soccer and 23 years of coaching girls soccer, retired after the fall season was over, due to his diagnosis of Parkinson's disease.
Bitta cares not only about the game, but about what the game has given to his players, as he sees soccer as much more than learning and successfully executing plays.
"It's not so much about the game. It's more being disciplined, teaching yourself discipline . . . being punctual [and the] responsibility that you have for your teammates on and off the field," he said. "You don't learn that in regular life. If you're a good coach, it should go past [the program]. And I hope I was a good coach to these kids."
And from what his former players had to say, he certainly was a good coach. According to senior forward Ryan Wittenbrink, Coach Bitta shaped him as a player:
"He instilled a lot of confidence in me because I played [on varsity] as a sophomore. He made me a big part of the team at a younger age . . . He was very easy to get along with—he got along with [all] the players really well. [He was] really personable and understanding of [the players'] perspective and our side of things, but at the same time, he definitely held us accountable."
THE ROAD TO STATE — 2015
Going into the 2015 playoffs, Wittenbrink felt opposing teams viewed the Wildcats as an underdog, but all of their hard work from the season quickly prevailed. They defeated Evanston in the super-sectional by a score of 1-0, which marked the soccer team's first time making it down state since they placed second in the 2010 IHSA State Championship.
Coach Bitta continued to push the team going into their state playoff game, knowing that they had worked all season for this moment. Coming out of a close elimination game against Evanston, the team refused to let up, keeping their winning streak of 19 wins alive when they won against Quincy in the state finals with a score of 2-1.
"Obviously it wasn't a straight and easy road. [We had] a lot of ups and downs, but obviously you have to have luck on your side and I think we had that," Wittenbrink said. "We had a really good, talented team that play[ed] well during the playoffs."
THUNHOLM TAKES OVER
After Coach Bitta retired, the team had to find a replacement. The new head coach, Mr. Kevin Thunholm, was coached by Bitta when he played soccer at LHS and has been coaching soccer for 10 years: four years at Vernon Hills High School and the past six at LHS.
Bitta left a large impact on Thunholm as both a player and a coach: "He's taught me a lot . . . a lot of patience, not necessarily x's and o's of the game, but just how to handle adversity with the players, families, parents, what's going on with school, all different aspects of not necessarily on the field, but how to do things around the community, how to be a leader, and how to be a mentor," Thunholm explained.
With both his knowledge as a past player and what he learned from Bitta, Thunholm implemented notable changes to the team from the day he starting coaching. Giving the boys only a week of true summer vacation, Thunholm began their preseason practices on June 1 and as a result, the team has already seen a difference in their performance.
Not only did the team's preseason change, but their new playing tactics have become more aggressive: "We're much more athletic, we can run for longer,  [we have] more endurance and we get quicker goals and score a lot more with the high press,"  junior center forward Evan Rasmussen said.
This new tactic is something many other teams don't typically do. When the opposing team's defenders have the ball on the backline, most teams would sit back and allow for them to keep the ball, as it doesn't pose a direct threat to them. Instead of allowing the other team's defenders to keep the ball, Coach Thunholm makes his players take a more aggressive approach.
He sends his outside midfielders forward, which doesn't allow the opponents to maintain defensive possession of the ball and in turn, can make them nervous. This nervousness potentially allows for the Wildcats to quickly counterattack and have more scoring opportunities.
TEAM UNDER PRESSURE
More so than in past years, it seems that there is a common friendship that unifies the team, according to both the players and Coach Thunholm. "They all seem to get along very well. They like to hang out. Honestly, I know you hear [it] a lot, but they're kind of like a big family. They know who the leaders are or they know who to look for strength and guidance on and off the field," Thumholm said. "We had some adversity in [a] game, and no one was bickering or anything. They were all supportive. So I think that's the number one thing — it's the way they jell. If [anything], they support each other instead of trying to one-up each other."
With all of the success the team has had and all of the recognition that has resulted from it, there is pressure for them to constantly perform at their best.
"We just try and stay calm and do what we've been doing all season, and just try not to think anything of it really," explained Rasmussen.
Not only is this pressure felt by the players, but it is also put upon the coaches.
"Every day someone is looking at us as a target. We've got a bullseye on our jerseys every game…It's fun [being a nationally ranked team], we're embracing it, but it is a little nerve wracking," Thumholm said. "It's a lot of pressure and I'm trying to take [it] off of those guys over there and put it on my shoulders so that they can just go out and play."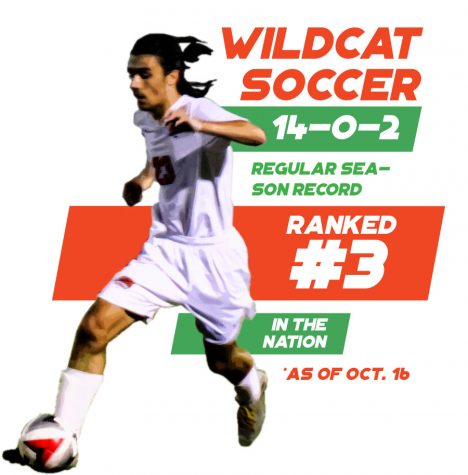 Inforgraphic by Nate Sweitzer
SEEKING STATE
Before he became head coach, Thunholm coached many of the current varsity players during their freshman years. As he has seen these players progress over the past few years, he doesn't plan to change much tactically as they enter the postseason, but he wants to make sure he is keeping the players fit by conditioning them a healthy amount.
He intends to simplify his practices while still maintaining a competitive aspect to things. Instead of practicing at their typical time of 3:30 right after school, once postseason begins, the team will practice in the evening; this way, they will practice at the same time their games would be at.
"I think we need to focus more on finishing the chances that we get . . . because especially in the postseason, we're gonna get less chances than [during the regular season], so they're gonna be more valuable," said junior center and defender Grant Herbek, explaining what the team needs to do in order to perform well in the postseason.
The team, ranked No. 1 in its regional, started the playoffs on Tuesday, Oct. 17 and won against Highland Park with a score of 4-0. The State semifinals and final games are Nov. 3-4 at Hoffman Estates High School.
"I think we definitely have the potential to make it [to State] . . . but obviously it depends on how we're playing during the playoffs. Hopefully we can keep on the upward trend of the quality we're playing and keep working hard to get there," Wittenbrink said. "We're working hard to try and have that happen again."
Last Updated: Oct. 24, 2017
Leave a Comment