Books that Beat the Heat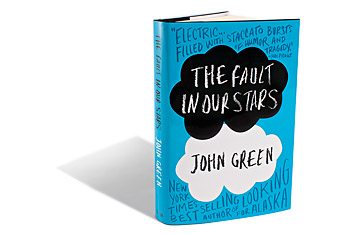 Hang on for a minute...we're trying to find some more stories you might like.
It's that time of year again, LHS. Time for the hot and sweltering months of June, July and August; the sticky, intoxicating scents of sunscreen and chlorine; the sweetness of popsicles and ice cream cones; and best of all, the undeniable and palpable freedom that comes with summer break. Summer is a student's ultimate time to gain some much- needed relaxation, and what better way to relax than to pick up and dive into a really good book? So in order to start your summer reading off right, here is a guide for some fantastic reads that will kick start anybody's perfect summer break of relaxation.
If you like John Green, read…
The Fault in Our Stars by John Green
Ladies and gentlemen, John Green has done it again. Green's fourth novel is, once again, a beautifully-written, absolutely heart-wrenching love story that is incredibly breathtaking. Hazel, the 16-year-old protagonist of the story, has terminal thyroid cancer and is completely dependent on an experimental drug that has been keeping her cancer in check. Since Hazel hasn't attended school since the ripe old age of 13, her parents force her to join a support group at her local church in an attempt to get her to live her life. There she meets Augustus, a former basketball player who lost his leg to cancer. The two characters develop a strong relationship as the two ponder over they anxiety they have towards endings. A combination of witty humor and raw tragedy is present throughout the book, making it one of Green's best.
If you like The Help, read…
The Kitchen House by Kathleen Grissom
For those of you who became completely enamored with the characters and the community of The Help, The Kitchen House is a story whose characters provide so many twists and turns that will keep and you on your toes and that make this novel absolutely unforgettable. The story begins as we meet Lavinia, a seven-year-old orphaned white indentured servant who has come to work on the tobacco plantation of Captain James Pyke. Under the watchful eye of Pyke's illegitimate half-white daughter, Belle, we see Lavinia ingratiate herself into the slave community of the plantation and grow throughout the novel even though Lavinia never truly fits in due to her race. The book covers a span of 20 years where we see the true struggles and hardships that come with racial tension, social class and slavery, which are the driving force of this heartfelt novel.
If you like The Hunger Games, read…
 Delirium by Lauren Oliver
For all of you who are currently in The Hunger Games withdrawal (and have been impatiently waiting for the second installment of the series to hit theaters) here is another series that takes a new spin on the dystopian society and will hold you over until that November 22 release date. Delirium, a stunning combination of fantasy and realism tells the story of Lena Haloway, a 17-year-old girl who has eagerly been waiting to turn 18 so she can get a surgery that prevents her from contracting amor deliria nervosa, or the love disease. After her mother was unable to successful undergo surgery, and as a result committed suicide,Lena desperately decides to undergo the surgery in order to rid herself of the painful memories of her childhood. However, Alex, a member of the resistance, comes into her life and shows her what it feels to be loved as the two work on hiding their growing feelings from others around them.
If you like The Kite Runner, read
And the Mountains Echoed by Khaled Hosseini
For readers who were completely arrested by the tension, and symbol-ridden novels by Hosseini, there will be no disappointment for his third piece of literature. Set in a village outsideKabul,Afghanistan, Hosseini artfully creates a set of characters that perfectly portrays a family that is forced to deal with and overcome love, loss and war. The novel, which follows the story of Kaboor and his family, deals with the aftermath of the sale of his daughter Pari by her step-uncle Nabi, to the wealthy poet Nila and her husband Sulieman. The novel, which begins in 1952, is also set during theU.S.occupation which occurs years later within the novel. During this time, Nabi, who is on his death bed, writes Pari a letter explaining why he sold her and all the truths of her past life. This touching novel's detail and writing makes it a haunting read.
If you like F. Scott Fitzgerald, read…
Rules of Civility by Amor Towles
Set in 1938 in New York City, Towles creates a novel that takes inspiration from the great American writer yet completely makes it his own. Katey Kontent and her roommate Evelyn Ross have moved to New York Cityin order to escape the realties of the Depression and live it up in any way they can. While in Manhattan, Katey and Eve become completely enamored with the sophisticated and charming Tinker Grey and soon become fast friends as they explore NYC together by going to the hottest jazz clubs in the city. However, as a relationship begins to blossom, a tragic event completely reroutes the novel and sends the three character into completely different directions. The book also explores New York's high society and its true interior, which give it a strong resemblance to The Great Gatsby.