Springing into "A Spring Concert"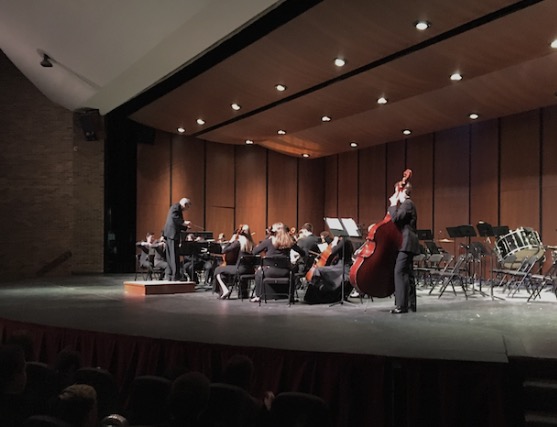 On Tuesday, May 2, members of band and orchestra performed "A Spring Concert" in the Libertyville High School Butler Auditorium.
  This concert was comprised of performances from Concert Band, Concert Orchestra, Symphonic Band, Symphonic Winds, and Chamber Orchestra. The Concert Band holds the youngest of the three bands that performed on Tuesday night and Concert Orchestra is the youngest orchestra; both of these are comprised of mostly underclassman.
  Symphonic Band is a higher level. However, no audition is necessary. For Symphonic Winds and Chamber Orchestra, auditions are necessary, making these the highest-level band and orchestra that performed on Tuesday evening.
  During this show, Dustin Helvie, Matthew Karnstedt, Adam Gohr and Jonah Angulo-Hurtig, a student teacher, directed the bands while Jeremy Marino directed the orchestra. Angulo-Hurtig directed one piece for each band and bowed after, as this would be his last time helping Libertyville fine arts before his graduation from the University of Illinois.
  "A Spring Concert" also showcased a performance of Franz Joseph Haydn's Oboe Concerto in C Major with senior Annika McDermott-Hinman as a soloist. McDermott-Hinman recently won the 2016-2017 Libertyville High School Concerto Competition and was given Honorable Mention in the Walgreens Concerto Competition. She also has held first chair oboe and English horn in Libertyville High School's Wind Ensemble for the past three years.
  The concert also featured many forms of classical music. Each band and orchestra explored different weights of music, showcasing both light music like "The Orange Bowl March" or "Fantasy on a Russian Air" and downbeat music such as "Witches' Sabbath" and "Dum Spiro Spero." Other songs explored multiple levels and themes, like "Vesuvius" and "Tres Valses Poeticos." However, all of these pieces were equally captivating and beautiful in both musicianship and performance.
  In preperation of the upcoming orchestra trip to Spain this summer, the Chamber Orchestra played a rendition of "La Oracion del Torero" composed by Joaquín Turina.
  While this concert was one the last performances of the 2016-2017 school year, Mr. Gohr emphasized that there is still one more concert with the orchestra and choir, on May 18, to celebrate Libertyville High School's centennial.