Libertyville mayor wins recent election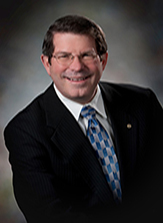 Mayor Terry Weppler was re-elected on April 4 and will begin his third term as mayor of Libertyville.
  Jeffrey Harger, Weppler's opponent, and former Libertyville mayor fell behind as Mayor Weppler received 2,667 of the 3,541 total votes cast (about 73 percent of the vote) in the election, thus winning the mayor's office.
  This election was a rematch for the two candidates who faced off for the position in 2009 when Weppler defeated Harger, the incumbent at the time. This race was the first time since then that Mayor Weppler was contested for the seat.
  Harger, who has lived in Libertyville his whole life and is a local business owner, was a village trustee for eight years before he won the uncontested mayoral seat in 2005. Harger continually spoke out about government transparency and communication as some of his concerns during this election.
  "Jeff and I are going to sit down within the next couple weeks to talk about some of the things that he felt were important to him in the election so we can work [on] some of those issues as well as the other issues," Mayor Weppler explained in a phone interview. "[We] are going to work together to try and make the village a better place."
  Weppler, a graduate of Libertyville High School and a resident of Libertyville for more than 50 years, has served on the Urban Planning, Human Relations, and the Board of Police and Fire Commissions for the village of Libertyville. Mayor Weppler has also been a part of Lake County Regional Plan Commission for more than 10 years. While Weppler has retired from being a lawyer, he is still involved in the Weppler Law Group, LLC.
  "I am very happy that the voters had enough faith in me to give me another term," Weppler said. "I'm really looking forward to a new time with the village, another four years and accomplishing some more things that I'd like to get done."
  Weppler listed his proudest accomplishments as developing reserves for the Libertyville community and assisting with the production of a flourishing downtown area.
  "[Eight years ago], there were 12 vacant stores on Milwaukee Avenue. Now we don't have any vacant stores on Milwaukee Avenue," Weppler said.
  Weppler stated that his future plans for Libertyville involve considering what the village wants for developments in the area and creating a comprehensive plan as to what the future of Libertyville should be.