Girls in STEM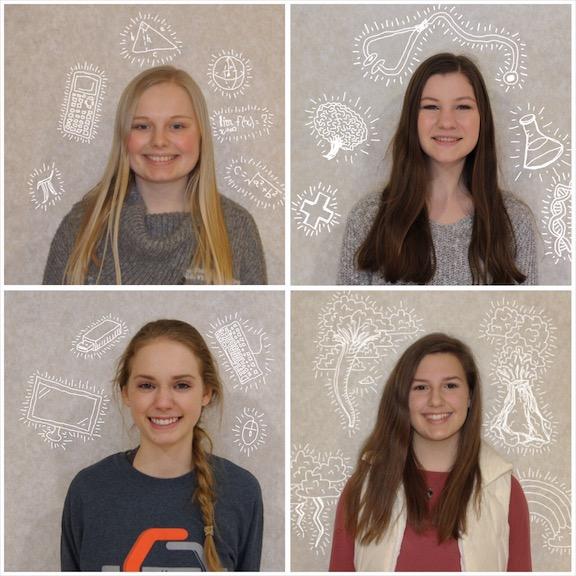 Females are underrepresented in STEM. It's just a fact. According to the U.S. Department of Commerce, less than 25 percent of women are involved in those fields.
STEM stands for science, technology, engineering and math and as competitive as these fields may be, and for a long time these careers have been dominated by men.  The girls featured in this story, all of whom attend Libertyville High School, are excelling in these fields. Breaking the mold, these females are the next generation of scientists, mathematicians, programmers and creators of the 21st century.
Emily Detlaff:
Since third grade, sophomore Emily Detlaff's thing has been meteorology. It started when one of her grade-school teachers asked what the weather was one day. What started as a question grew into a passion.
"I was thinking 'Wow, that would be really cool to be that person to tell what the weather is,'" Detlaff explained. "Ever since then, I've always wanted to do something [with] meteorology and learn about it."
By self-teaching, Detlaff used different resources, such as the internet and books, to increase her knowledge on the varying concepts.
"A whole corner of my bookshelf is just lots of weather books. [I have] all these really in-depth ones I used to bring to school. I spent so much of my elementary school [time] watching the Weather Channel. It was an obsession! It was all that I would ever do," Detlaff exclaimed.
Over the years, her parents have assisted in fueling her interest by helping her pursue opportunities. Detlaff has visited Channel 32 and Channel 7 to meet the meteorologists there and assist them with forecasting. Her favorite topics include volcanoes and earthquakes; however, she would love to learn more about tornadoes and hurricanes.
"There [are] a lot of unknowns about tornadoes, so that really interests me. The main question is, 'Why do some storms spawn tornadoes and why do some not?' I would love to contribute to learning about the reason."
In addition to discovering information for the meteorology community, there are other jobs that interest her: studying meteorology specifically dealing with severe storms; working for NASA, or "nerd heaven" as Detlaff described her dream, to launch weather balloons to get readings before a rocket is launched; or working at airports to help predict weather to guide planes to land and take off.
Deborah Hanagan:
Senior Deborah Hanagan has taken every AP science class this school has to offer, bearing an extensive amount of homework and studying. AP Chemistry was her least favorite, and she enjoyed the challenge of AP Physics (both times), but ultimately, Hanagan enjoyed AP Bio the most because she is more "biologically minded."
Hanagan plans to go into pediatric care and major in neuroscience because she is fascinated with the brain, saying she finds it intriguing how much control it has over our body. There is a long process in entering the field, including multiple years studying, training and shadowing surgeries.
"First, I have to get my undergrad, so I'm going into neuroscience. [Then] you have to go to med school and then you have to do a residency. I have to do a basic surgery residency. I want to say it's five years, pretty long," Hanagan explained. "Then a pediatric surgery, which is basically another residency, but you're already a surgeon and you have to be specialized in pediatric surgery. So, a lot of learning."
Going into a science field has its challenges, one being the high ratio of males to females. Hanagan expressed what she thought of being a girl in STEM.
"I wouldn't say [being a girl] makes it harder, but it makes you prouder, because not all girls want to do this. And I'll do it," she said, also inviting other girls to join. "I just want to encourage other girls to do STEM and to not be scared of AP sciences. It's not scary, you'll be fine!"
Katie Lund:
Katie Lund, a junior, has been recognized at LHS for her natural talent in the math department.
Lund has been on the math team all three years of her high school career. As part of the math team, Lund has gone to State and won the past two years. She has specifically worked on Algebra 2 this year, in preparation to hopefully go back to State, which she believes the chances are "looking pretty good."
Along with math, Lund has been interested in technology and has taken Honors and AP Computer Science. She was exposed to computer science for the first time in an elective in eighth grade.
"You [drew] borders and designs and then you [went to] code a website and include all your drawings in it. So, it combines art and technology and coding the website was my favorite part. I thought it was really cool," stated Lund.
Although Lund doesn't know exactly what kind of computer science she wants to study, she has researched what seems fitting.
"I don't even know exactly what computer scientists do on a day-to-day basis. I just know that I really like writing out code, so I've been looking at articles about what specific jobs [I should do]," Lund explained.
After doing a paper for English class that focused on the under representation of women in STEM, Lund started looking for solutions.
"There are organizations these days called 'Girls Who Code' and 'Women in Technology' and they try to really bring girls into STEM fields, and I think that's a really good thing," Lund expressed. "I'm really excited to be a part of that and really excited to be able to be a woman in STEM and be accepted in today's society. Support from those organizations is really nice."
Amelia Lutz:
Senior Amelia Lutz can do what a lot of people can't: code. Taking Computer Science Honors, Computer Science A and Computer Science Principles, Lutz has learned how to program computers and write code.
Outside of school, she has completed several additional programs with Coding Cats, a club at LHS that teaches beginners how to code and work with that type of technology. One of these events that occurred last November was called Code Day, a 24-hour event where participants are required to code for those 24 hours straight. Another outside activity was a competition in which she and her fellow programmers were given a set of problems that had to be solved in half an hour.
Lutz enjoys computer science because of the creativity that is being used.
"I really like how it's creative problem solving because there is not just one way that you can accomplish the task," Lutz explained. "You have to think it through and plan it through, and there are multiple different ways to arrive at the answer. I just think it's super fun to do that."
Lutz plans on going into the computer science field and wants to begin by being a programmer.
"I want to start off programming and actually designing things. I'd love to work for a big tech company or a social media company, I think that would be interesting too," Lutz said.
Addressing other girls who might be interested in going into STEM, Lutz commented: "I feel like other girls shouldn't be intimidated by it, because even if you are one of very few girls like I am, I think it's such a great field to be in that you shouldn't be intimidated by that and you should really go for [it]."