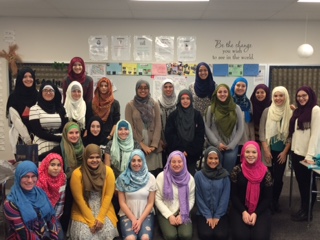 Photo courtesy of Yasmeen Abdallah
Vernon Hills Students Participate in "Walk a Mile in Her Hijab"
On Dec. 9, students at Vernon Hills High School participated in "Walk a Mile in Her Hijab," sponsored by the Muslim Student Association (MSA). The event allowed for non-Muslim students to wear a hijab for the day to create a better sense of understanding at the school.
The event was inspired by Loyola University who held a similar event earlier this year. The purpose, according to member sophomore Hiba Ahmed, "is to establish a safe and welcoming environment in which both Muslim and non-Muslim students can come together to learn more about the religion of Islam, and engage in activities that will allow them to understand the religion better."
The event was created to allow girls at the school, who were interested, to wear the hijab for the day and see how it felt. "Girls were to see what different reactions they would get through the day," stated sophomore Vernon Hills student and MSA member Zahra Nadeem in an email interview. "It was a simple gesture that allowed the students at VHHS understand how their Muslim peers represent their faith daily."
The hijab is a headscarf or veil worn by Muslim women typically as a way of showing modesty stemming from the belief it is commanded from God in the Quran, which is Islam's holy text.
On the day of the event, 21 non-Muslim students who elected to participate had their heads wrapped in hijabs by members of the association and completed the rest of the school day in the hijabs. Teachers and students were encouraged to ask questions about the hijabs.
According to various members of the group, the outcome of the event was mostly positive and gained an amplitude of attention. "We were blown away with how widespread our story became," revealed senior Yasmeen Abdallah, the president of the MSA at Vernon Hills High School. "It was international news; we were featured in newspapers in India, Dubai, and Jordan."
Although there was some negative feedback on sites like Facebook, Abdallah also expressed the large amount of support the event received from teachers, friends, family, and the community as a whole and hopes this becomes an annual event.
Drops of Ink intends for this area to be used to foster healthy, thought-provoking discussion. Comments are expected to adhere to our standards and to be respectful and constructive. As such, we do not permit the use of profanity, foul language, personal attacks, or the use of language that might be interpreted as libelous. Comments are reviewed and must be approved by a moderator to ensure that they meet these standards. Drops of Ink does not allow anonymous comments, and we require a valid email address. The email address will not be displayed but will be used to confirm your comments.