March Madness 2015: Final Four Preview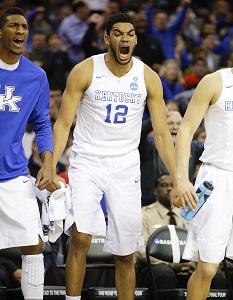 Kyle Laska and Tyler Skinner, News Editor and Staff Writer
April 4, 2015
Hang on for a minute...we're trying to find some more stories you might like.
This Monday will be the 76th NCAA Championship game, but only two of the four teams remaining will get to say they were a part of it. The usual suspects once again have gotten it done early, and it'll be a matchup of goliaths in the Final Four in Indianapolis. Kentucky hasn't lost all year, and their roster is littered with NBA lottery pick talent so they are the favorite. They are matched up against Wisconsin who dominated the Big 10 this year and boasts potential player of the year, Frank Kaminsky who will be a matchup nightmare for the Wildcat big men. On the other side, perennial power Duke is back again, but this time led by three freshmen (Jahlil Okafor, Tyus Jones, and Justise Winslow). Lastly, the cinderella team, coached by one of the best coaches in NCAA history, Tom Izzo led his 7-seeded Michigan State Spartans to their third Final Four in seven years.
#1 Duke Blue Devils vs. #7 Michigan State (in Indianapolis)
Looking only at the team names, this looks like a matchup of the giants that are here every year, and that this will be a game for the ages, but these are very different teams from past years. Duke, who is famous for being led by seniors who have progressed through "the system" is being led by three freshmen this season. Tyus Jones (point guard), Jahlil Okafor (center), and Justice Winslow (wing) are projected as first round picks in the NBA this season, and if they all leave, it will be the first time in Duke history, they will have three freshmen leave for the draft. Duke can worry about that later though, because currently they are one game away from the NCAA Championship game, and will need the whole team top to bottom firing on all cylinders. Michigan State on the other hand, has lost nine games this year, and fell all the way to a seven-seed in the NCAA tournament. Once the games started, it has looked as though Sparty is just as comfortable as ever, though, because very few teams could have gone through Virginia, Oklahoma, and Louisville.
Duke
Key Player:
Jahlil Okafor. He is taller than all the Michigan State players, and if Duke is able to run the offense through him, they will be almost impossible to stop. If Okafor gets in foul trouble, then the Blue Devils will be forced to rely on Marshall Plumlee who has been good in limited stretches, but has also fouled often when forced to play a bunch of minutes. Duke may be the best team in the country when Okafor is firing, but when he isn't, they fall much shorter.
Secret Weapon:
Grayson Allen. He is the freshman that was lost in the shuffle this year, but has slowly started to increase playing time. When Rasheed Sulaimon was kicked off the team earlier this season, Allen really stepped up on both ends of the court. He has shown willing to throw his body around and play hard for every second he is in the game. He can really defend well, and if he is hitting threes, Duke becomes a totally different team.
Biggest Strength:
Three point shooting. Quinn Cook had a streak spanning multiple seasons of games with at least one three pointer made, but was snapped a couple games ago. He is a lights out shooter, who when open, is almost automatic. Justise Winslow has shot at a 41% clip, which is an absolute nightmare out a 225 pound forward. Tyus Jones, Matt Jones, and Grayson Allen also shoot over 35% from deep, so they don't only rely on one or two shooters, everyone on the court can beat the opposition.
Biggest Weakness:
Roster Depth. With only eight players playing, the Blue Devils can be beat by a team who runs the court, or gets them in foul trouble. While all eight players play together as a great team, they are one injury away from being in serious trouble.
Michigan State
Key Player:
Travis Trice. As goes Trice, as goes the Spartans. When he is on, he is one of the best guards in the NCAA. He can shoot well from deep, is a good defender, and is one of the only Spartans over 70% from the free throw line. Near the end of games all throughout the tournament, Trice has put the team on his back and carried them to victory, and if there will be a Michigan Upset in this one, it will because Trice did it again.
Secret Weapon:
Matt Costello. It is hard to considered a secret weapon when he is the tallest player on the team, but as someone who only scores seven points per game, he does the little things that a coach loves. He plays defense at a very high level, and the fact that he can defend an opponents big man has opened up the Michigan State offense. With over five rebounds per game, he also shows that he can body up the big men, and give his offense a chance.
Biggest Strength:
Tom Izzo. Seems weird to have someone who isn't even wearing the uniform as the biggest strength, but it is true. He is the man that has built this team, and even though they are without superstars this team still is in the Final Four yet again. Every year he seems to be the difference maker that prepares them for the big game, and gives them the discipline to be ready for whatever may come next.
Biggest Weakness:
Free throw shooting. If you have watched a Michigan State basketball game this season, then you have heard from the announcers about how bad their free throw shooting is. Well, it has not gotten all that much better (although it has been good down the stretch of the past two games). It is still a complete liability to the team no matter who is on the charity stripe (with the exception of Denzel Valentine and Bryn Forbes), and if the game comes down to the final seconds, missing free throws could sink the whole season.
#1 Kentucky Wildcats vs. #1 Wisconsin Badgers (in Indianapolis)
This is a matchup of perfection vs redemption. The Kentucky Wildcats come in as the undisputed top team in the nation. Holding a record of 38-0, they are just 2 wins from completing the perfect season. They have the most talented frontcourt in the nation led by the two-headed monster of Karl Anthony-Towns and Willie Cauley-Stein. They also have two very good guards in the Harrison brothers, Aaron and Andrew. Behind them is a lineup filled with stars and role players that make this team almost impossible to beat. John Calipari has brought together a team of individual stars and gotten them to play together so effectively that they are on the brink of history. On the other side is the Wisconsin Badgers. A team that doesn't rely on highly-touted recruits, the Badgers rely on fundamental basketball to win. Coming in with the lowest average of turnovers and fouls against per game, the Badgers have a chance to control the pace against Kentucky. Senior Frank Kaminsky comes in after being named the Player of the Year in college basketball. He also comes in off of a 29 point game against Arizona. Junior F Sam Dekker also put up 27 in that game. These two players will have to be huge if they want to combat Kentucky. Where Kentucky has stars, Wisconsin has role players. As the Badgers try to redeem their 74-73 loss to Kentucky in last year's final four, they know they will need to have their role players step up.
Kentucky
Key Player:
Willie Cauley-Stein.This one is a toss-up between Cauley-Stein and Anthony-Towns.The reason Cauley-Stein gets the edge is because of seniority. On a team of freshmen stars, big Cauley-Stein is a sophomore. He didn't get the chance to play in the Final Four last year due to an injury, but he still was in the atmosphere, and that can be huge for a player to be able to see. On top of having a bit more experience than some of his teammates, Cauley-Stein brings together an elite defensive skillset with a powerful offensive game. His shot-blocking skills are among the best in the game, and his ability to get up and down the court and finish on the offensive end makes him extremely difficult to guard. Wisconsin's bigs are going to have a tough time trying to contain him, and an even tougher time trying not to be contained by him.
Secret Weapon:
Tyler Ulis. Being 5'9" doesn't usually garner much respect in basketball, but Ulis will force Wisconsin to take notice. He currently leads the team in assists per game during the tournament, averaging 3.7 assists per game. He comes off the bench with a quick and explosive style of play that energizes the team, and also helps them run more effectively in transition. It should be noted that Ulis' assists in transition are a major reason why he's leading the team in assists right now. Ulis will have to play bigger than his small frame today, but he's done that all year so it shouldn't be a problem.
Biggest Strength:
The Frontcourt. While it was mentioned before, it truly is the most talented frontcourt in the nation. Willie Cauley-Stein and Karl Anthony-Towns will start the game and garner serious minutes. However, when they head to the bench they are replaced by more studs like Marcus Lee and Trey Lyles. Dakari Johnson can even come in and make an impact if called upon. The frontcourt is so big that they block shots and clog lanes with ease. Then they are able to get downcourt and bully their way to the basket. In a game where size matters, Kentucky has size.
Biggest Weakness:
N/A. As much of a cop-out as this may be, Kentucky doesn't have a visible weakness. They score well, they defend well, they're athletic, they're quick, they have depth, they have coaching, they have passion, and they win games. They do everything right and that's why they're going for 40-0. However, if there were to be a weakness it would be streaky shooting from beyond the ark. The Wildcats have struggled, at times, from hitting behind the ark. This was evident in their Elite Eight matchup with Notre Dame. They have the players to hit shots and they will hit threes throughout the game, but there have been times where they've gone minutes on end without getting one to fall. Against Wisconsin, a team that will shoot a lot of threes, Kentucky will need to answer.
Wisconsin
Key Player:
Frank Kaminsky. There is no way the National Player of the Year isn't the team's key player. Kaminsky has the size to be effective down low. He also has the post moves to score at whim. He handles the ball like a guard, given the fact that he was a guard in high school before his growth spurt. He can shoot from anywhere on the court, including his silky jumper from 3-point range. Kaminsky creates problems because he can attack from anywhere on the court, so Kentucky will have to utilize athleticism to stop him.
Secret Weapon:
Traevon Jackson. It's pretty rare for a senior point guard who started in this very game just a year ago to be a sleeper, but that's the case for Jackson. Coming off a broken foot, he has seen himself relegated to coming off the bench as Bronson Koenig has stepped up and played wonderfully in his time on the court. Jackson will have to come off the bench and make an impact quickly. The Badgers cannot afford to have someone running the point who isn't playing with confidence and swagger. Jackson has this swagger, it just remains to be seen if he can regain his confidence after being out for so many games. Jackson is a great defender with a pretty good jump shot. He also can get to the basket easily with his power-drive approach. Jackson may not be best-fitted to be called a sleeper with some of the players on Wisconsin's bench, but in this case he's a sleeper, and a very good one at that.
Biggest Strength:
Versatility/3-Point Shooting. The Badgers are not afraid to shoot the ball. They will come out and shoot a lot of 3's. The reason versatility is a strength is because everyone will be shooting 3's. From point guard Bronson Koenig to power forward Nigel Hayes to center Frank Kaminsky, everyone on the Badgers has the ability to hit the deep shot. Their offense revolves around the shot. The ball moves around the court from wing corner to post. They will either fight for positioning and a basket in the post or kick out and look for a three. That's the way they've won all year and that won't change now. The Badgers are a very good shooting team, and when everyone can shoot, everyone is a weapon.
Biggest Weakness:
Lack of Defensive Chances. The Badgers are a good defensive team. They keep everything in front of them and they play man-to-man defense every second of every game. While they defend well, they don't take many chances on defense. They Badgers don't accumulate steals or blocks. The issue with this is that Kentucky does. If Kentucky is getting blocks and steals, and the Badgers can't answer with their own, a lot of momentum is going to swing with the Wildcats. The Badgers need to be able to create transition opportunities in this game, or Kentucky is going to be too comfortable.