LHS Teachers Take on St. Baldrick's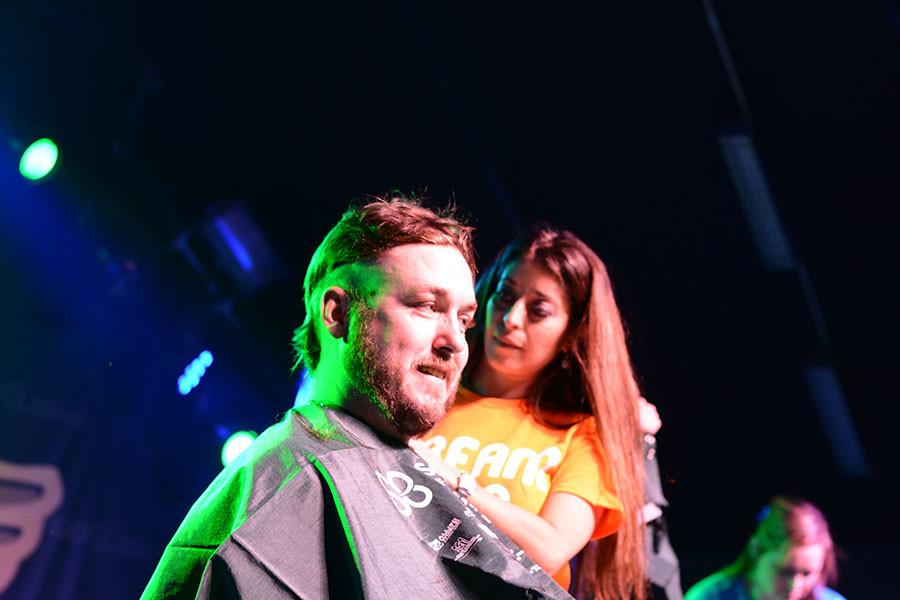 Ryan Jackson, Features Editor
March 19, 2015
Last Saturday's St. Baldrick's event, an annual St. Patrick's Day-themed fundraiser in which participants raise money and shave their heads to support cancer research, featured support from the LHS teachers team, comprised of math teacher Mr. Brady Sullivan and special education teacher Mr. Mike Mansell.
This year's event for St. Baldrick's, a foundation "committed to funding the most promising research to find cures for childhood cancers," according to their website banner, was held at Austin's Saloon and Eatery in Libertyville. The Austin's site alone raised more than$55,000 dollars for cancer research. Two of the most helpful contributors came from the LHS Teachers Team.
Mr. Sullivan, who went under the buzzer for his first time ever, raised money for a 6-year-old cousin who was diagnosed with leukemia last August.
"It's hard to see and it's eye opening to see this energetic little kid you know get hit with cancer. Everybody's been affected by cancer, but a kid in particular, it's hard," said Mr. Sullivan, whose mother passed away after a fight with Non-Hodgkin's lymphoma in 2010.
Both Mr. Sullivan and Mr. Mansell, a five-year veteran in St. Baldrick's, have been amazed by the outpouring of support from the community to help them fundraise for the events.
"Every year I am extremely humbled by the generosity and support I receive," Mr. Mansell said. "The encouragement that my colleagues, friends, family, and students give to me lets me know that what I am doing is really important."
The LHS teachers team spent much of the time leading up to last Saturday at the top of the fundraising list. Entering the event, the duo had raised over $4,500 on their own, making them the fourth-most effective team out of the 17 that were listed on the website.
Mr. Sullivan described what he had to do to raise the money as "less than you would think," citing social media and emails to friends, family, and coworkers as his main fundraising efforts — 21st-century methods to compiling donation money. He asserted that it is times like these that a community like Libertyville is special.
World History teacher Mr. Matt Thompson, a former participant in St. Baldrick's, agreed that there was a strong sense of community at the event when he shaved his head there in 2012. His most resounding memory of St. Baldrick's was the way he saw the town come together.
"The event and the celebration of these people working for such an important cause is really cool to see," Mr. Thompson said.
While St. Baldrick's 2015 is in the books, funding research for cancer and fighting the disease that kills more than 564,000 Americans per year is not. Cancer research donations are open any time at https://donate.cancer.org/index, and the LHS-sponsored Relay for Life, another prolific fundraiser for the cause, will be held in April. St. Baldrick's is a cause greater than just shaving one's head — or potentially beards, in Mr. Sullivan's case — it's about finding a cure.
While Mr. Mansell has never had cancer or a child affected by the disease, he has spent a lot of time in the hospital with his son, who endured a birth defect when he was a baby. The images of young children with cancer who stayed in the same hospital has resonated with him ever since.
"If shaving my head once a year can decrease in any way the number of families that have to go through what I saw, I will be doing this for the rest of my life," he said. "I just hope I don't go bald any time soon."