Prom 2015 Sets Sail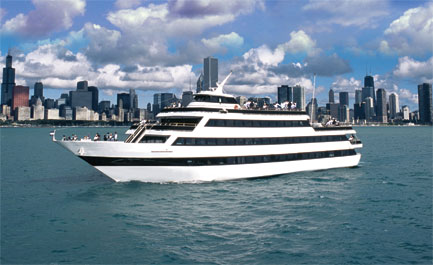 Juniors and seniors should be prepared to set sail for a dinner and dancing cruise on May 16 for this year's prom, which will consist of a view of the skyline of Chicago,  music, and memories.
"We will be taking a dinner and dancing cruise that will leave Navy Pier that goes up the skyline of Chicago and comes back around. It's a three-hour cruise down the city on The Spirit of Chicago," Student Council faculty supervisor Andrea Lara stated.
The theme of this year's prom is "Come Sail Away." Prom themes are traditionally based off of song titles and because prom this year is on a boat, the theme of  "Come Sail Away," which is a song by Styx, made the most sense to the Student Council executive board.
"Theme-wise, we did not want to overdo it. We wanted the skyline of Chicago to speak for itself. Being on the boat, we did not want too much going on because the view is just incredible from what I've heard," director of broadcasting Joey Pucino, a senior, expressed.
This year's prom looks very different from previous years. Prom is normally held at a local hotel, such as the Marriott in Lincolnshire, but some wanted to go for something out of the ordinary. Last year, the junior class council had the idea of having prom on a boat, and it appealed to a lot of other LHS students and faculty.
"We live close to the city yet never go there, and as a group we decided that we live 30 miles away from Chicago for a reason, so we should enjoy the city," Mrs. Lara said.
Because prom is taking place in a fancier venue, ticket prices are going up. Last year, ticket prices were $85 and this year, they will be $90. According to Mrs. Lara, for years, LHS prom tickets have not been as expensive as other local schools. If the price of tickets stayed at this lower amount, the school would lose thousands of dollars for upcoming proms, she said.
Libertyville High School's prom has always been open to both seniors and juniors. However, more seniors typically go than juniors.
"I think that prom's just extremely costly. So it might be a little much to do it for both your junior and senior year," head of communications and broadcasting Jenny Pahng, a senior, stated.
The Spirit of Chicago has a capacity of about 650 people, and there are normally around 500 students who attend prom, according to Mrs. Lara.
Traveling time will  be a little different than previous proms. The cruise that the students are taking is docked on Navy Pier. Students will still depart from LHS on the evening of May 16 on coach buses. The Student Council exec board estimates that the bus ride from the high school to Navy Pier will be about an hour.  Students will also return back to LHS after prom in those buses.
"Pictures are always done before the kids board the bus. There is a little social gathering before the kids get on the bus. There's normally appetizers and refreshments. From what I understand, The Spirit of Chicago will also take a professional photo as students get on the boat," Mrs. Lara stated.
Although the ticket prices are going up and transportation may be a little different than previous years, students are still getting excited for prom.
"I think that with any change there will be pros and cons. However, I think it's something students are willing to do. Ticket prices are only going up by five dollars and transportation will not be increased by too much, and the time at prom will still be the same, so I think that students will enjoy it," Pahng expressed.
The senior class will also be fundraising for prom. The logistics and details of their fundraising plan is not completely worked out yet, but seniors have decided to start off by selling candygrams to LHS students. The senior class council sold valentines called candygrams outside of the cafeteria on. Feb. 16-17. Students could purchase these candygrams for $1 and send them to their friends around LHS. The senior class council also had a night of basketball concessions to fundraise.
Prom items such as picture frames and decks of cards are given out yearly to commemorate the night, but this year, Student Council is trying to offer a "Prom Boutique" after spring break. Here, students would be able to purchase different shirts, picture frames, and more to remember their prom with items that they picked out personally. The location of where the "Prom Boutique" will be has still yet to be determined.
Although prom is a while away, students and faculty are working hard and getting excited for an unforgettable night.
    "It'll be a very memorable night in my Libertyville High School career and everyone else's. Chicago is so close to us and it's going to be a final memory for us here, and it's going to be a great one," Pucino said.