Cats Baseball Finishes Second in State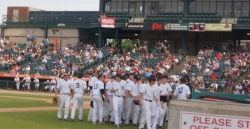 Mike Gasick, Sports Editor
August 13, 2013
Hang on for a minute...we're trying to find some more stories you might like.
On Saturday June 8, the Libertyville Wildcats baseball team took second place in the IHSA State Finals. The Wildcats lost a 2-1 thriller to the Mount Carmel Caravan.
  The game looked to be a pitchers battle, as Nate Cote for the Wildcats and Jeremy Kravetz of the Caravan were each scoreless through five innings.
  Mount Carmel's Jason Gasser started the scoring when he hit an RBI double in the top of the sixth. That broke five scoreless innings between the teams. One batter later, Tom Hayes followed with RBI single giving the Caravan a 2-0 lead heading into the bottom 6.
  The Cats trailed 2-0 until senior Kevin Calamari hit a double for the Wildcats and was replaced by Riley Lees on the bases. Justin Guarnacio followed with an RBI single up the middle, scoring Lees. That ended up being it for the Cats' offense.
  The Wildcats, however, weren't held without scoring chances. In the bottom of the fourth, Matt Vogt was up with runners on the corners. During the at-bat, the runner on third, Connor Simpson, dashed toward home during the pitch. Because of mixed signals, Vogt did not square around to attempt a suicide squeeze bunt. Simpson tried running back to third, but was gunned down by the catcher. No runs crossed the plate that inning. Guarnacio hit a double in the bottom of the fifth and PJ Neumann followed him with a single. Guarnaccio was tagged out at third on a very close call. No runs were scored that inning either.
  Those two runners could have given the Cats the lead and won them the state title as the final score was 2-1.
  Even though the Cats didn't win the state title, Calamari sees this year as a successful season.
  "We were unranked the whole season," said Calamari. "No one thought we could do this. And we get here and it's just like any other game. Afterword it hits you like: we got here, we made it to the state championship game. That's what hurts, that we were so close."
  The Cats will look to build on this state performance that was the best in the team's history next year. Head Coach Jim Schurr sees this year as a building block for years to come.
  "I think this is going to be a shot in the arm for our program," said Coach Schurr. "I think our guys are going to see when you buy in and do the right things [what will come]. I think this is going to help our program we have a lot of talent coming up. I think this is really going to springboard the attitudes of our baseball players."