Baseball Seniors Soar Above Expectations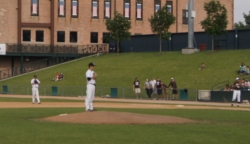 Tyler Skinner, Sports Editor
August 13, 2013
Hang on for a minute...we're trying to find some more stories you might like.
In a devastating 2-1 game, Libertyville lost to Mount Carmel for the Illinois Class 4A state title. The Cats had a younger team than many of the teams that they played throughout the year, but that did not stop them from reaching unexpected heights.
The state championship game was no different from the rest of the season, as the young Libertyville Wildcats used freshman Riley Lees and sophomore Sean Ferraro as pinch runners, along with starting a sophomore at shortstop, Jimmy Govern.
For all that, Libertyville only had 10 seniors out of 22 players on their roster, and those seniors stole the spotlight in the biggest game of their high school career. Senior Nate Cote started the game pitching, and finished with two runs allowed in six strong innings pitched. Cote spent the year being a rock in the Cats rotation along with fellow senior Jason Buss and junior Jeff Barton. Buss also pitched in relief, as he pitched part of the scoreless seventh inning in the championship game.
Senior Mike Rogers came in to pitch in relief in the seventh inning. It was Rogers' first appearance in postseason play after being a part of the Libertyville starting rotation all year. Rogers also shut the Caravan down in relief.
The lone run of the day was scored by pinch runner, Lees, who was running for senior Kevin Calamari who belted a two-out double in the sixth inning. The RBI was attributed to Justin Guarnaccio, on his sinlge up the middle, who went 2-for-3 against the Mount Carmel star pitcher. Guarnaccio was key for the Cats all year long, patrolling center field, with speed to cover much of the outfield.
Matt Vogt, another senior for Libertyville, was the potential tying run in the sixth inning, as he got hit by a pitch in a full count. Not only did Vogt contribute all year long with his bat, but his leadership was also very important, as he was a team captain for Libertyville.
Third Baseman P.J. Neumann almost was the hero early in the game, as he lined a fourth inning pitch up the middle. If the pitch had gotten through the infield, Neumann would have given the Cats a 1-0 lead; instead, the Mount Carmel shortstop, Jerry Houston (who is going to Oregon to play baseball) stopped the ball on the infield and threw Neumann's potential RBI out at third base.
It was an emotional end for most of the Wildcat seniors, but Rogers (Augustana College), Vogt, and pitcher/outfielder who was injured for the championship game, Alec Semersky (Illinois-Chicago) will continue to play in college.