Pothole Solution Not Far Off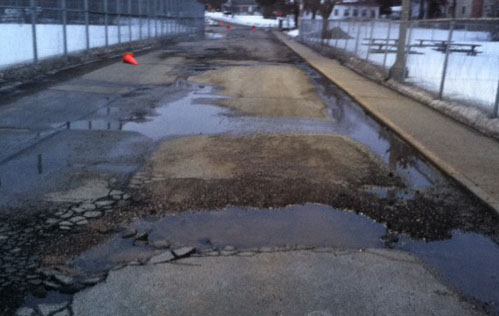 Mike Gasick
March 11, 2014
All around the perimeter of the school, potholes have been causing problems for students and staff. Ranging from small to crater-like, the potholes have forced drivers to pay extra attention to the road surface.
"They're really big, and it's been pretty tough to get around," stated junior Darren Black.
LHS grounds staff has done everything they can to resolve this problem throughout this brutal winter. According to buildings and grounds supervisor Mr. Chris Stancil, spring may be the time when the potholes are fully repaired.
"Once the snow stops, the potholes should be repaired for good," stated Mr. Stancil. "Unless this brutal winter stops, there is really not a lot we can do about it."
Mr. Stancil explained that LHS building and grounds crews use Cold Patch, a cold asphalt repair material, to fill the potholes. When it snows, the plows come by and break up the cold patch, resulting in more potholes. Each bag of the patch costs $40, but Mr. Stancil has to stay within his budget for the year, which lasts from July 1, 2013 to June 30, 2014.
"We want to minimize what we're wasting," he stated. The building and grounds' budget consists of many other things, such as salt, fertilizer and gas. They also have to maintain off-campus grounds, such as Nicholas Dowden Park and Butler Lake Park, both of which will require a great deal of work.
The worst of the potholes are located in the parking lot and road by the tennis courts, as well as the drivers' education parking lot. Senior Tyler Chen has noticed them in the front parking lot as well, but has gotten used to it.
"Getting to school on time is a pain, and the potholes add to the 'struggle,' but in the grand scheme of things it's not that big of a deal," he said.